Dozens of artists and vendors arrived the morning of Jan. 12 for what they thought was a routine meeting between themselves and the management staff of Artegon Marketplace, Orlando's two-year-old "anti-mall" on International Drive. In hindsight, maybe the presence of Orlando Police officers and bodyguards should have tipped them off something was out of the ordinary.
Instead, the group known for its eclectic art sat crowded in front of the Book Warehouse to listen to David Miskin, the chief marketing officer at Lightstone Group, Artegon's New York-based parent company, which owns $2.5 billion in real estate projects. After a few pleasantries, Sina Sutter remembers the gasps in the room when Miskin told them it was over – Artegon was closing.
"When he said we had to leave, that whole group of 60 to 70 people got up and started asking, 'What? No! How? Why?'" she says in Spanish. "Everyone was left uncertain. These were people that had invested millions of dollars into this. What do you mean I have to move in 10 to 15 days?"
Since closing, Artegon has only released a short statement from its end, saying, "Lightstone will be taking its Artegon Marketplace property in a new direction. While it was a difficult decision to discontinue operations, we are thankful to our team in Orlando, and to our tenants, for their hard work and dedication over the past several years." OPD spokeswoman Wanda Miglio confirmed Artegon actually hired police officers to work there for the closing, though she couldn't immediately confirm how many.
Sutter, who opened a fine art gallery called Pinturas that featured her canvas paintings with hand-cut glass, says she felt like she lost family.
"Artegon was the ideal place for artists in Orlando because there was nothing like it," she says. "There's festivals and events, but no organization, no institution, had given a space like that for artists to develop their talent and sell their products in a fixed place. And to me, this was more than just a business. It was a way of life. We all were dedicated to what we did, and we were always sharing with one another. It was a space for creation."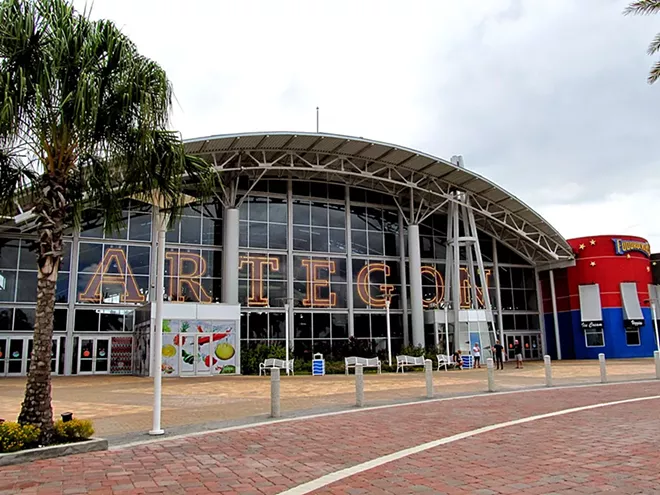 Photo by Chris Tobar Rodriguez
The Artegon sign is no longer lit up
Months earlier, Artegon staff had calmed down vendors who were worried because the mall was up for sale, assuring them that if someone bought the property they would let them know, says Sutter's friend Carmen Lopez. The owner of Bleu Beach Fashion, Lopez created bags, jewelry and clothes out of recycled materials, such as old maps, at Artegon.
"They told us we could keep working and that they were getting new vendors and signing new contracts," she says in Spanish. "Logically, you'd think, 'If they're leaving, they wouldn't be bringing in new people.' So we stayed calm – until that meeting where they told us we had to leave. I asked, 'Who did you sell it to?' They said, 'It's not sold. We're just closing it.'"
Weeks after the "anti-ordinary anti-mall" was shut down, the fallout continues, with larger vendors filing several lawsuits against Artegon for terminating leases without warning and allegedly causing them millions of dollars in damages. Meanwhile, smaller vendors and artists, still grappling with the loss of their second homes and livelihoods, wonder how one of Orlando's most innovative ideas came crashing down.
Artegon was built on the decaying remains of the Festival Bay Mall, a floundering shopping center that never managed to catch a crowd, which was a pretty rare feat given its prime location in the tourist district.
Perpetually empty, the mall that opened in the early 2000s couldn't fill its empty retail spaces, and at times, had entire corridors closed. Festival Bay, like many "Class C" malls around the country, was in danger of dying and needed to reinvent itself, says Steven Kirn, the executive director of Miller Center for Retailing Education and Research at the University of Florida.
Unlike a "Class A" mall, like the Mall at Millenia, or even a "Class B" mall, like the Florida Mall, Kirn says Class C malls are usually on the brink of extinction and try to stay relevant by adding movie theaters, health clubs, community centers or even DMV bureaus. Sometimes they'll add more restaurants, or try to create a food hall or artisan market.
Festival Bay took the artisanal route by reinventing itself as Artegon after it was acquired by Paragon Outlets, a subsidiary of Lightstone. When it opened in 2014, Orlando Mayor Buddy Dyer predicted the 1.1 million-square-foot shopping center would be an "icon" in the city and an overnight go-to destination for the millions that visit every year.
Photo by Chris Tobar Rodriguez
Shuttered spaces inside Artegon
Alberto Quintero arrived there a few months after the mall's opening to start a gallery called Fusion Art Group in one of the smaller central spaces, which were a maze of chainlink-fenced stalls. The more than 100 vendors varied in their crafts (from professional glassblowing to collectible comics), but they all were excited and eager to get to work, Quintero says. But then the revolving door started: Smaller pop-up shops would leave Artegon as more filtered in. Rent was affordable, but single owners struggled to sell to the small crowds and abide by Artegon's strict hours, which obligated them to be at the mall seven days a week, from 11 a.m. to 9 p.m. on most days.
"I loved the space, the concept, the people that were around me, but the management was a bit brisk," he says in Spanish. "They never really listened to us or took our ideas into account. Bad marketing and a lack of human quality made that project fail. But I was happy, in spite of everything. People enjoyed my gallery, and I invested a lot in it."
In 2015, the Orlando Sentinel reported control of Artegon had shifted to the parent company Lightstone and its employees, including chief creative officer David Miskin. Miskin helped reinvent the stores by adding more colorful art pieces throughout and replacing the vendors' wire cages with actual storefronts. Artegon also announced plans for a food hall that would bring in unique restaurants.
When Doug Snider arrived there 11 months ago to open a pop-up shop dedicated to wood sculptures, his rent equaled about $700 every month; he was simply charged a percentage of his sales.
Snider says it was a good deal until he decided to join with other artists and expand into a co-op called Wild Life Gallery. In addition to raising his rent with a base fee, Artegon made him pay thousands to have the visual team decorate his store and into a security deposit from which the mall could deduct $100 for each hour his store failed to operate. Snider adds that the mall included terms in his contract that allowed them to terminate his lease at any time. (It may sound draconian, but UF's Steve Kirn says leases for smaller shops in most malls usually include a base rate and a percentage of sales, along with charges for amenities and open-hours requirements.)
"The marketplace was like a revolving door for vendors," Snider says. "The nine months that I was there I saw at least 25 stores open and close because the first three months the rent would be only 20 percent of all sales, which is the bait. Then, they would make the owners pay a large deposit, visual team fees, sign fees and make a good investment thinking they would not leave when the three-month lease was up and the much higher rent kicked in."
Photo by Chris Tobar Rodriguez
Multiple Artegon shop owners told Orlando Weekly that several times, Artegon told them a new restaurant or business was coming that never materialized. Different owners also complained that they never understood the marketing of Artegon as an "anti-mall" and believed it confused people. OW reached out to Artegon management and the Lightstone Group for comment but did not hear back from either by press time.
Still, Snider says he liked his work, and last December he signed a six-month contract with Artegon that lowered his rent slightly.
"But I thought I smelled a rat when they negotiated to lower it," he says. "My lease started on Jan. 1 and they gave us notice of termination on Jan. 12. This has cost me approximately $50,000 to $60,000 in lost revenue and additional equipment and decoration I purchased after I renewed my lease. It's inhumane."
Artegon was more successful for some than others, like Jeffrey and Kristin Howard, owners of Kick Bright Shop & Buttons.
"It just doesn't make any sense that it shut down because everything was better," Jeffrey Howard says. "Traffic was better, money was coming into my business, my neighbor's business. We stuck through the times when Artegon wasn't doing so great and just when it was hitting its stride, they just stopped."
Some well-known stores, like Gods & Monsters, have found new locations after the mall closed, but smaller shops like Kick Bright are still looking for a home a month after the shut down.
"I'm still booking orders out of the house and pop-up markets, but we can't open a physical brick-and-mortar," Kristin Howard says. "We couldn't afford that type of rent."
It may never be clear why Artegon failed, but what we do know is that it's part of the decades-long trend of the declining mall.
"Places where you built a mall before have entirely different communities and markets than what was there 50 years ago," Kirn says. "Populations change, income levels change. ... Virtually no enclosed malls have been built in the last five years. That style of shopping is going away."
Heidi and Tony Wentzell opened their first business knowing they would be evicted in two weeks.
Photo by Chris Tobar Rodriguez
The Wentzells opened the Hoppy Cellar, a craft beer and wine bar, the night of Jan. 12, just hours after other vendors heard the news that Artegon was closing. They were supposed to open at the mall the following week, but after hearing from a friend that Artegon was shutting down, the couple rushed to open so they could sell the inventory they had invested in. On Jan. 26, the Hoppy Cellar closed, along with the rest of the mall, except for retail anchors like Bass Pro Shops, Ron Jon Surf Shop, the Cinemark theater, Putting Edge mini-golf course, Boot Barn, Fuddruckers and Sky Zone.
"It was a terrible experience," Tony Wentzell writes in an email. "We were completely misled in bad faith."
The Wentzells say they quit their corporate jobs last year to fulfill their dream of opening the Hoppy Cellar and signed a contract with Artegon in October 2016. They were excited about the new venture and thought things were going well. Three days before Artegon announced it was closing, the couple was still receiving emails from their leasing agent about an invoice for the store signs.
"Higher-ups within the mall and Lightstone knew that it was going to close and they could have put a stop to us spending more of our money," Wentzell says. "All they cared about was collecting as much money from us as they could before they closed."
The couple emailed the senior general manager of the mall to ask for the return of their security deposit and other investments into the bar. The Wentzells say they have not received a response or money from anyone at Artegon or Lightstone. (NOTE: After publication, a member of the PR firm retained by Lightstone replied to our queries with the following response: "Their security deposit refund was in queue for 30 days from the termination date, per their license agreement. Artegon has asked accounting to accelerate this specific tenant so they will have their refund sooner. It is not Artegon's intention to withhold any security deposits, or for that matter any money which they are not entitled to under the license agreements.") The Wentzells couldn't provide a copy of their contract due to their traveling schedule, but another Artegon contract OW obtained says Artegon was a shopping center that was "undergoing redevelopment," and that if the owners decided not to continue the mall's redevelopment, Artegon could terminate anyone's lease or license via a written notice. The contract says the licensee would have no right to recover any costs or damages from Artegon. Multiple vendors from Artegon say each of their contracts were slightly different, though all of them mentioned a similar policy. Some of Artegon's contracts also differentiate between "licenses" and "leases."
"I also personally called the asset manager of Lightstone Group and left him a voicemail and wrote him an email requesting they write us a check for the money we lost since they had screwed us over so bad," Wentzell says. "Of course we never heard from him. I've spoken with attorneys and they all say it's not worth the legal costs to recover the money we put into the business."
While the Wentzells have decided not to sue as they relocate their business, other vendors are getting ready for a fight. So far, Sky Zone Trampoline Park, Sky Trail, NYZ at Orlando (a zombie survival attraction that was scheduled to open) and Seed of Joy LLC have filed lawsuits against Artegon's owner, FB Orlando Acquisition Company LLC, a subsidiary of Lightstone Group. Winter Park lawyer Tucker Byrd represents the first three plaintiffs and says he has more clients that plan to file.
"No explanation was given to them," Byrd says. "They were just told to get out, and get out fast."
In the 102-page complaint filed by Sky Zone, the trampoline park alleges it invested $2 million in capital improvements to its 25,000-square-foot unit when it received a notice on Jan. 12, without prior warning, that Artegon had terminated all leases and demanded vendors vacate the premise within two weeks – meaning the number of visitors was likely to drop precipitously.
"[Artegon] attempted to justify its actions by concocting the excuse that the center was still under 'redevelopment,' and thus terminable under the leases," the lawsuit says. "Defendant had 'redeveloped' the center years ago, even holding a 'grand opening,' to celebrate the repurposing and re-theming of the center, converting it from the failed 'Festival Bay Mall,' into the Artegon Marketplace.
"The recent attempt to contradict themselves, all part of a thinly-veiled attempt to absolve itself of lawful obligations under leases with tenants in the center, has interfered with Sky Zone's lease, adversely impacted its right to quiet enjoyment, and caused damages."
Photo by Chris Tobar Rodriguez
Byrd says it's pretty clear Artegon was "looking for any reason to try to empty the mall."
"Sky Trail, for example, was never told their lease was being terminated and was being allowed to continue, but Artegon locked the front doors," Byrd says. "How can you possibly tell them, 'You can continue to use your space,' but then not let any patrons into the mall?"
Sky Zone also alleges after it entered into its lease with Artegon, several of the larger tenants that the mall had said would move in, like the Radbourne Center skate park or Berghoff's Oktoberfest brewery, never materialized. By the time Sky Zone opened in 2015, Artegon had sold the Cinemark theater and Bass Pro Shops. The mall "became the constant source of rumors about a potential sale to theme park developers in the Orlando tourist market," the lawsuit says, prompting Artegon to assure its tenants in September 2016 that it would continue operating.
"The combined pressures of challenges with tenant occupation, the liquidation of outparcels, and the prospects of reaping a substantial sum from selling off the property, impelled [Artegon] to look for and pursue a strategy to terminate leases in the center, even without justification," the lawsuit says. "Defendant's actions have cast a pall over the center, interfering with Sky Zone's right to quiet enjoyment of the premises, by discouraging customers from continuing to use or book for future use the Sky Zone facilities for events, including charity events and children's birthday parties, many of which have already been scheduled."
Byrd says some of his clients are still getting notices from Artegon to pay for this month's rent. Byrd says it may have been cheaper for the mall's owner to pay off breached contracts and sell to a developer than to keep running the artisan mall.
"I guess you'd risk losing millions if you can still make multiple of millions," he says. "Maybe they thought we'd give up and go away. But they picked on the wrong group of tenants because we fully intend to protect their interests. Sometimes the underdog does have a chance."
Meanwhile, smaller vendors like Sina Sutter and Carmen Lopez don't plan to sue, but are still looking for a space to practice their craft. Lopez misses the little things about Artegon – seeing her friends every morning, getting hugs from clients. She doesn't regret her two years there.
"A lot of bad stuff happened, but that didn't interest us," she says. "When you're an artist, you see things differently. I loved showing my clients how I make my bags. People went there to find their creativity and we helped them find it."