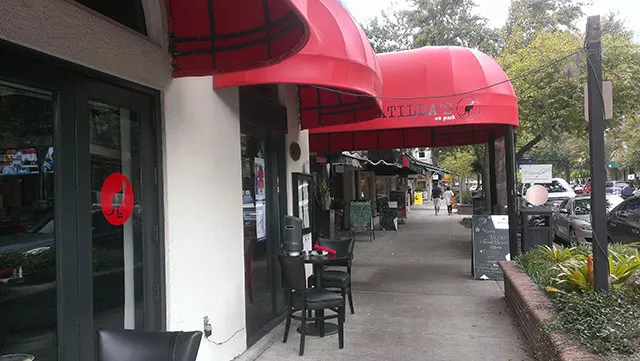 The fall season in Orlando might arrive a tad later than most parts of the country, but when the scorching summer heat fades into more pleasant temps, I can't help but take my cocktail-sipping outside. And when it comes to drinking outdoors and people-watching, I can't think of a better place than the retail-and-restaurant strip of Park Avenue in Winter Park.
This half-mile sliver of sidewalk, extending from Fairbanks Avenue north to the area of Canton Avenue, might be decked out with fancy boutiques and upscale restaurants, but when I met up with one of my girlfriends for an afternoon DIY pub crawl, we were looking for something a bit more low-key. That's why we first headed for the northern end of the avenue and nabbed an outdoor two-top at Matilda's on Park (358 N. Park Ave.).
While this newer Park Ave. resident stands on a sports bar credo, their cocktail menu surprisingly comprises a few fancy concoctions, including the French pear martini I ordered (Grey Goose La Poire, St. Germain, champagne) and my friend's "Spa Treatment" (Hendrick's gin, St. Germain, muddled cucumber, mint, fresh lemon and lime, club soda).
The relaxed vibe and friendly service at Matilda's invigorated our alfresco spirits, and after walking a few short blocks south, we were delighted to fall into comfy (and adorable, I might add) armchairs just outside wine bar/restaurant NOPA Grill (155 E. Morse Blvd.), which is named for its location: "Not on Park Avenue." The wine flight we shared involved four types of wine – including an oaky Sonoma chardonnay, a frizzante called Blood of Judas and a rosé from the vineyard of celebrity couple Brad Pitt and Angelina Jolie. With our energetic server and the smooth jazz soundtrack, NOPA proved a dynamic yet discreet haven from the hustle and bustle of Park Avenue.
We easily could've dozed off for an afternoon nap what with the Kenny G tunes at NOPA, but instead we spiced it up a bit by trekking south to Cocina 214 (151 E. Welbourne Ave.) for a seat on the covered patio, amply furnished with ceiling fans.
It took a minute to choose among the extensive tequila and margarita options, mainly because we struggled over whether or not to try the "pop rocks" margarita (the candy-rimmed drink, our server said, isn't a very popular menu item), but we eventually settled on the 214 Rocks (with Sauza Silver) and the 214 Skinny (Tierras organic tequila, fresh lime, agave, orange juice).
Both of our margies hit that light-and-refreshing spot we had hoped for – and also packed a nice punch, which helped in moving us back toward lively Park Avenue. We sensibly passed by area wine standouts Eola Wine Company and the Wine Room, as we'd savored a wine flight earlier in the day, and landed instead at an umbrella-sheltered table outside of seafood/sushi spot Blu on the Avenue (326 S. Park Ave.).
Immediately, we gravitated toward a classic Moscow Mule (that copper cup is too cute!), but the waitress instead steered us in the direction of a specialty cocktail that wasn't on the menu, which comprised Crop organic spice pumpkin vodka, ginger beer and fresh lemon. It was a simple choice: We couldn't pass up the quintessential pumpkin flavor that escorts in the fall season each year.
While sipping streetside we not only spotted luxurious sports cars and posh shoppers passing by, but also the rain clouds that began to hover over the avenue, signaling an impending shower. Although our outdoor drinking excursion might have been washed up on that particular day, we valued knowing that we still have the entire fall season left for plenty more open-air imbibing.
Click the photo to see a gallery from our Park Avenue pub crawl: