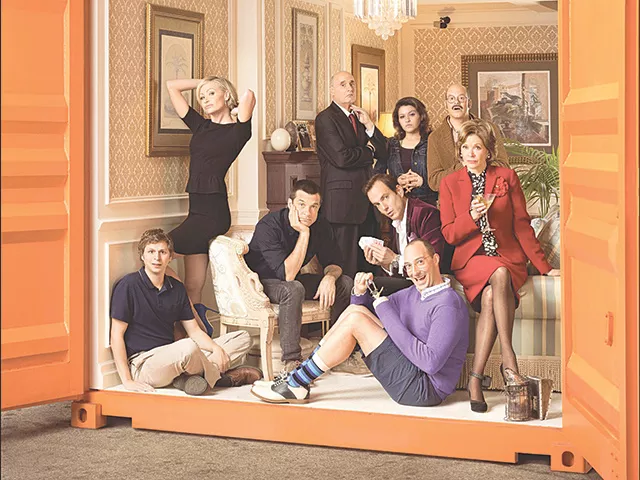 Look, look, look. Listen, listen, listen. Look. Before you hasten to decide that Arrested Development just isn't as funny as it used to be now that the fourth season is finally available on Netflix in its entirety, consider what the writing team had to deal with. First, they backed themselves into a corner with this film studio plotline to stick it to Fox for canceling the show. Sure, they could've ignored the events of Season 3 to pick up the show in a new place, but that – while it may have been a sunnier spot to start in – would've completely disregarded the intricate interlacing of what has always been the show's most standout quality (that is, maybe, until Kristen Wiig came on as young Lucille Bluth) – its mind-blowing joke structure.
If you think you caught all the jokes of Season 4 in one viewing, you must be more pompous than Gob, more foolish than George Bluth Sr. and possibly higher than Oscar. In addition to the hilarity that ensues from the show's signature story structure and its seriously selfish characters, there are also in-jokes regarding the actors themselves, especially Michael Cera, who many clueless moviegoers laughably confused with Jesse Eisenberg when The Social Network was released. Arrested Development has always been like a dense layer cake (presumably with a nail file hidden inside), and that has not changed in the Netflix presentation of its "semi-original series."
Here's a caution for old and new fans alike, though: The fourth season unfolds slowly. You may not even laugh until the fourth or fifth episode, likely due to the second consideration I'd ask you to make: Series creator Mitch Hurwitz's team had to work around the schedules of all the actors, many of whom had their careers jump-started by the series and have been incredibly active since. This required the writers to practically break the episodes up by character (e.g. "This is Buster's Arrested Development") for filming, negating the possibility of ensemble cast scenes. From what executive producer Ron Howard has suggested, the fourth season is intended as a vehicle to set up the movie they hope to make (fingers crossed!), and your reward for being patient, my tart-faced fellow fans, comes indisputably in the sixth episode, "A New Start." Wait for it.
The season ends strong with gut-busting moments, particularly in Buster's episode, "Off the Hook," which is followed by "Blockheads," when the mysterious George Maharis gets to finally give it to his old man. (Sorry, there really has got to be a better way to say that.) And if you've already scarfed down the whole season like I did, there's a certain website that begins with R (as in, "Like anyone would want to R her?") where, if you're especially clever, you can track down an edit of the entire season in chronological order.
My only real criticisms of the new episodes are these: Michael's character got much darker, but my guess is that this is only so he can redeem himself in the proposed movie. On a less serious note, Seth Rogen's comedic star power was not enough to make up for his lackluster young George Bluth Sr., which was less than a shadow of Jeffrey Tambor's brilliance. He's practically just a stand-in.