BEST ARTS FAN
Margot H. Knight,
President and CEO, United Arts of Central Florida Inc.
She's got class and sass, a head full of smarts and passion for all things creative. When it comes to the local arts, the smiling, laughing Margot H. Knight is seemingly everywhere, catching an exhibit here and a show there, and loving every minute of life. Knight is whimsical enough to cook up an extemporaneous poem or song to contribute to any suited-up board meeting. She has the soul of an artist, but her decision-making and leadership is based on data, details and dollars. Adding to her eccentricity, Knight earned her bachelor's degree in Russian studies and general social science from James Madison University. But she did have a brief theatrical career and likes to dance. She's like glue to the local arts scene and you can't help but love and trust this bubbling fountain of optimism and tenacity.
— Lindy T. Shepherd
BEST REASON TO OPPOSE THE NEW PERFORMING ARTS CENTER
Money
There's no money for Mayor Buddy Dyer's $50 million dream, so the plan is to rely upon the philanthropy of Orlando residents and businesses to get the action rolling. Truth is, in order to support itself, the OPAC as proposed would likely turn into an expensive rental facility, appealing to major touring productions who could afford the bill.
Another more viable solution: Upgrade existing facilities in the Loch Haven Park area, already home to Orlando Museum of Art, Orlando Science Center (with a parking garage), Orlando-UCF Shakespeare Festival, Orlando Repertory Theatre and Mennello Museum of American Art, with Theatre Downtown just down the street. There's a built-in audience already conditioned to going there and plenty of parking. Makes sense, right? That's why it'll probably never happen.
— Lindy T. Shepherd
BEST ARTISTIC NUDITY
2005 Orlando Fringe Festival
If we hadn't seen it with our own eyes, we'd never have believed what we saw and heard at the Orlando International Fringe Theatre Festival in May. Orlando Repertory Theatre was used as an auxiliary facility to the stages in Orlando-UCF Shakespeare Festival's Lowndes Center, most notably for the production of the Orlando-spawned and titillatingly titled drama Obscenity. (It should be noted that this is where children used to catch kiddie versions of Rumpelstiltskin when it was the Civic Theatres of Central Florida.)
A pre-show screening of an X-rated and clever trailer for a sexed-up sci-fi thriller set the mood, before the play actually started with some simulated sex by actor Christian Kelty – portraying a porn star – who exposed his bare ass. I was sitting at an angle that afforded a view of him in profile – Holy Moses, but was that real or just theatrical tricks? It all came to a climax at the ending, when artistic but kinky actor John DiDonna performed the deed doggy-style on a drugged-up young beauty. Orlando's come a long way.
— Lindy T. Shepherd
BEST YOUNG ACTOR
Daniel Cooksley
It's an old adage of the theater that there are no small roles, only small actors. And no matter what size part he's essaying, Daniel Cooksley is a big talent indeed. In just a handful of performances at Theatre Downtown, the deceptively boyish Cooksley has cultivated a shockingly mature approach, one that stays intact whether he's bringing up the rear as a bartender in
Requiem for a Heavyweight
or taking center stage as an emotionally prodigal son in the recent
Da
. What he really excels at is playing working-class males whose propensity for hope may or may not elevate them above their surroundings. He does so with a total care that leaves no room for false moments; the trust level he builds with an audience means that you can't take your eyes off him.
Time will tell if Cooksley parlays his abilities into ever-more-prestigious hometown gigs, or high-tails it to a major metropolis the minute opportunity comes calling. Guess which outcome our selfish little hearts desire.
— Steve Schneider
BEST CULT
The Rich Weirdoes
According to an article in last month's issue of Premiere Magazine, it seems that the Rocky Horror Picture Show phenomenon has attained a new lease on life. That the article could just as easily have been written in 1995 – or 1985, for that matter – is an irony that probably wasn't lost on The Rich Weirdoes, the cast of skilled mimes who vamp along with the movie four times per month at the Loews Universal Cineplex 20. Their program of theatrics and audience participation is miles beyond the first-generation rice tossing, and pushes the time-honored virgin's complaint, "You can't hear the movie," to fresh extremes.
Sometimes, it seems as if the Weirdoes and their fans are just having an extended conversation with themselves, playing games of verbal one-upmanship that climax in heart-stopping warnings like, "Bitch, I will cut you!" (Imagine how much funnier it'd be if we gave you the prompt line first.) Since February, the Weirdoes have also been shadowcasting the Baz Luhrmann kitschfest Moulin Rouge, aping its music-hall extravagance with a flair that inspires its own set of outbursts. ("I paid eight bucks for this movie, and I'm not leaving until I see a midget pop out of a windmill!") I'd love to see what they could do with Hotel Rwanda.
— Steve Schneider
Most influential DJ in Orlando
DJ Sleepy Hippie
Kindergarten, 8 a.m. to 10 a.m. Mondays on 91.5 WPRK-FM
DJ Sleepy Hippie, known off-air as Josh Nye, is sort of like Orlando's own Nic Harcourt, only Orlando is way luckier. (Harcourt, the highly influential host of Santa Monica, Calif., National Public Radio affiliate KCRW-FM's Morning Becomes Eclectic, is the man who unleashed Norah Jones and Coldplay on the United States. A recent New York Times Magazine profile called him "the starmaker of the semipopular," noting that Sigur Ros, Damien Rice and Jem got U.S. label deals largely through MBE airplay.) While Harcourt's show tends toward the tastefully snoozy, Nye's taste is heavy on Beachwood Sparks, Built to Spill, Bonnie "Prince" Billy and his beloved Pinback.
"I've seen people come in here with handwritten lists that are, essentially, his playlists," says a Park Ave CDs employee. (Now, with the advent of WPRKDJ.org, fans can print out those playlists instead of having to scribble down titles.) Acts who might not have bothered dipping down into Orlando on national tours make a point of playing here to the converted. Nye's enthusiastic championing of his favorites has built their fan bases in Orlando to the point that "Pinback, Sufjan Stevens, acts that were onesie-twosie special orders, now have their own sections" at Park Ave CDs. If you're wondering who's going to sell out the Social next summer, start listening to Kindergarten now.
— Jessica Bryce Young
BEST PLACE FOR PUNK ROCK CALISTHENICS
Any show by the Country Slashers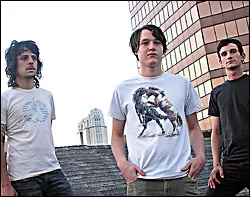 To say that the Country Slashers put on a raucous, high-energy punk rock show would be a completely accurate statement, but given the ease with which such descriptions are given to less-powerful and less-energetic bands, it would also be a disservice to the Slashers.
A revved-up rhythm section, meaty and hard-driving riffs and a captivatingly spastic frontman all vie for stage space during one of the band's rough-and-tumble, constant-motion sets; so much so that said frontman often leaves the stage for the rafters or for the swirling mosh pit in front of the stage.
— Jason Ferguson
BAND MOST LIKELY TO STUMBLE INTO SUCCESS
Summerbirds in the Cellar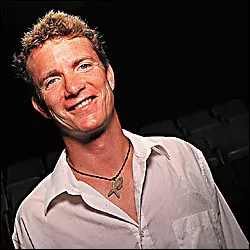 Let's just say that Summerbirds represent something close to the complete opposite of the market-driven, super-professional mentality that people often associate with Orlando's music "scene." Their unique music is a little dark and steeped in sonic thickness, and they're not really the most proactive bunch when it comes to pushing their "career" forward.
But you know what? That's exactly what Orlando needs more of: bands that prioritize creativity over "networking" and that understand it's far more important to make excellent music than it is to pack 'em in at body-shot night.
— Jason Ferguson
BEST SOUND BOARD OPERATOR IN ORLANDO
Jill Woody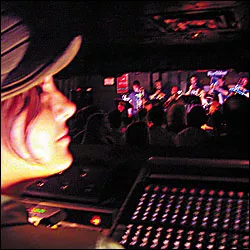 Not to disparage the other fine folks who coax rock & roll magic out of PAs all around town (almost all of whom are excellent), but I must say that I've recently been totally blown away by the work Jill Woody does at Will's Pub and at The Social –
especially
at Will's. She brings a warm and slightly nasty tone to the room, often adding a new sonic dimension to familiar bands. When you additionally consider the venue's foursquare confines and low roof, plus the fact that most bands there are
really
loud, her work is that much more impressive.
— Jason Ferguson
BEST FAILED WORLD RECORD ATTEMPT
91.5 WPRK-FM's 110-hour marathon
Peripatetic DJ Dave Plotkin took to the airwaves at Rollins College's WPRK-FM 9 a.m. Jan. 17, and didn't relinquish the microphone until 11:03 p.m. Jan. 21, for a total on-air time of 110 hours and three minutes. He spoke (or croaked) something into the mike every minute, as required by the folks at the Guinness Book of World Records, and even took showers on air.
It would have been fun to watch his mental capacity slip into the realm of a toddler, if that had actually happened. Instead, Plotkin displayed a savant-like ability to carry on without sleep, managing to not only hold a conversation at the end of the attempt, but to maintain control of the station.
The effort fell 10 hours short of the world record, held by a Sri Lankan man named Arulanantham Suresh Joachim. But it did raise $17,000 that helped put WPRK on the Internet, and it did put more local bands on the air than most people (myself included) knew existed, and it was a hell of a lot of fun to listen to, so it's hard to consider the marathon anything short of a success.
— Bob Whitby
READER'S PICKS
Best movie theater
Enzian Theater
1300 S. Orlando Ave., Maitland,
(407) 629-1088
Best live theater
Annie Russell Theatre
Rollins College
1000 Holt Ave., Winter Park,
(407) 646-2145
Best art gallery
Gallery at DMAC
39 S. Magnolia Ave., (407) 992-1200
Best festival
Orlando International Fringe Theatre Festival, (407) 648-0077
Best open-mike night
"Speakeasy," Will's Pub
1850 N. Mills Ave., (407) 898-5070
Best karaoke
Big Daddy's Roadhouse
3001 Corrine Drive,
(407) 644-2844
Best singles bar
Sam Snead's Restaurant Downtown
301 E. Pine St., (407) 999-0109
Best strip club
Dancers Royale
5221 E. Colonial Drive, (407) 281-0120
Best Latin club
Latin Quarter
CityWalk at Universal Orlando, 6000 Universal Blvd., (407) 224-2800
Best country music club
Cowboys
1108 S. Orange Blossom Trail,
(407) 422-7115
Best rock club
The Social
54 N. Orange Ave., (407) 246-1419
Best dance club
Independent Bar
70 N. Orange Ave., (407) 839-0457
Best jazz/blues club
CityJazz
CityWalk at Universal Orlando, 6000 Universal Blvd., (407) 224-2189
Best hip-hop club
Tabu
46 N. Orange Ave., (407) 648-8363
Best club DJ
Smilin' Dan
Independent Bar
70 N. Orange Ave.,
(407) 839-0457
Best rock/pop act
Dirty Shannon
Best punk act
The Supervillains
Best metal act
5 Billion Dead
Best R&B act
The Legendary JC's
Best hip-hop act
Smilez and Southstar
Best electronic act
Yip-Yip
Best jazz act
Sam Rivers
Best Latin act
C-Note
Best reggae act
The Caribbean Crew
Best acoustic act
Jeff Howell