Page 2 of 4
Sitting on her living room sofa, with her hands in her lap, Blackmun falls silent for a moment when asked about the legacy of her late father, Supreme Court Justice Harry Blackmun, who is best known for writing the Roe v. Wade decision.
"He would have liked to think that he had many, many other important decisions along the way," she says. "He's the one that seemed to get all of the fame and blame. That was kind of, I think, hard for him – and it never let up. It still doesn't let up. He went to his grave with that being his most famous decision."
She adds: "I think what Dad and the court never assumed was the fact that it got as much publicity as it has over the years."
Roe wasn't a close decision. Blackmun was one of seven justices who voted in favor of the right to choose. But since he articulated that ruling, he's often remembered as the sole hero of the hour.
Before his nomination to become the nation's 107th Supreme Court justice, and after spending 17 years in private practice in Minneapolis, Blackmun was the in-house counsel for the Mayo Clinic from 1950 to 1959, until President Dwight Eisenhower elevated him to the Eighth Circuit Court of Appeals. Indeed, Blackmun's experience with the Mayo Clinic and work with medical professionals compelled Chief Justice Warren Burger to assign the Roe majority opinion to Blackmun.
Blackmun and Burger had been close friends since childhood, having grown up together in St. Paul; it was Burger who lobbied for Blackmun's appointment to the Supreme Court in 1970, after President Richard Nixon's first and second choices were rejected by the U.S. Senate.
The timing couldn't have been any better. The Nixon administration was in need of a squeaky-clean nominee who would make it through the confirmation process. Blackmun slid through without objection. As a result, Blackmun spent his career on the court referring to himself as "old No. 3."
"I don't think he hesitated taking the position when it came to him," says Sally Blackmun. "It's certainly nothing anybody ever dreams about. That's usually not a goal of a lawyer, to become a Supreme Court justice, because you kind of just have to be in the right place at the right time.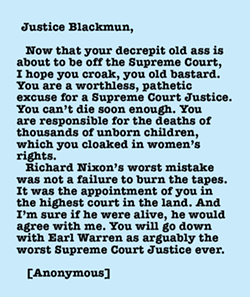 "I think, for him, [being on the Supreme Court] was always the weight of the world on his shoulders. In a lower federal court, if you get it wrong you can appeal to the Supreme Court, but it's the end of the line and decisions affect people. And he took that burden very seriously."
Sally Blackmun was in the same place as her father at the same time: Not long after his appointment, she moved to Washington, D.C., for a job in the Nixon White House as an executive assistant. That allowed her to be in the courtroom the day Roe came down, watching as history was made.
As time went on, old No. 3 received more than 80,000 letters on the Roe decision alone – and he read every single of them, Blackmun says. Some, he answered; others, he didn't, opting instead to let the people's words echo down the hallway of his mind.
"He said he wanted to know what the heartbeat of the country was," Blackmun says, stifling a laugh. "He wanted to know what those people were saying – good or bad or ugly."