Page 2 of 3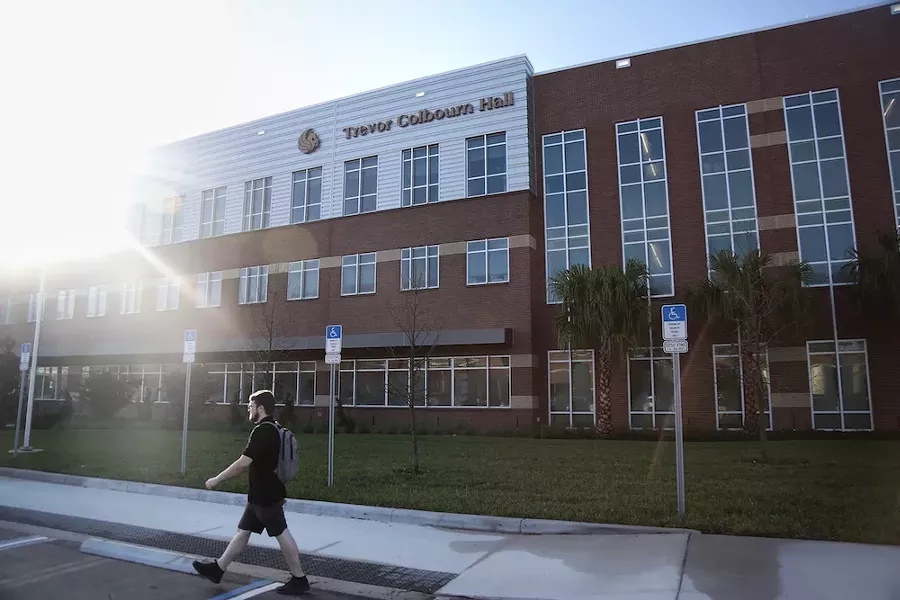 Whittaker hasn't been the scandal's only casualty. Board of Trustees chairman Marcos Marchena resigned and four university administrators have been fired since the issue with Trevor Colbourn Hall first arose last summer.
That's when the state auditor general's office discovered that UCF had budgeted $38 million to replace one of the campus' oldest buildings after problems with mold and structural issues led officials to deem it a public hazard. But the money came from leftover operating funds, which are prohibited from being used to fund new construction. State policy restricts their use to instruction, research, libraries, student services or maintenance.
In September, UCF officials admitted to the misuse of funds to the state Board of Governors, which oversees public universities in Florida. Whittaker terminated four employees after UCF hired a law firm to investigate. UCF chief financial officer Bill Merck resigned, accepting "full and immediate responsibility" for the improper funding.
But transcripts from his deposition with Florida House investigators reveal how he really felt.
"I think the chairman and the president felt a need to show action in response to the things ... and they wanted to, for lack of a better term, to produce some scalps to show," Merck testified, adding that Whittaker's snap decision to ax four employees was meant to shift attention away from the possibility of blame falling on himself. "And these four people were on the receiving end of that unfairly," Merck said.
Whittaker suggested he resign. "And that was it, the end of a 22-year stint at UCF. Plastic bag in my hand with pictures of my wife," Merck testified. "It was – it was pretty brutal."
A subsequent investigation by the Florida House Public Integrity and Ethics Committee found that UCF had a "multi-year strategy" to misdirect nearly $85 million in leftover operating funds from 2013 through 2018, including the $38 million for Trevor Colbourn Hall.
The UCF investigation found that Whittaker, the university's provost from 2014 to 2018, knew leftover operating dollars were being used to build a new Trevor Colbourn Hall, but he didn't know of the prohibition against it. The president and Merck were stripped of tens of thousands of dollars in bonuses as a result.
Whittaker, Merck, Marchena and Hitt were subpoenaed to testify before the House committee led by Rep. Tom Leek, R-Ormond Beach.
Leek says his committee's final report on the UCF investigation will be done in about two to three weeks, and it's expected to reveal more fund misdirection and detail the infighting that led to Whittaker's resignation. Hitt has so far refused to give any testimony and has only offered written responses.
The probe has consumed a tremendous amount of resources, so investigations into funding misuse by other universities have not started. Politico reported last week that the House committee flagged 23 university building projects amounting to more than $252 million in the 2018 budget that may have been funded with leftover operating funds at multiple schools.
Asked about the dwindling state funds that may have caused some schools to improperly use leftover operating funds, Leek says UCF still broke the law. The Legislature's Public Education Capital Outlay, commonly known as PECO, funds construction and maintenance projects at public universities, colleges and K-12 school districts. The Orlando Sentinel reports PECO funding declined to a low of $73.5 million in 2012 after the recession, despite growing enrollment. In 2018, Florida lawmakers approved $487 million in PECO funding, with the 12-university system receiving $112 million in individual projects and $47 million in maintenance funds.
"You have to work within the system you've got," he says. "They constructed a building instead of conducting maintenance all those years. ... UCF has plenty of money to do everything they need to do lawfully, they just didn't want to do that."
Aubrey Jewett, an associate professor of political science at UCF, said the Legislature is "somewhat responsible" for the mess.
"They did not provide a reliable source of money to replace the steadily diminishing PECO funds traditionally used for [new buildings and infrastructure], and yet still expected the universities to accept more students and figure out a way to build new buildings and replace older, unsafe buildings," he says.
"And of course the Legislature is hypocritical in that they often have used earmarked funds for different projects than originally intended, like the practice of sweeping up money designated for low-income housing," Jewett adds, referring to lawmakers' frequent diversion of funds from the Sadowski Affordable Housing Trust Fund for other unrelated projects – something that's legal for the state but illegal for universities.
An ongoing probe by the Board of Governors could also uncover more misspending at UCF all the way back to July 2010.
"The Board of Governors is continuing to further investigate the university's other used and planned uses of education and general funds for construction projects beyond the construction of Trevor Colbourn Hall," Board of Governors spokesperson Brittany Wise said in a statement.
The four employees Whittaker fired in the early stages of the Trevor Colbourn Hall scandal are demanding their jobs back and say they wrongly took blame for a "broken culture" of misspending that Whittaker created. Whittaker did not respond to a request for comment.
"UCF would begin the healing process by giving these women their jobs back," says attorney Charles Greene, who is defending three of the employees. "Merck admits that he and others were involved in the decision-making process – not these lower-level employees who didn't have any input into the decision at all. They've just been blamed for it."
"I just hope UCF does the right thing, because if they don't, they will be sued," Greene adds.