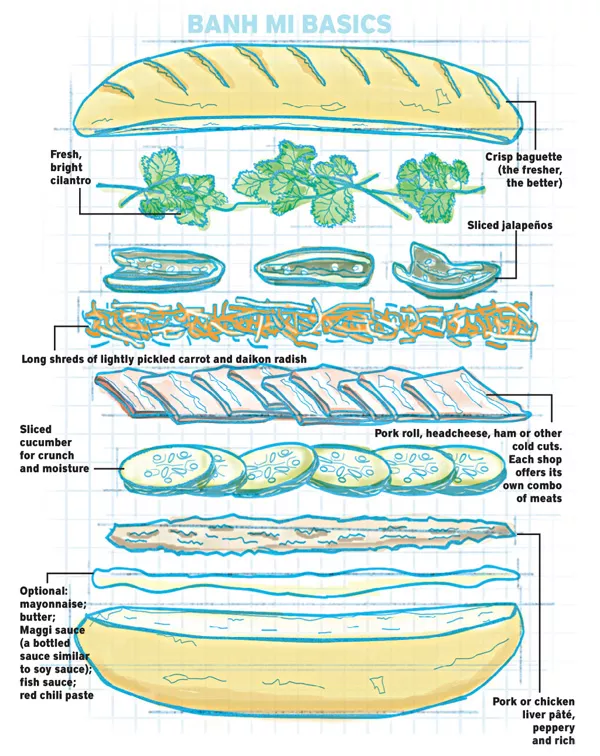 After the French left Vietnam in the late 1950s, they left behind some reminders of their occupation: strong coffee and stellar bread. A crisp-crusted baguette is the basis of the classic French sandwich – simply prepared with just a layer of butter and a slice of ham or smudge of pâté – and also the banh mi, a submarine-style sandwich that, in the hands of Vietnamese street-food vendors, evolved into a cross-cultural phenomenon. The sandwich's Gallic foundation remains (a crisp, short baguette, a slather of butter or mayonnaise and a smear of liver pâté), but Vietnam occupies the structure, filling it with pickled daikon, hot peppers, handfuls of cool, fresh cilantro and raw cucumber, a dousing of fish sauce and a variety of cured meats you wouldn't likely see in a French charcuterie.
Although Orlando isn't a notable stop on any foodie map, there's one cuisine at which we excel, and that's Vietnamese. The restaurants clustered around Mills Avenue and Colonial Drive (there are outliers in Pine Hills and Coytown as well), for instance, serve up pho and bún (rice vermicelli) that can stand up to the best in the country. And we've got more than our share of storefronts advertising delicious variations on the banh mi along with the classic "banh mi dac biet" ("house special" or "combination").
Noting the fact that banh mi is in vogue in so many other cities right now, we decided a showcase of Orlando's contenders was long overdue. Not only are these Vietnamese subs crazy popular in New York, Los Angeles and points between, they're crazy cheap – ranging from $2.50 to $3.50. In these economic times, a satisfying meal that can be had for under a fiver is worthy of closer attention. And the banh mi is a true crowd-pleaser. Like all great sandwiches, it offers a symphony of textures; like all great Asian food, it strives to balance savory, salty, sour and sweet. (Or it should.)
In a highly unscientific "taste test" (read: a chance to eat to excess and excuse our gluttony as "work"), seven of us crunched our way through slices of 15 banh mi from eight Colonialtown restaurants. See our scores and comments on the following pages to find out which banh mi held up the sandwich standards, complementing crisp with chewy, unctuous with herbaceous, and which achieved the true Asian hot-sour-salty-sweet balance.
The taste testers included chef Tony Adams of Big Wheel Provisions (www.bigwheelprovisions.com); Holly Kapherr, writer for Orlando Weekly and blogger at I Could Eat (http://onfoodandeating.blogspot.com); the indefatigable Ricky Ly of Tasty Chomps (www.tastychomps.com); eater-about-town Evan Dobkin (www.nerditry.com), and a few other sandwich enthusiasts. We were mostly pleased with what we ate, but couldn't help wishing a little banh mi madness would rub off on the more established restaurants about town. Who knows what the Ravenous Pig kitchen might come up if they tried their hands at banh mi? (They surely have the pork skills.) Or Lac-Viet, arguably the best Vietnamese restaurant in town and certainly the one with the most upscale ambience; they don't serve banh mi, but they could probably turn out a tasty one if they tried.
Here's hoping this article inspires a few chefs around town to experiment, more than a few readers to try banh mi, and a couple of sandwich-makers to up the game on their bread.
Banh Mi Dac Biet ("#1 combo")
Boston Bakery
1525 E. Colonial Drive
407-228-1219
score: 4.5
A fresh, crisp-crusted baguette and the perfect balance of sweet to sour and meat to vegetables distinguished our winner. Every taster raved about the "crackling," "crunchy" bread, along with the "good liver flavor," "nice herbs," "sauciness," "homemade butter" and "nice pickle to the veggies."
Banh Mi Dac Biet (house combination)
Banh Mi Nha Trang
1216 E. Colonial Drive
407-346-4549
score: 4.4
"The bread I've been hoping for," one taster was heard to say, upon biting into Banh Mi Nha Trang's "chewy," "beautiful, caramel-colored," "crispy pretzel" baguette. (It was the 14th sandwich we tasted, and the bread had been somewhat disappointing thus far.) This sandwich was also one of the few with onion – red onion, in fact, along with fish sauce, which added a "sharp bite," "good moisture" and "slight seafood taste" to the "very flavorful meat."
Banh Mi Dac Biet (house combination)
Phuoc Loc To (Oriental Super Market)
2100 E. Colonial Drive
407-898-6858
score: 4.2
The supermarket sub won raves for the chef's knife skills – "very flavorful roast pork, cut thicker"; "big daikon pieces give good crunch" – and ratio of "fresh," "fragrant" meat to vegetables. Bread, though, was "generic" and "could be better." The "very creamy," "sweet," "delicious" butter "makes a huge difference."
Banh Mi Cha Lua (pork roll)
New Saigon Subs
1242 E. Colonial Drive
407-898-7770
score: 4.0
New Saigon Subs' pork-roll sandwich was universally described as "very meaty"; also "salty, "savory," "rich," "very filling" and "very moist." One taster's sole comment was "GREAT PÂTÉ," while another opined, "Liver becomes a player when it should."
Banh Mi Thit Nuong (grilled pork)
Anh Hong
1124 E. Colonial Drive
407-999-2656
score: 3.8
High marks were given for the generous serving of grilled pork on Anh Hong's banh mi thit nuong – caramelized and crisp around the edges and tender within. However, the "veg [was] overwhelmed by pork," as were the tasters, leading one to conclude, "Not enough veggies for true banh mi flavor." Another thought the tasty meat "deserved better bread" and still another said: "Like Korean BBQ made into a sandwich."
Banh Mi Dac Biet ("Anh Hong special")
Anh Hong
1124 E. Colonial Drive
407-999-2656
score: 3.3
Anh Hong's take on the standard banh mi was praised for using real meat (ham and "savory sliced pork"), rather than processed cold cuts ("not meat roll"). Some tasters felt the sandwich was too salty and lacked acid or the "sweet-sour component." Liberal use of butter and "whole peppercorns!" were appreciated.
Banh Mi Thit Nguoi ("combination cold cuts")
Pho 88
730 N. Mills Ave.
407-897-3488
score: 3.0
Is "super head cheesy" a compliment or an insult? In BanhMiLand, it's a compliment. "Good mixed meat flavor"; "nice aroma, love the head cheese"; "slightly greasy but tasty" – these were the approving comments of a crowd primed and ready for Asian charcuterie. Opinions of the vegetable element ranged from "very fresh tasting" to "just filler for crunch."
Banh Mi Doi (lemongrass pork)
Ba Le
1229 N. Mills Ave.
407-898-8011
score: 2.9
Most of us were surprised when it was revealed that this lemongrass pork sandwich didn't rate more highly, as Ba Le's reputation is good among Orlando's banh mi fanciers. It may have been just bad luck, but this specimen featured "soggy," "pale" bread and vegetables with "no real flavor." The "very lemony," "sweet and tangy" meat was "refreshing," however, and "huge black peppercorns" were a "flavorful" plus.
Banh Mi Cha Ca (fried fish paste)
Banh Mi Nha Trang
1216 E. Colonial Drive
407-346-4549
score: 2.7
"Spicy, fishy, not much else" – the sole comment of one taster summed up everyone's opinion of new contender Banh Mi Nha Trang's fried fish-paste sub. One man's too much, ugh is another's too much, awesome!, though. A few appreciated the strong chili paste, scallion and seafood combo; others thought it "would benefit from a more toasty roll," "more acid" or "more cilantro" to cut the "fishy flavor," or simply "more veg."
Banh Mi Saigon (house combination)
New Saigon Subs
1242 E. Colonial Drive
407-898-7770
score: 2.6
"Surprisingly generic taste," "underwhelming" and "nothing special": New Saigon Subs' basic banh mi elicited a big fat "meh" from the lot of us. "Wouldn't pull my car over to the side of the road to buy" this, said one taster, while several others noted the "overwhelming" presence of Maggi sauce. "Nothing in this sandwich is a player except the sauce," said another – and since that sauce came out of a bottle, that's not an advantage. Still, one taster noted, it was "buttery and rich with mayo and liver pâté."
Banh Mi Dac Biet (combination)
Ba Le
1229 N. Mills Ave.
407-898-8011
score: 2.4
This sandwich, the first one we tasted, got props for the pressed bread – one of us dubbed it a "Viet-Cuban." Aside from being "chockfull" of "garlicky pâté," though, Ba Le's combination banh mi earned three "bland"s, three "weak"s, two "ho-hum"s and a "boring," with a frustrating lack of cilantro.
Banh Mi Xiu Mai ("chopped meatballs")
Pho 88
730 N. Mills Ave.
407-897-3488
score: 2.2
Pho 88's meatball sub, hotly anticipated, was a bit of a letdown. Across the board, the verdict was a resounding "greasy." Tasters called the meatballs variously "soggy," "mushy," "fatty" and "greasy," but as ever, some enjoyed what others disliked. "Good squish factor" and "not too dry" pointed to a preference for a moist sandwich, while one taster, not a fan, "could feel the fat." Two thought "more acid," "more daikon" or "more herbs" would have balanced the flavors.
Banh Mi Xa Xiu (sliced barbecued pork)
Pho 88
730 N. Mills Ave.
407-897-3488
score: 2.1
Cha siu (or xa xiu), sliced barbecued pork, held out tantalizing promise, especially for those of us who love the red-lacquered Chinese version. Neither of the banh mi cha siu we tasted fared well in this test, unfortunately. "Meat was beautifully colored but relatively flavorless. Disappointing," wrote one taster. "Blank taste, no seasoning," "flavorless pickled veggies" and "boring bread" sealed the deal, though one diplomatic taster praised the "nice cilantro flavor."
Cha Siu Banh Mi (sliced barbecued pork)
Tien Hung Market
1110 E. Colonial Drive
407-422-0067
score: 1.9
"Bread tastes processed," "bread hard to chew," "bread is gross": Ignore the housing of your sandwich at your peril, banh mi chefs. This, our second banh mi cha siu, also failed to please, with meat described variously as "bland," "briny" or "sweet." Two tasters wrote that the sandwich tasted "like pork fried rice" – starchy and dull.
Combo Banh Mi
Tien Hung Market
1110 E. Colonial Drive
407-422-0067
score: 1.8
Our lowest scorer aroused confusion more than actual disgust. All agreed that it was oddly "sweet," with meat that tasted "too processed" and bread with a "springy," "strange texture." Points were given for "good cilantro flavor" and "nice cucumber flavor," but in the end, one comment summed it up: "Tastes like an Asian supermarket smells." Fair enough, since Tien Hung is in fact a market; perhaps the unique odor of a nearby durian fruit managed to sabotage this sandwich by exuding its pungent aroma into the bread.