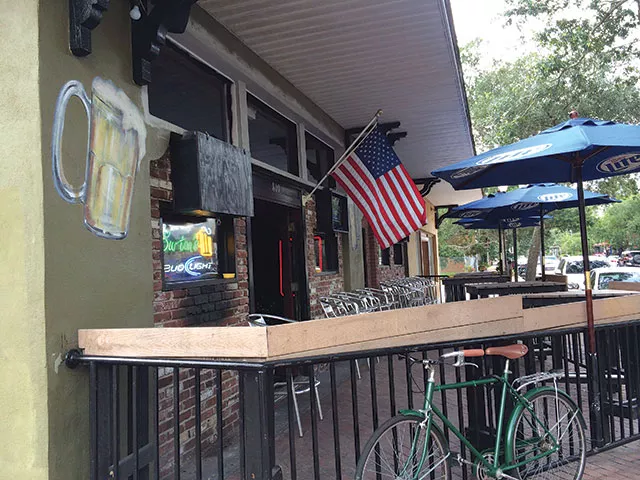 Burton's Bar
801 E. Washington St.
twitter.com/burtonsbar
Beer/wine or liquor too?
Beer and wine
Check all that apply:
( ) fancy cocktails
( ) make 'em strong and keep 'em coming
( ) wine list (5 choices or more)
(X) craft beer
(X) beer: the usual suspects
(X) wide selection of bottles (more than 15)
( ) wide selection on tap (more than 15)
After work or after hours?
After work
Food?
( ) Y
(X) N
No, but Tijuana Flats and Anthony's Pizza deliver to the bar. Also, all the free popcorn you can carry.
Smoking allowed?
( ) Y
(X) N
Outside drinking:
(X) Y
( ) N
Dog-friendly?
(X) Y
( ) N
(at outside tables)
Bathrooms: nightmare or not bad?
Women's: not bad, large and clean. Men's has revealing swinging doors and a photograph labeled "Fucking pigs," so draw your own conclusions.
TVs?
(X) Y
( ) N
What's on?
About a dozen TVs tuned to sportsball of every type.
DJs?
( ) Y
(X) N
Loud music or background music?
Background music (TouchTunes)
Games?
( ) pinball
(X) video (PowerPutt, Golden Tee, Big Buck Hunter)
(X) pool
(X) darts
( ) shuffleboard
( ) mini-basketball
(X) other: video poker
Essay question: Why should I drink here?
People sometimes call Burton's a dive bar, but that's a misnomer – it's much too clean and friendly to be called a dive. Burton's is that type of bar you could classify as a "utility bar," a place where absolutely everyone is comfortable. Here you can sit at the bar and watch sports while downing Miller Lites, debate politics while kicking game-animal ass at Big Buck Hunter, discuss the last book you read over a round of Lagunitas IPAs or just watch Thornton Park street life pass you by as you lounge outside with your dog.