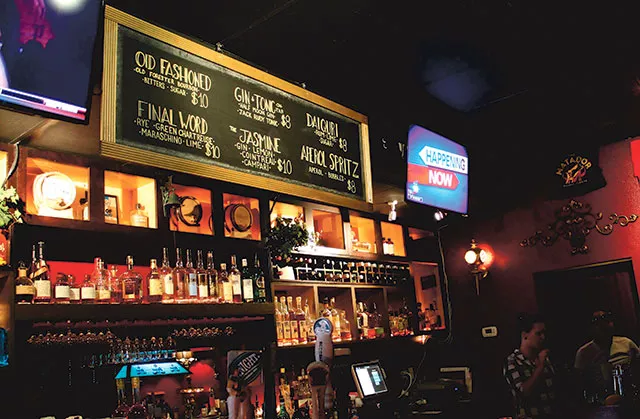 Name of bar: THE MATADOR
Address/phone number:
724 Virginia Drive; no phone
Website, if there is one:
facebook.com/thematadorbarorlando
Beer/wine or liquor too?
Oh, there's liquor. You could live in the gin and tonic on draft.
CHECK all that apply:
[ X ] fancy cocktails
[ ] just make 'em strong and keep 'em coming
[ ] wine list (5 choices or more)
[ X ] craft beer
[ X ] wide selection of bottles
[ ] wide selection on tap
Food? Occasional food truck action or catered special events
Smoking allowed?
[ ] Y
[ X ] N
After work or after hours? Seriously, both.
Get laid or just get drunk? Get laid.
Dogs allowed?
[ X ] Y
[ ] N
Outside drinking?
[ X ] Y
[ ] N
A nice new patio was just built.
TVs?
[ X ] Y
[ ] N
What's on? Sports, usually. This is a deceptively awesome place to catch a game, because the TVs are large and there are many inviting spots to post up.
Games? Check all that apply:
[ X ] video
[ ] arcade games
[ X ] pool
[ X ] darts
[ ] mini-basketball
[ ] skee-ball
[ ] shuffleboard
[ ] pinball
Essay question: Explain, in 50 words or fewer, why I should drink here:
Matador is the best of both worlds: It's a dark dive with plenty of seating, where you can get an adventurous craft cocktail or just order up your usual drink. The patio is typically jumping after hours, but happy hour is normally chill. It's almost too easy to order round after round in this well-rounded Ivanhoe watering hole.