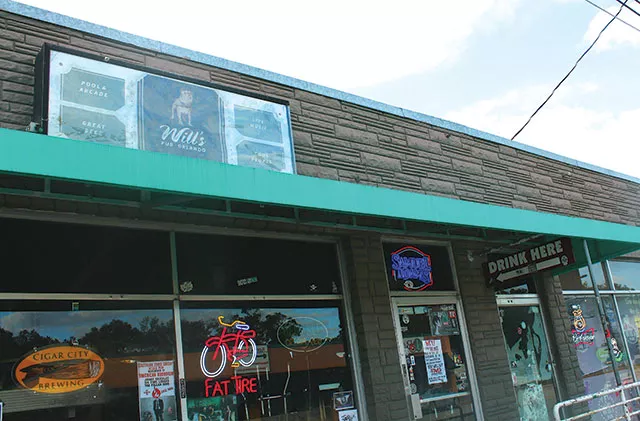 Name of bar:
WILL'S PUB
Address/phone number:
1042 N. Mills Ave.; no phone
website, if there is one:
willspub.org
beer/wine or liquor too?
Oh, there's liquor. LIQUOR LIQUOR LIQUOR, as of Wednesday, April 2
CHECK all that apply:
( ) fancy cocktails
( ) wine list (5 choices or more)
(X ) make 'em strong and keep 'em coming
( X) craft beer
( X) wide selection of bottles
(X) wide selection on tap
food? Nope
smoking allowed? ( ) Y (X ) N
after work or after hours? Both
get laid or just get drunk? Get drunk.
outside drinking: ( X) Y ( ) N
dogs allowed? (X ) Y ( ) N
(small ones)
DJ? (X ) Y ( ) N
(sometimes; check the website)
TVs? Y N
What's on? Sometimes sports but usually nature shows, cute animal videos, etc.
jukebox? ( ) Y( X) N
games? Check all that apply:
( ) pinball
( ) arcade games
(X ) pool
( ) skee-ball
( ) darts
( X) other: photobooth
We shed a tear for the recent elimination of Big Buck Hunter and pinball. And we'll shed another few when (if?) the pool tables go away in July.
Essay question: Explain, in 50 words or fewer, why I should drink here:
Come for the shows, stay for the low doughs: Every Will's drink is a dollar off until doors open, and if there is no show, it's a dollar off everything all night. It's a cheap drunk and possibly a place to meet a cheap date.