Thundercat is a bass-playing wunderkind who hails from the West Coast, currently home to a vanguard of young, progressive soul and jazz artists – fearsome talents like Kamasi Washington, Kendrick Lamar and Kneebody, all of whom Thundercat has lent his A-game to on album sessions while still holding his own.
Thundercat's own music, especially his latest album, Drunk, takes you on a cinematic and animated journey. The album conjures up a PCH/A1A coastal road trip where the radio is stuck between stations, a dreamlike synthesis of '70s soft rock and funky electro R&B bleeding out of the speakers. If you're one of the legion of Victor Wooten and Jaco Pastorius fans out there, then imagine their futuristic, space-time-continuum tripping cousin, and that's Thundercat.
Orlando Weekly: How would you describe your vision and sound for Drunk? How did it begin?
Thundercat: Trying to get as close to what I have and am hearing, while not downplaying what I'm trying to say – creating music for the love of making music. With the title, it speaks more to so many things other than the literal meaning. Like the way life is, the lackadaisical sense that is going on today. Like how unreal it is, and how we're social media blank spots. It's a reaction to so many of us not being in the moment.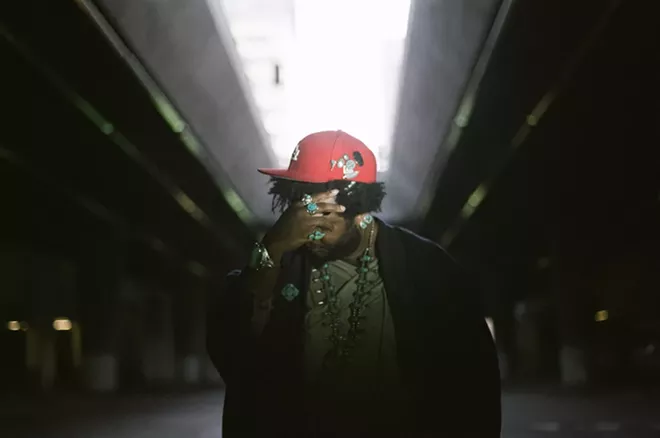 Somewhere between Kamasi's [Washington] album, and Flying Lotus' and Kendrick's [Lamar] albums, my writing process changed. It was like a balancing act and that's when the music started to take shape.
How did your various collaborators get involved? "Show You the Way" on Drunk features Kenny Loggins and Michael McDonald, lending a lot of cred to the album's soft-rock influences ...
First, I look for the love and appreciation of what they're doing. ... The artists I've worked for ... it comes naturally. At first I didn't think to ask Lamar, and when he saw the opportunity he was like, "Why didn't you ask me sooner?" I didn't want to assume, because, you know, he's Kendrick Lamar doing what he does, you know! But he jumped right on it.
Michael McDonald and Kenny Loggins are a totally different story. I mentioned them on the radio once, and by way of that it came full circle. Kenny's son works very closely with Dennis Hamm, who plays piano with me, and he reached out to Kenny's son who reached out to his dad, who thought I was kidding, and then realized I wasn't, and it all came together and McDonald along with it.
What are we going to see at your upcoming show? Will it have any of the humor that runs through Drunk?
Well, a lot of the time the truth is told in jest. Comedy is a big part of the process. There's always been a correlation between music and comedy; there's a saying that every comedian wants to be a musician and every musician wants to be a comedian. Onstage we have fun – we're known for it – and we're going to have a good time when we're in town.