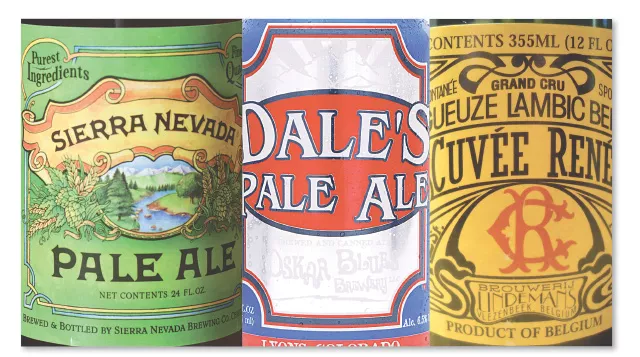 To ferment lagers during the Middle Ages, German brewers would stow casks in caves across the hinterlands to exploit the dry, cold environs within – or, as Orlandoans mired in the sweltering Central Florida summer might describe that setting, "Heaven."
Cold beer has long been a useful weapon to combat torpid July afternoons, even in the olden days, but unless you can hop in a time machine barreling toward the fatherland circa 1400, you won't be rocking to and fro, arms wrapped around one of those icy cave casks, baby sloth-style. Instead, a lot of people find themselves shrugging and picking up a 12-pack of whatever supermarket lager is on sale this week. It doesn't have to be that way.
Where there's a fridge, there's a way to procure beer good enough that it'd do those ancient German cave-brewers proud. Not all brews are created equal, though, as far as summer drinking is concerned – nobody wants to chug a tepid imperial oatmeal stout and find themselves plodding across the beach with a gut full of stomach-lava. And you don't want to thoughtlessly toss those dark brews into a cooler full of ice (a good stout can be enjoyed cool, but it's not meant to be served icy cold).
When you think of pairing hamburgers and hot wings with some cold ones on a hot day, consider a pale ale. These beers' floral, citrusy flavors and aromas actually become more pronounced as they warm, without the infamous tinny or wet-paper flavors your American light lagers will often emit. Dale's Pale Ale and Sierra Nevada Pale Ale are both brews you can knock back without much aftershock while still boasting punchy ABVs (Dale's comes in at a hefty 6.7 percent). Bonus points: Dale's comes canned – perfect for easy, compact disposal.
Speaking of cans, kudos to the Belgians for shipping cans of their boozy heat-repellent Wittekerke our way to save us from sober summer doldrums. Think of it as Sunny D for jaded, heat-stroked adults – it pours a pleasant, hazy yellow, and its high carbonation promises a smooth finish with a blast of lemon zest and a touch of coriander to pique your palate. Of course, we'd be remiss not to mention Tampa's own spicier, citrus-heavy domestic take on Belgian witbier, Cigar City's Florida Cracker White Ale, also served in cans, or Samuel Adams' seasonal wheat-and-zest soiree, Sam Adams Summer Ale.
It would also be inappropriate not to pay homage to the King of Beers – well, sort of. There's a reason pale lagers hold dominion over many refrigerators, in addition to summer pool parties. They're crisp and refreshing, bubbling with nearly effervescent carbonation. And their unobtrusive flavors mesh with low ABVs to obliterate any limit on how many you can pound, vomit point notwithstanding. To experience a lager closer to what our German brethren intended, try Cigar City's extremely seasonable and tasty Hotter Than Helles Munich Lager, an endearing salute to the traditional thirst-quenching fare of Bavaria. If you're into a little genre-bending, you can't pass up Victory Brewing's Prima Pilsner, either, which marries the hop character of a pale ale with a Pilsner's prized crisp finish.
But if you want to give your summer shindig beer a bourgie flourish, turn to the lambics – brews fermented in troughs and other open vessels to produce tart, acidic flavors and aromas. Many lambics, like St. Louis Framboise, have been sweetened with fruits, dampening the style's sour profile and making them delicious ingredients in various beer cocktails. But say you want to strip away the sugary adjuncts and stuff your gullet with unfettered lambic bliss, try unsweetened, unfruited lambics, like Lindemans Gueuze Cuvée René. Its earthy aroma precedes a tandem of tart, grassy flavors and a dry, champagne-like finish and begs to be jammed in a fancy bucket full of ice.
Now, get to your local beer store and load up on beverages worthy of being served.