Indeed, such strangeness is a mere sprinkling of what's in store for the 2008 Orlando International Fringe Theatre Festival. The whole enchilada is engorged with the creative energy of 70 artists and groups (mostly from here, though others come from everywhere) plus the scores of volunteers and staffers who provide the production magic. Over the course of 12 days, right-brain inspirations fill the stages for the 17th annual celebration of music, drama, comedy, dance and other artistic expressions that defy categorization.
For all the planning that goes into the Fringe, it's still a random operation: The shows in the lineup are picked by a lottery system. Applications go to producing artistic director Beth Marshall (we call her the Mistress of Fringe), and she blindly draws the lucky titles that'll fill the limited schedule. On the upside, the system ensures there's always room for fresh Fringe blood; on the downside, the unchosen are left to wait for another year – a tough break for successful Fringe veterans who've established a following. Ultimately, the quality of the act doesn't count for doodie in the selection process – there is no auditioning beforehand. (Speaking of poop, the Doodie Humor comedy troupe is back this year with Doodie Humor's Christmas Spectacular.)
So what does the random selection process mean to the audience? Simple – no guarantees. Depending on individual tastes, some productions may strike the zenith of viewing pleasure, while others may sink to a miserable nadir. That's the gamble of Fringe: There is something for anyone to love or hate, you just have to find it; every Fringe is a fresh treasure hunt. That's why word-of-mouth recommendations are the most reliable way to gauge what's hot and what's not. When it comes to the inside scoop, Marshall suggests eavesdropping on conversations in the beer tent and observing what other Fringers are standing in long lines to witness. Of course, those who never follow the crowd can slip into any dark venue for an adventure to judge for themselves. And the Fringe website connects you with endless pages of detailed information about participants and activities; it can pay to study up in advance.
If rubbing elbows with wacky theater types and their followers causes undue anxiety, that's OK too. Because of the improved logistics – everything is centralized in Loch Haven Park, and tickets are available online (eliminating congested will-call experiences) – it's possible to show up with ticket in hand, catch a production and make a fast getaway without ever uttering a word. (That is, as long as your Fringe button has been bought and picked up in person ahead of time; see the "How to Fringe" sidebar.)
If money is in short supply, not to worry. No button or ticket is required to hang out in the beer tent or to shop around the food court and product vendors spread out in Loch Haven Park – aka "the Green Lawn of Fabulousness." The outdoor stage on the lawn also will see its share of free shenanigans in the evenings and weekends. (Suggestion: Take notes on what happens on the green for 12 days and there should be enough character-rich filling for a 2009 Fringe hit.)
For a better understanding of what's in store for this year that's different from previous years, we went to Marshall, whose whip-cracking over the years has worked wonders in shaping the festival's efficiency, productivity and creativity. She knows the Orlando Fringe inside and out, and she's also knowledgeable about the national and international Fringe circuits. On top of that, she's a performer herself, with plans to go on the road with her show just after Fringe wraps up.
Since Marshall never tires of cheerleading for the festival, we talked with her and found that as she revealed specifics about the 2008 assemblage, she captured a colorful overview of this crazy little thing called Fringe. In keeping with the random theme, we share her insights in no particular order.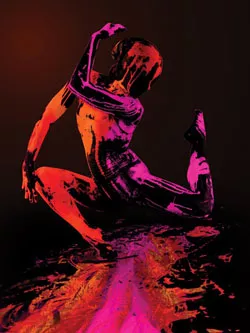 The Green Lawn of Fabulousness
Proper food and drink always elevate the mood of the crowd, and this year organizers have tripled the offerings in the outdoor food court (complete with tables and chairs). Here's where you'll be tempted by the smell of fried catfish or the sight of an ice-cold beer, or moved to revive your overstimulated body with a short spell in a massage chair. Entertainment on the free stage picks up in the evenings and all day on weekends, and special events also have been planned. A sure spectacle is the Silent Rave: Orlando (5:24 p.m. Saturday, May 24), for which partiers bring their own MP3 players and earbuds and dance to their own tunes. Costumes are encouraged, as well as group efforts.
Godfather of the Fringe: Michael Wanzie
It just wouldn't be Fringe without local theater impresario Michael Wanzie, who's always pushing the boundaries of Fringe's no-censorship sensibilities. Whether the maven of gay theater is performing, directing or just hanging around taking tugs off his trusty flask, keep an eye out for his oversized flamboyance and stay clear of his stinging wit. Wherever he wanders, the cult of Wanzie usually staggers behind. At the Fringe Preview several weeks ago, he shared hosting duties and had obviously been scolded about making inappropriate comments in front of the family-friendly audience. Though he tried to hold himself in check, it was impossible. As always, his unscripted asides thrown from the sidelines served as an assurance that the Fringe has not yet been tamed. The overtly gay musical When Pigs Fly is the production he directed in this year's lineup.
Faithful Fringers: The Green Room Company
Considering the R-rated content we've mentioned so far, it might be hard to believe that there is plenty of wholesome fare in the Fringe mix. (You can find the maturity rating of each show in the festival's program.) For example, the Green Room Company that stems from the First Baptist Church of Orlando has participated in the festival for four years now. Steel Magnolias was last year's show; this year they present the Rejoice Dance Ministry original work In His Own Time. The segments are based upon the Biblical writings in Ecclesiastes 3, ringing with the familiar line "A time to be born and a time to die" – the same passage that was transformed into the song "Turn! Turn! Turn!" by the Byrds.
Newbies
We mentioned that the lottery system keeps the Orlando Fringe doors open to fresh faces from around the world – and Casselberry too. That's home to Kick the Puppy Productions, whose three-minute showcase of their Oral entry at the Fringe Preview piqued the interest of the audience with its frank talk on what it's all about down there. (This could be the sex-ed refresher course that you've been praying your lover will attend – and ace.) Not having seen the full show, we're hoping that once and for all, the difference between a "vagina" and a "vulva" is fully mapped out, and that Howard Stern gets a tape. Also on the newbie scene is Jessica Taylor of Palm Coast with Colored Waiting Room, a game show of sorts starring the black actress, who performs in blackface as she shocks audiences with her no-holds-barred racial satire. It's as brutal as it is enlightening.
Poetry Vending Machine and Smackdown
While many past and present shows have contained elements of poetry, rarely has poetry taken center stage at the Fringe, says Marshall. And it won't again this year, but there will be the cash-and-carry Poetry Vending Machine on the lawn powered by Tod Caviness and other "local bards," including Dani O, Darlyn Finch, Brad Kuhn, Trevor Fraser and S.K.I.P. Hand over $5 (or try to barter with beer and snacks) and a few guiding words to the poets on duty, and they'll deliver the goods. At 11 p.m. Saturday, May 17 and 24, Caviness hosts the more competitive Fringe Poetry Smackdown, for which local wordsmiths take on each other in live matches judged by the unruly vultures on the sidelines (the judges). The Smackdown is free and takes place in the new outdoor Red Venue (the back courtyard, by the firehouse).
Kids Fringe and
Visual Fringe
The 10 a.m.-4 p.m. weekends-only Kids Fringe moves outdoors this year too and benefits from sponsor Blue Man Group, which will run a one-day-only workshop Sunday, May 18. That's in addition to other programmed activities designed to stimulate the creativity of the Fringers of tomorrow. The Visual Fringe takes place inside the Lowndes center, organized by Anna McCambridge. The works are all for sale with 100 percent of the purchase price going back to the artists. Both Kids Fringe and the Visual Fringe are free and don't require buttons.
Both veteran and novice Fringe-goers should be getting the message that there's more to experience at the Fringe than can be recounted, so make use of the website and all of the other maps and guides available onsite. Visit Orlando Weekly's Culture2Go blog (www.orlandoweekly.com/blog/c2cg.asp) for reviews and comments during the festival. And don't forget to wear your ruby slippers, as you'll want to click your heels and remember that though your imagination has been transported to an alternative universe, you're really still in Orlando.

*Note: Dwarfs with flashing tools can be found in VarieTease No. 24: Doll Factory; red dildo in the hands of a randy senior citizen, Mister Rose's Bird and Falling Leaves; devil's weed, Reefer Madness, the Musical; racial jokes told in blackface, Colored Waiting Room; politics of pee, Urinetown; mysteries of the clit, Oral.
HOW TO FRINGE
Buttons & tickets
First, buy a Fringe button. And we suggest buying it in advance, which you have to do in person. REPEAT: Buttons must be purchased in person. It's $6 and is required for entry to all performances, but NOT for Visual Fringe, Kids Fringe, the outdoor stage or the beer tent. Buttons are available only at the Ticket Central location (4 p.m.-midnight weekdays, 10 a.m.-midnight weekends) inside the Lowndes Shakespeare Center – not online and not by phone. Proceeds from the button sales benefit the festival; ticket revenue goes directly to the performers.
After you have the button (sold in several collectible designs), buy tickets (priced up to $10), which are sold inside the Lowndes Shakespeare Center up to three minutes before show time. Advance tickets – the way to go – are available at www.orlandofringe.org. Online sales stop at 10 p.m. on the day before a specific performance. A $1 processing fee is added to all ticket purchases. After you buy advance tickets, you can print them yourself. Free parking is available at Loch Haven Park on a first-come, first-served basis. There is also limited street parking on Rollins Street and Mills Avenue and paid parking at the Orlando Science Center and Florida Hospital.
Seating at Fringe performances is general admission, so early arrival is recommended; patrons who have not purchased their tickets in advance are advised to show up an hour before the advertised show time. No late seating will be permitted.
Venue key
Lowndes Shakespeare Center,
812 E. Rollins St.
Orange:
Margeson Theater
Yellow:
Goldman Theater
Blue:
Studio B
Brown:
Orlando Philharmonic Rehearsal Hall
Pink:
Mandell Studio Theater
Red Venue:
outdoor Darden Courtyard
Bathroom venue:
Women's lobby bathroom
Kids' Fringe:
Loch Haven Park
Orlando Repertory Theatre,
1001 E. Princeton St.
Green:
Tupperware Theatre
Silver:
Edyth Bush Theatre
Ratings Key
All shows at the Fringe are uncensored and anything goes – dirty language, sexed-up costumes, nudity, inappropriate humor, name-calling and so on. The ratings were determined by the artists themselves and are only a general guideline, not a guarantee. And when they say "mature," they mean, like, your age.
FF (Family Friendly) Like a G-rated film.
GA (General Audience) Like a PG-13 film.
MA (Mature) No one under 18 allowed without a parent or legal guardian.
lshepherd@orlandoweekly.com