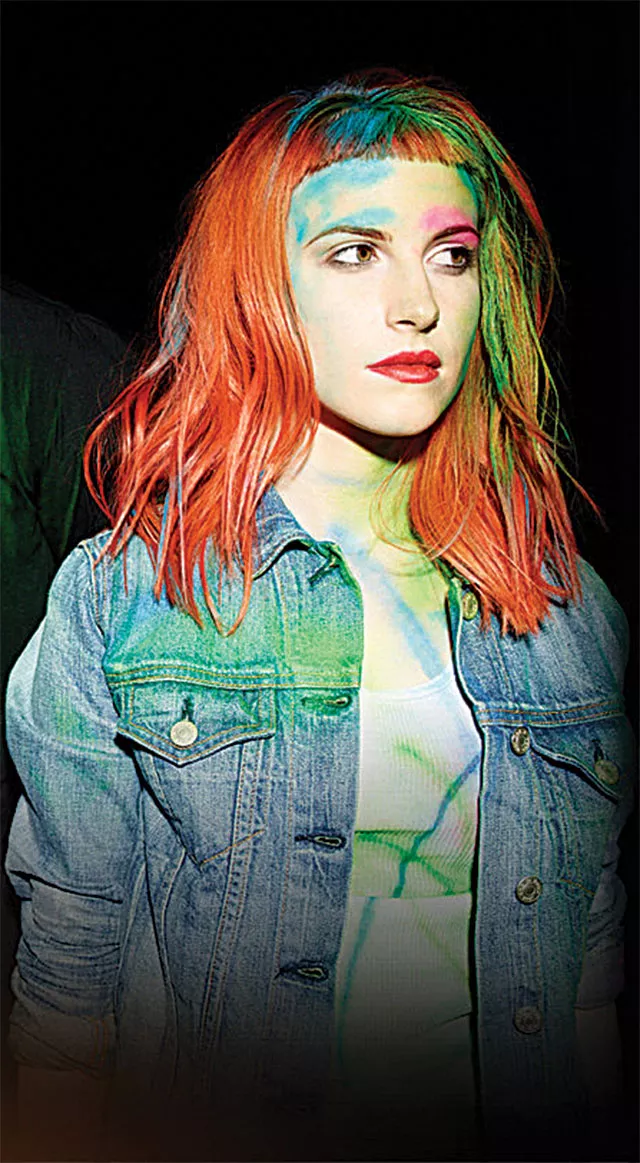 Hayley Williams - Paramore
'Women Who Rock" lists are even more unbearable than "Best Music of the Year" lists. While the latter is look-at-me tokenism of the worst kind ("I like rap and avant-garde classical and an indie band you've never heard of"), the former is look-at-them tokenism that's both marginalizing and moronic ("Boobs! Guitars! Trend piece!").
This year is different, for me, at least. Thanks to the astonishing run of quality music that was released in 2013, December's wrap-ups have been uniformly informative and interesting to read. And, thanks to the late-2012 addition of a beautiful baby girl to my family, my Gender Bias Detection System was more finely tuned in 2013, resulting in the discovery of a lot of music being passed off as exceptional-because-it's-a-chick, when it was simply just exceptional music. And no, I'm not just talking about Beyoncé delivering a last-minute royal decree to bow down, bitches.
In tallying up my favorite albums of 2013, more than 70 percent of those records were made by women, either as the primary creative engine or as an equally contributing partner. And almost all of those albums forced me to reconsider something about the way I listened to music. So, at the risk of being either marginalizing or moronic, here are seven 2013 albums made by women that changed my mind about …
Synth-pop
Charli XCX – True Romance (IAMSOUND): Rapturous day-glo weirdness meant to be enjoyed with groups of wasted friends. (Honorable mention to AlunaGeorge's phenomenal Body Music album, as well as their cameo on Disclosure's brutally insistent "White Noise.")
Metal
Heliotropes – A Constant Sea (Manimal Vinyl Records): While Deafheaven ran the accolades table, Heliotropes actually delivered the goods with dense, woozy and deeply expressive metalgaze. (Honorable mention to Kylesa's Ultraviolet, which also completely wiped the floor with Deafheaven.)
The death of trip-hop
FKA twigs – EP2 (Young Turks): Blunt smoke, fractured beats and an injured-dove-voice singing fuck-you lyrics haven't sounded so great since you had Maxinquaye on repeat in college. (Honorable mention to Sapphire Slows' Allegoria, which is what happens when trip-hop goes to Japan and listens to nothing but house and shoegaze.)
Modern country music
Ashley Monroe – Like a Rose (Warner Bros.): A totally Nashville record that deftly managed to both honor and defy convention without turning into a bloodless alt-country thesis on authenticity. (Honorable mention to Brandy Clark's 12 Stories.)


The importance of immediacy
Joanna Gruesome – Weird Sister (Slumberland Records): The name is dumb, but Joanna Gruesome is less concerned with what you think about them than they are with blazing through these blasts of hyperventilating noise-pop. (Honorable mention to Deap Vally's Get Deap! EP and Perfect Pussy's I Have Lost All Desire for Feeling EP.)
Getting your shit right
Savages – Silence Yourself (Matador): While the band evokes a gnarlier, fiercer version of '80s art-rockers UT, Savages demand to be taken on their own terms, with a tightly wound and percussion-forward attack that backs up their ALLCAPS manifestos about the primacy of actual music in a world of "musical experiences." (Honorable mention to, uh, Joanna Gruesome, preaching righteous politics in blistering fuzz.)
Paramore
Paramore – Paramore (Atlantic): Even if Ken Andrews (Failure) hadn't produced parts of this premiere of the newly reconstituted Paramore, it would still be something special. Hayley Williams delivers a fresh take on anthemic modern rock with an unrestrained joy and confidence that's truly impressive. (Honorable mention to Grimes' Tumblr, actuallygrimes.tumblr.com, which seems to exist solely to worship Beyoncé, Hayley Williams and Sailor Moon.)