Californian artist Patrick Martinez makes memorials that speak to both personal and political grief. Responding to the collective trauma experienced by people of color in the United States, and communicating through the visual language of the Los Angeles cityscape, the works in his first solo exhibition, American Memorial, are celebrations of life, subversions of the quotidian, and profound juxtapositions of the expectations of American life with contemporary injustices.
Martinez describes the range of works as being like a conversation with a close friend: "It can range from immigrant rights in America to 'Wow, that's a beautiful wall with the bed of bougainvillea growing across it.' I deal with headlines and the overlooked."
American Memorial, currently hanging at the Cornell Fine Arts Museum at Winter Park's Rollins College, includes works in a wide variety of media – from the titular piece, a stucco sculpture reminiscent of a memorial shrine, to "25 and Still Alive," a series of portraits of personal friends of the artist, all survivors of street violence, rendered in the style of photo-printed sheet cakes. The cakes are celebrations of survival, with the grim subtext of the ubiquity of violence in the United States.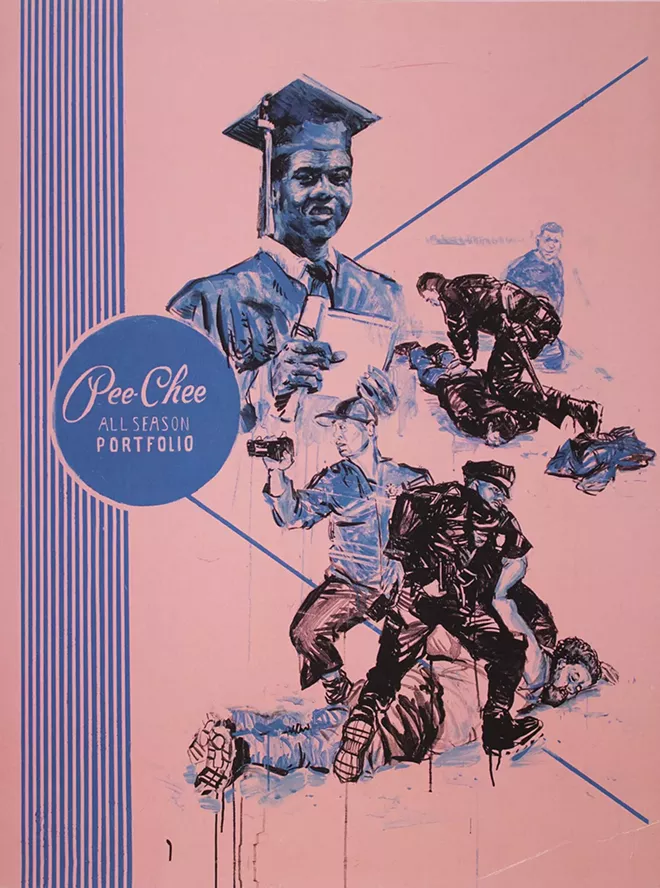 'Po-lice Misconduct: Misprint – Lost Colors Series (pink),' 2016
In an interview with Cornell Fine Arts Museum curator Amy Galpin, Martinez said, "The cakes represent another year of life and celebrating that. The people I paint on these cakes have been involved in street violence, have had brushes with death and are not supposed to be here. I think the pieces represent a large amount of how our youth is living and dying here in America."
Martinez says he draws from a color palette inspired by the visual identities of the city of Los Angeles – "the pinks, the garlands of memorial flowers, the partially erased tagging, and trying to distill something essential and lasting from it" – viewed from the perspective of his diverse heritage (Filipino, Mexican and Native American). "LA Still Life," a sculptural work on panel, is a material homage to Los Angeles architectural vernacular, combining flowers, stucco, neon and ceramic.
"All American Class of 2016" and "Po-Lice Misconduct" are contemporary pastiche pieces referencing Pee-Chee folders (a ubiquitous American school stationery item in the latter half of the 20th century); the archetypal football player and high school cheerleader illustrations typically adorning the folders are replaced with Martinez's renderings of scenes of police brutality and memorializing of its victims, including Laquan McDonald and Eric Garner.
'25 And Still Alive (Omar),' 2016
Martinez recollects using the folders during grade school, and describes how the representations of American life on the folders alienated him. "All-American scenes of happy student athletes that I believe originated in the 1960s ... even though it's just a folder, it sets a template of expected behavior. It's a constant reminder of someone's idea of the norm, and it certainly didn't relate much to mine."
The exhibition is bathed in the glow of neon light emanating from "Then They Came for Me" and "Free 99 (hold ya head)," neon text pieces referencing hip-hop lyrics and retail signage. The works are familiar in their visual congruency with the ubiquitous neon signs that advertise businesses open late, ATMs and check cashing, but jarring in their unexpected placement of recognizable language. Martinez describes how the format echoes those commonplace signs: "The words in the middle, with a rectangle around it, backed with black plastic. The aesthetic wasn't trying to be sexy or pleasurable; it was more desperate and focus-driven to get across the point of the business."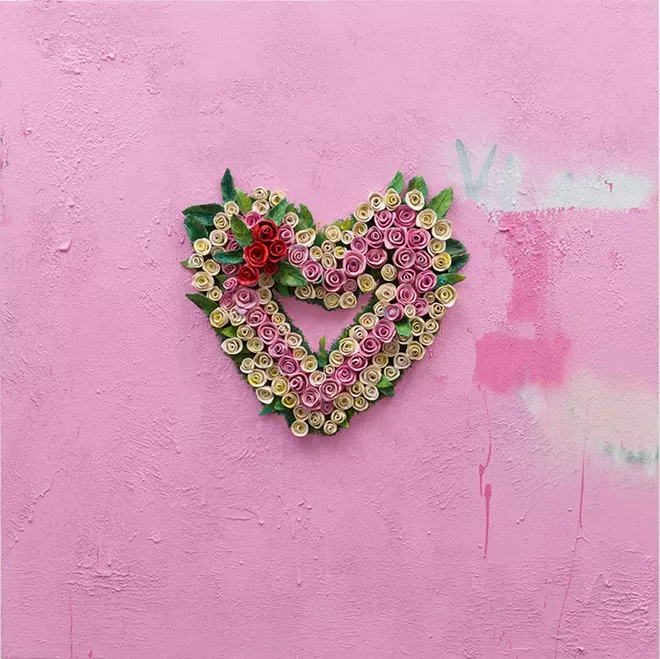 'American Memorial,' 2016
In our current political milieu of xenophobia, scapegoating particular communities, the phrase "Then They Came for Me" is a terrifying echo of the rise of Nazism in 1930s Germany. In their eerie neon glow, these words warn us of the dangers of fascism and implicate public apathy in the urgency of their presence.
Through these works, Martinez distills our contemporary political and social landscape. The artist, in dialogue with the visual cultures of Los Angeles (his home) and our current era of violence, offers us experiences of grief, jubilance and quiet reverence in his awareness of the historical weight of now.