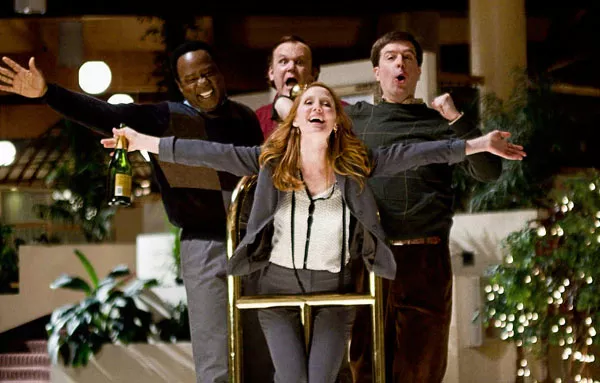 Cedar Rapids
3 Stars

(R)

Cedar Rapids, the new indie comedy from The Good Girl director Miguel Arteta, is not a mean-spirited mid-life crisis adventure like The Hangover. Nor is it a winking, scabrous meditation on Midwestern folksiness and the darkness lurking underneath it, as Alexander Payne's credit as a producer here might indicate. Cedar Rapids isn't even all that funny.

So what is it, then? Well, dorky. It's 
really dorky.

That certainly describes Tim Lippe, a well-meaning insurance salesman in utterly plain Brown Valley, Wis. Lippe, played to perfection by The Office's Ed Helms, is a slightly needy regular Joe who's enamored of anyone who will give him the time of day, including his old seventh-grade teacher (Sigourney Weaver), whom he's sleeping with, and Roger Lemke (Thomas Lennon), a superstar at Lippe's office, who dies suddenly under some pretty depraved sexual circumstances.

Lemke's death means the pressure of representing the company at the annual insurance convention in (relatively) big-city Cedar Rapids, Iowa, falls on Lippe. His boss tells him he must make a winning presentation to the convention's chairman, a holy rolling deity to everyone in the regional business - save for the openly hostile, possibly crooked veteran, Dean Ziegler (John C. Reilly) - and bring home the "2 Diamond Award."

Some of the conventioneers, like Ziegler and party gal Joan (Anne Heche), see the convention as nothing more than an excuse to get away for a while, drink heavily and have extra-marital dalliances. Others, like Lippe and straight shooter Ronald (Isiah Whitlock Jr., who played Clay on The Wire), are more focused on the task at hand.

The four of them, through convention-sponsored busy work like scavenger hunts and karaoke, and outside activities that grow more and more out of control as the days progress, somehow form a magnetic bond of friendship. Lippe's a breath of fresh air in the group's increasing awareness of their stalled-out lives, and the other three, in turn, get to introduce someone to a kind of fun - car chases, vandalism, public foreplay - that they never could've permitted themselves 
to imagine.

There's a point to the A-story, but it's hardly worth mentioning; it's so run-of-the-mill that it seems to have come from a how-to book on screenwriting. What's far more effective is the casual yet deep affection these friends develop for each other, which would seem complicated outside of Cedar Rapids - and probably wouldn't exist - but for those few days in that city, in that hotel, and is all that matters in the world.

Arteta directs with a sure hand, but the curiosity is screenwriter Phil Johnston. This is his first feature film and it feels that way. Part of the charm of Cedar Rapids is that it's not all that good, at least in the sense of your typical Sundance, small-town indie; the kind that has a capital "P" Point to make and does so with a witty soundtrack, lyrical backdrops, set dressings that serve as commentaries and wry one-liners loaded with subtext. Cedar Rapids isn't that aware of itself. Its jokes are clunky, but it thinks they're not. Its meaningful moments are so typical that you almost expect Lippe to say, "Wow, this is a really meaningful moment for me." It's just so endearingly dorky.

It's also handled in such a genial, unchallenging manner that afterward you wonder if it was a movie at all. That cuts both ways: At 87 minutes, much of which is wasted on needless setup, it barely sticks around long enough to cast a lingering spell. But the wisp that's there is so free of cynicism or more than the slightest edge, that it's like 
catching a whiff of a beautiful woman's perfume as she walks by - fleeting and hardly substantial, but wonderful.