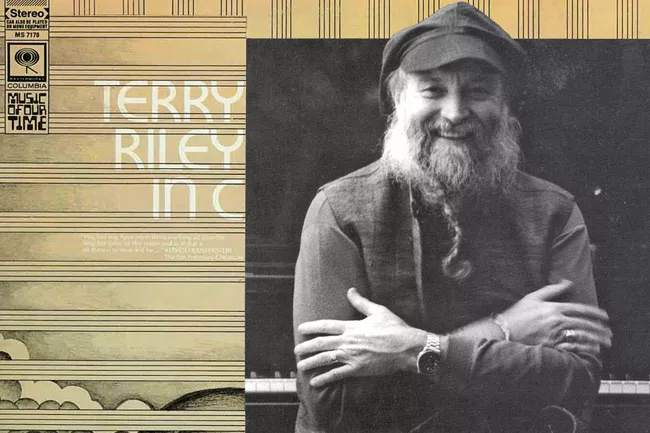 Betty Freeman American Masters
In C
2 p.m. Sunday, June 3
Urban ReThink
625 E. Central Blvd.
407-704-6895
urbanrethink.com
$5 suggested donation

It might be best to start by pointing out that this landmark statement of Minimalism was composed in the transitional year of 1964. American culture was being smothered by Year One of Beatlemania and by Berry Gordy's Motown Hitsville breakout, but a tuned-in citizen of the counterculture would already have experimented with mind expansion (well before the squares would notice their nieces' and nephews' Haight-Ashbury expatriation en masse in 1967). Terry Riley subconsciously managed to incorporate that America into his seminal and still-fresh "In C" – bright and shiny sonorities meeting head-on with the infinite possibilities of the inner trip.

Urban ReThink's presentation of Riley's masterwork, organized by Christopher Belt, acts as the leading edge of his second annual Accidental Music Festival coming in November. Belt will perform on electric guitar with other local chance-takers on instruments ranging from the acoustic accordion to baritone sax and vibraphone – possibly even including an Electronic Wind Instrument, the breath-controlled synthesizer.

Riley was a UC-Berkeley music student with a penchant for ragtime piano when he first encountered composer LaMonte Young's radical, shamanistic drone methodology, marked by tones that slowly unfold, end over end. (Young also is credited with introducing psychedelics to Riley's budding compositional palette.) Six years after that influential meeting, Riley was struck with the idea for "In C" while riding the bus to work in San Francisco. The result was Riley's best-known work – a beaming ode to less-than-orderly order.

The composition starts with a chiming, unchanging pulse of two simultaneous high C-natural tones, which continue throughout the piece. It's an opening that hints at a supreme pattern; this pulse seems to reappear and disappear repeatedly as the chance elements blur the boundaries of regimentation and bliss. A varying number of musicians – there will be a dozen at the Urban ReThink concert, as there were in the November 1964 debut – perform the same 53 modules of melody in the same sequential order, but the genius of "In C" lies in its incorporation of chance: The musicians may choose how many times they play and repeat each melodic fragment. Though the score would seem to embody precision – each musician is assigned to play the same exact notes – that precision starts to fade once the modules start to overlap, playing Whac-A-Mole with the processing centers of the listener's brain. Clouds of increasingly asynchronous notes drift slightly and unpredictably from the C-major scale. The pulse becomes as unpredictable as fireflies in the summer night.

Thad Anderson, a percussionist, composer and UCF faculty member who will play vibraphone in the Urban ReThink performance, explains that that very element of chance is key to the success of "In C."

"The piece is built around hearing things … for the first time. This goes for both the audience and the performers," Anderson says. The unpredictable meshes of overlapping notes shimmer in new ways with each fresh investigation by a new collective of musicians. "Whether Riley intended it or not, I think that this type of music is best experienced when the performer and audience can get lost in the sounds."

A silent auction of artwork, also on Sunday, will give the audience a chance to participate in Accidental Music Festival's own collective spirit. Most items will start at less than $50, and a portion of the proceeds will be donated to the Accidental Music Festival, set for November 2012. Details about the second edition of the festival will be announced at the Sunday performance.