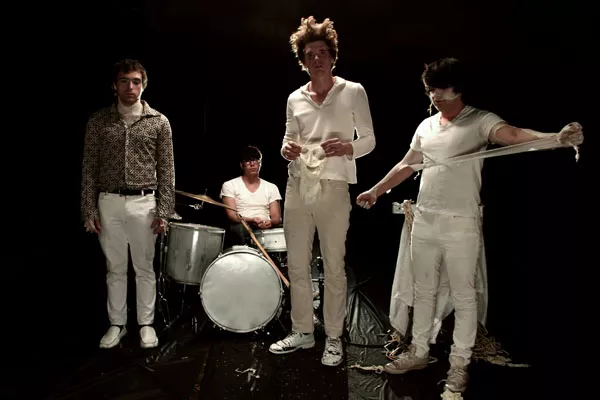 TV Ghost
with the Spits,

Hungry Gaze, Lagues
9 p.m. Saturday, June 11
Will's Pub
407-898-5070
willspub.org
$10
The story behind TV Ghost's formation sounds so fantastic, so perfect, that for a second, one can't help thinking there's no possible way it could be true. In 2005, a teenaged Tim Gick and his band played an in-store show at Downtown Records in Lafayette, Indiana. As Gick remembers, his band's set "fell apart" halfway through, as his group just couldn't hold things together. Frustrated and dejected, he stepped outside for a smoke. Moments later, there was music again: Three other guys had taken the stage and spontaneously started playing. Gick's interest was so piqued by what he heard that he went back in and improvised on the drums with the strangers. After the show, Gick stayed in touch with the guys (who all played in a group called Leather Scandals). Months later, they were smoking weed and playing music for hours. The trio that Gick accompanied made up TV Ghost's initial lineup when they adopted the name in 2007.
"It just seems like when we played music together, we all had the same ideas for what we wanted," says Gick, the band's guitarist-vocalist. "Even if we had different ideas, they complemented each other. It was just kind of serendipitous at that point."
In contrast to their fairy tale origin, TV Ghost creates muddy, moody squall - the frantic common ground between no-wave and '70s proto-punk. Mass Dream, TV Ghost's recently issued second record, sounds both demented and driven, like it's smashing every object in sight with the aim of eventually achieving emotional peace. Gick (whose shaky voice makes him the craziest of all) poured substantial thought into the album's M.O., which inspired its title. "[During the making of] Mass Dream, I was thinking about how people see themselves and the world around them," he says. "They don't like to live in the reality that doesn't suit their needs, so they bend it mentally so it fits them better. That gets to me because that's an easy way out and prevents progress in people. A lot of music that is really happy all the time, or really poppy, helps people negate those realities. [I'm] not saying that I'm all wrapped up in negativity. It's just that I feel people should embrace those things more because it helps them to live in the real world and embrace the hard shit about life." In a personal example of something that solidified this viewpoint, Gick relays an anecdote about their original drummer leaving the group: "It's not easy to be in a band and [knowing] you're not going to be instantly successful. It's going to take a long time and a lot of hard work. He found a girl and just wanted to take the easy way out and move away and forget about all the hard parts of his life and start over instead of sticking it out," Gick says. He later notes that Mass Dream's "An Absurd Laceration" zeroes in on Gick's philosophy. (Opening verse: "Is that it, sticking in your side? Your body burns with 100 million smiles.")
The frontman also has a reason for why the four-piece concocts such spastic, occasionally violent rock: "It sounds more real. It comes from a deeper-seeded, almost animalistic part of your brain. At the same time, you can use those base emotions to strive for some sort of higher understanding of things," Gick says.
"I don't know if we achieve it, but just in the act of trying to go for it, you turn out a little bit better."