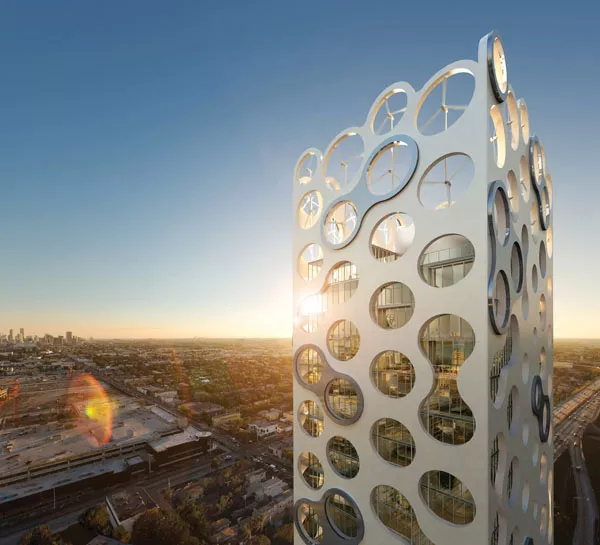 Chad Oppenheim's COR condo complex, Miami
What are you doing tonight? If you're in the mood for some mind bending, Urban ReThink is hosting a launch party for a new book, monochrom #26-24: Ye Old Self-Referentiality. You can go to the website (www.monochrom.com) to find out what that means and why you should care. But if you're not already familiar with the group that put out this 500-page "Godzilla version of the conventional coffee-table book," it may be an exercise in futility. We can tell you this much: monochrom is a Vienna-based art/cyberculture/science performance group that's into using obscure art forms to make political and social statements. Think Roboexotica festivals, in which scientists, artists and computer experts gather to discuss "cocktail robotics," sculpture mobs in which bands of citizens take to the streets and make art in public places, and calls to action for fictitious (we hope) causes (a call-forwarding campaign to save the world from divine destruction, a fundraising campaign to make enough money to entice Sting to sign for an environmental unfriendly cause). Kind of reminds us of b/chan, but for smart people and without the cowardly cloak of anonymity.
We don't know what monochrom has in store for Orlando this go round, or who from the organization will be on hand to represent it at Urban Rethink, but given the international paranoia inspired by the Wikileaks controversy, there's no better time than the present to immerse yourself in some counter-cultural nonsense that'll frighten the pants off your Tea Party neighbors. Remember, though: Every time you leak a cable ... a government cries. (monochrom is $24, and although they're currently sold out you can eventually purchase a copy at www.abebooks.com or by e-mailing [email protected]; Urban Rethink, 625 E. Central Blvd.)
Last Chance! This is the last week to catch two unique shows that have been up at the Cornell Fine Arts Museum since September. Both Master/Plan: Visionary Architects and Their Utopian Worlds and Robert Motherwell and Jasper Johns: Poetic Works as Metaphor close on Dec. 23. Master/Plan ("Soaring Visions," Culture 2 Go, Sept. 30), features the work of six contemporary architects with an interest in community planning. Don't let the mundanity of the subject matter stop you from seeing the show: The architects whose works were chosen are built-environment visionaries. Paolo Soleri, for instance, interned with Frank Lloyd Wright at Taliesin (those storied Taliesin internships are described in detail in T.C. Boyle's 2009 novel The Women), and designed a prototype town in Arizona called Arcosanti, based on the concept of "arcology," an architectural concept that minimizes the consumption of energy, raw materials and space and encourages interaction with the environment. Miami-based Chad Oppenheim was behind the construction of COR, the first sustainable, mixed-use condo complex in that city. It looks like a giant Connect Four game dropped onto the street, but its odd honeycomb-looking exterior provides clever camo for wind turbines that provide energy for the building.
The Johns/Motherwell show, when we first visited, actually felt a bit underwhelming: When we think of Johns, we think of the usual stuff: dynamic statement pieces that assault the senses with absurdity and color; in this show, though, the selected pieces are etchings and prints produced for publication with a series of essays by Samuel Beckett. The volume, called Foirades/Fizzles contains essays that are dark and brooding, in typical Beckett fashion, and the accompanying Johns pieces – a handful of colorful lithos and a series of etchings featuring numbers, one of Johns' favorite subjects – rather reserved. But when was the last time you got up close and really looked at a Johns piece and really examined it? Probably never, because you didn't have to – the larger-than-life image itself was overwhelming and active. You could appreciate from afar. These smaller number studies force you to examine all of the scratches and scrapes and lines and gradations, making you actually think about the process that went into creating them. The Motherwell pieces, likewise, correspond to a literary work, "El Negro Motherwell," a poem by Spanish poet Rafael Alberti. By contrast to the Johns pieces on display in the first room, the Motherwell works feel a little heavy. But once you start reading the lines of poetry that accompany each work, they're completely fascinating, dark and engrossing. It's worth checking out, even if only to take your mind off of your frenzied holiday preparations for a little while. (through Dec. 23, Cornell Fine Arts Museum, Rollins College, Winter Park, $5, www.rollins.edu/cfam)