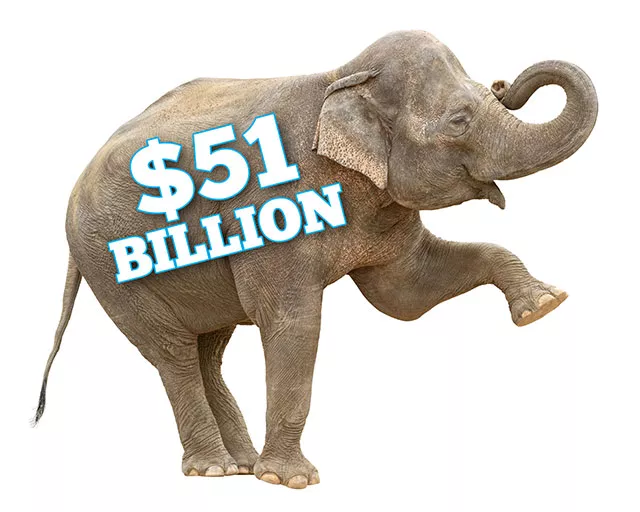 JUST THE STATS
9.2 PERCENT
REAL INCOME GROWTH OF FLORIDA'S TOP 1 PERCENT BETWEEN 2009 AND 2011; THE TOP 1 PERCENT BOASTED AN AVERAGE ANNUAL INCOME OF APPROXIMATELY $1,141,314 IN 2011
2.4 PERCENT
REAL INCOME DECLINE FOR THE OTHER 99 PERCENT IN THE STATE OF FLORIDA BETWEEN 2009 AND 2011; THE AVERAGE ANNUAL INCOME OF THE OTHER 99 PERCENT IN 2011 WAS $35,393
25 PERCENT
AMOUNT OF TOTAL INCOME IN THE STATE HELD BY THE TOP 1 PERCENT, UP FROM 12 PERCENT OF STATEWIDE INCOME IN 1979
"WE'VE SEEN, AT LEAST SINCE I'VE BEEN ELECTED, A FIVE-YEAR SYSTEMATIC TAKING ADVANTAGE OF WORKING PEOPLE IN THE STATE. FRANKLY, I WOULD SAY THIS IS CLASS WARFARE."
– STATE REP. MARK PAFFORD, D-WEST
PALM BEACH
SOURCES: ORLANDO SENTINEL, THE FLORIDA CURRENT, ECONOMIC POLICY INSTITUTE, LEROY COLLINS INSTITUTE
INTO THE GAP
Pull up a cinder block, broke friends, because for yet another week, the bad news about Florida's clearly divided economy – mostly people with yachts gazing down upon people without yachts or health care – is rolling onto the political shore, and all of this sturm und drang is timed perfectly for the launch of the 2014 legislative session next month.
Last week, backed by a bunch of facts that we'll get into later, State Rep. Mark Pafford, D-West Palm Beach (and our hearts), joined House Minority Leader Perry Thurston, D-Ft. Lauderdale, at a podium to announce that they were, in effect, mad as hell and not going to take it anymore. The occasion fell on an anniversary that everyone Republican chose to forget because, OMG, embarrassing: Feb. 20, 2013, was totally the day that Gov. Rick Scott grimaced exactly 37 times while allowing that he supported a temporary expansion of Medicaid in the state of Florida despite how much he loathed President Barack Obama's Affordable Care Act, because, "I cannot, in good conscience, deny the uninsured access to care." Ha, ha, ha. So, as logic would have it, Feb. 20, 2014, was exactly the day that Pafford and Thurston would reopen that corporately cauterized wound with the announcement that this was platform No. 1 in the new Democratic, election-year, public-opinion blitz.
"Without a doubt, Republicans are looking for a very smooth session," Thurston smoothed, according to political website the Florida Current. "The last thing they want to address is the $51 billion elephant in the room." Bumpy!
Likewise, all this talk about Gov. Rick Scott's micromanaged budget surplus that would be utilized to buy him votes and maybe some new boots was addressed succinctly.
"In my mind, there is no budget surplus. There can be no budget surplus when we have so many unmet needs," Thurston said.
Underlining all of this populist bravado was the timely release of two separate economic studies that found – in ringing unison – that Florida might have fucked itself permanently via all the things you already know about: privatizing education, underpaying teachers, relying on seniors in service jobs as a tax base, not charging an income tax, incentivizing corporations, letting the rich get richer while pretending the poor are just animatronic gerbils here for your entertainment.
"The news is grim," read the preface to the report, "Tougher Choices: Shaping Florida's Future," released by the LeRoy Collins Institute out of the University of Florida. At 120 pages, the report is for policy wonks and lovers of graphs only, but it also includes phrases like, "And, ominously, [the data] points out that Florida is experiencing a 'hollowing out' of middle-wage jobs at a rate faster than the rest of the country." So that's fun, right?
Similarly, the Economic Policy Institute released its latest tome, "The Increasingly Unequal States of America," on Feb. 19, in which Florida once again got its wrists slapped for existing in a manner which is empirically (and economically) unstable. While the top 1 percent saw a 219 percent increase in income between 1979 and 2007, the rest of us only caught a 14 percent break. That's because the rest of us aren't wrapping our portfolios in bullion blankets to protect them from the salty air; we're shoving Brazilian kids down water slides and waiting for our lunch breaks.
At any rate, it should be an interesting fight to witness as Democrats mine the suffering of the masses while Republicans bathe in increased campaign spending limits this session (and this fall). There's only so much logic – and suffering – the majority can deny. Also, minimum wage and medical marijuana? Yes, please.