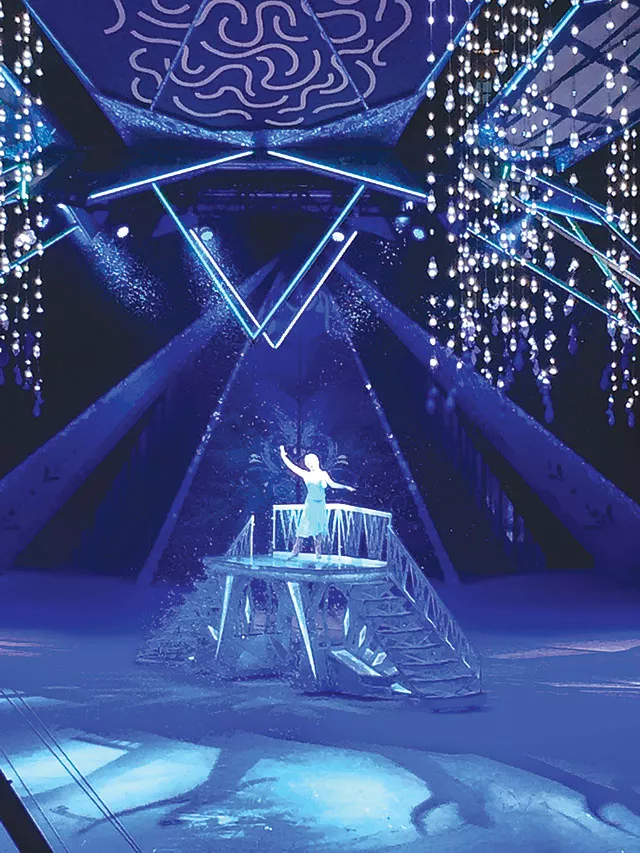 I'm occasionally accused of being cold or cynical when critiquing children's entertainment. As evidence my arteries aren't carrying ice water, clip this column to serve as counterbalance the next time I crap on something that's "for the kids."
Considering my mixed feelings about how Disney has exploited the Frozen craze – especially Hollywood Studios' underwhelming summer celebration and rumors about an Arendelle overlay of Epcot's Norway pavilion – you wouldn't expect me to praise the franchise's latest extension. And Disney on Ice Presents Frozen, which started its national tour in Orlando last weekend, certainly doesn't need my opinion to sell tickets, as additional performances were added to the debut weekend to meet demand.
But given that "Frozen on ice" is the biggest no-brainer imaginable in skate-based entertainment history, I was impressed by how much effort Feld Entertainment put into the production, especially considering the half-measures Disney itself has employed. Producer Nicole Feld (granddaughter of company founder Irvin Feld) told me that, thanks to Feld's 35-year relationship with Disney, they were invited to see early animation long before the film hit theaters: "There was no question this film would be amazing as a Disney on Ice production; we were crossing our fingers that it would be a success, [but] I don't know that any of us knew that it would quite be the phenomenon it's become."
Disney's close cooperation is evident in the show's use of dialogue direct from the original voice tracks, as well as designer Gregory Poplyk's screen-accurate costumes, especially Elsa's hand-painted silk snow queen dress. As in Feld's recent Marvel Universe Live show, video projections enhance the scenery with animated ice effects, though the newfangled automated follow spots struggled to keep up with the skaters. There's more than your money's worth of pure spectacle, from a massive inflatable Marshmallow snowman to the pyrotechnics punctuating Elsa's powers.
The show's narrative hews close to the source, though some minor characters (like the sisters' parents and Oaken) were eliminated in order to focus on Anna and Elsa, portrayed by former competition skaters Taylor Firth and Rebecca Bereswill. Like most Americans, I'm entirely ignorant about their sport – except for once every four years, when I instantly become an expert – but I didn't see any Olympic-level quadruple Lutzes being landed. Then again, Olympians aren't simultaneously lip-syncing and emoting in character, which this cast does admirably.
Though the solos and pairs routines aren't too technically taxing, the big group numbers – especially "In Summer" and "Fixer Upper" – are delightful in the best Busby Berkeley tradition. Most importantly, the film's score is fully intact, down to Kristoff's "Reindeer Are Better Than People" ditty. And even if you never need to hear the Oscar-winning earworm again – especially in a disco remix with a dozen dancing princesses – the sound of several thousand kids singing "Let It Go" is enough to melt even a heart as frigid as mine.
While there may have been magic at the Amway Center (especially in the way exclusive Frozen merchandise was making money vanish from parents' wallets), miracles of a more substantial sort are made daily a few miles east of the Magic Kingdom. Hidden behind the Medieval Times castle off 192, the Give Kids the World Village is an oasis where children with life-threatening illnesses and their families can enjoy a free vacation with the sponsorship of partner charities like Make-A-Wish.
I've been aware of the organization, founded in 1986 by Holocaust survivor and hotel magnate Henri Landwirth, since I was an employee at Universal Orlando, which (like Disney and many other local attractions) regularly donates tickets and sends performers to GKTW. But until the Blogger Bash held there late last month, I'd never seen the 70-acre resort in person.
The event, which was organized by the Mom It Forward social media community and co-chaired by Sunshine Baker, was so well-attended that I couldn't squeeze into Julie's Safari Theater (all Village landmarks are named after past guests) to hear GKTW president Pam Landwirth and Food Network star Emily Ellyn give the keynote address. Luckily, a new town hall with ample meeting space is under construction near the Perkins-run Gingerbread House Restaurant and sundae-shaped Ice Cream Palace, as I saw during my tour of the Candy Land-like campus.
From the dinosaur mini-golf course to the pool's pirate ship (all designed by theme-park professionals) there's enough fantasy here to distract children from their diseases for a full week, and the 144 villas are larger than my house. Even with corporate sponsors, it takes millions of dollars and thousands of volunteer hours each year to keep GKTW operating, so consider making a donation at GKTW.org; it will make you feel better than a warm hug from Olaf.