The sky is as gray as the sidewalk and the clouds are spitting cold drizzle on the Rev. Frank Reid's pinstripe suit. It's Palm Sunday morning and he stands outside his church, Bethel AME in Baltimore, surrounded by a semicircle of tall men clad in dark suits who watch over him as he talks to a cameraman and a reporter.
"Tell me a little bit about the state of affairs in Balitmore," the interviewer intructs.
"Life in Baltimore is rough," Reid tells him, beginning a discussion about the usual things; drugs, crime, poverty, murder.
The interview and footage was part of a two–part, 23–minute story on Baltimore, narrated by former Canadian Broadcasting Corp. personality Avi Lewis and aired by Al Jazeera English, the Doha, Qatar–based, 24–hour global news network that's trying to change the way the English–speaking world consumes its news.
Launched in November 2006 by the same interests that own the other Al Jazeera – the one broadcast in Arabic that's often criticized for its less-than-flattering portrayals of the U.S. government – Al Jazeera English proclaims itself to be "the world's first global English language news channel to be headquartered in the Middle East" and promises to "set the news agenda, bridging cultures and providing a unique grass-roots perspective from underreported regions around the world."
According to Al Jazeera English producer Jeremy Young, who worked on the Baltimore story, the network has reporters traveling around the United States right now looking for stories about America that will resonate with its international audience. It's an election year, Young says, so many people around the globe are wondering what Americans are thinking about the looming presidential election and how it will affect them. They want to hear not just from the usual faces they see on TV – war correspondents, pundits and talking heads – but average people. People who rarely make the news overseas.
"The story that we're working on is not just about Baltimore," Young says. "It's about urban communities and the challenges they are facing with regard to education, violence, economics."
Unfortunately, it's not likely that most Americans will ever see the Al Jazeera English story about Baltimore. It's possible that most won't ever watch the network at all, because, even though it has a large and active bureau in Washington, D.C., and it's available in most other English-speaking nations in the world outside of North America, no major cable or satellite carrier in the United States includes Al Jazeera English's programming.
Despite the fact that it's been successfully broadcasting pretty much everywhere else in the world, including Europe, South America, Israel (whose largest cable provider dropped CNN in 2007 and replaced it with Al Jazeera English), Australia, Africa and Asia, the only place where Al Jazeera English can be seen on TV in America is in and around Toledo, Ohio. (It was recently dropped from cable in Burlington, Vt., due to viewer complaints.) Most of Al Jazeera's U.S. viewership has to watch its programming on YouTube, where Al Jazeera English hosts nearly 4,000 news videos (and counting) – which means that unless you're already familiar with Al Jazeera English and know where to seek it out, you're probably not watching it.
If you visit the network's website, most of the news presented is fairly standard stuff being covered by CNN or the BBC. Under the flaming-teardrop logo, the day's headlines cover such topics as unrest in the Middle East, the U.S. presidential election and food shortages around the world. The difference, according to Al Jazeera English, is that it covers the news from four broadcast centers around the globe – Doha; Washington, D.C.; London and Kuala Lumpur, Malaysia – giving viewers the opportunity to experience the same news stories as reported from different vantage points.
In most of the world, Al Jazeera English and its Arabic counterpart enjoy a reputation as professional TV news networks known for challenging and sometimes controversial programming unparalleled in the global media market. Al Jazeera Arabic boasts an audience of some 40 million to 50 million viewers; Al Jazeera English broadcasts to an even larger audience of some 100 million households. But its overtures to the major cable and satellite carriers in the United States have thus far been rejected. No one, it seems, wants to be the first to put the Al Jazeera name on the air here.
It doesn't help that conservative media groups, like Accuracy in Media, have waged a public campaign to tie the young network to terrorism. AIM runs a website called StopAlJazeera.org and created a DVD called Terror Television: The Rise of Al-Jazeera and the Hate America Media. According to AIM editor Cliff Kincaid, the DVD chronicles the history of the organization, pointing out what he says is proof that Al Jazeera is a pro-terrorist organ. Kincaid says AIM sent copies of the DVD to all the major U.S. cable and satellite carriers.
"We didn't call for them to be banned, we didn't call for any government action to ban them," Kincaid says. "But we did say we thought some of those terrorist angles ought to be looked into. We did a lot of digging and decided to put all of this together as a public service … `Al Jazeera` have a PR firm, they want to get access to the major U.S. media market. So we put this out there."
Al Jazeera employees and executives say that perception of the network as anti-American and pro-terrorist is false, but unfortunately it does pervade the American market.
"Al Jazeera has a perception problem; people, as soon as they hear you have an Arabic name, they perceive us as having a terrorist organization," says news photographer Thierry Humeau. Humeau owns Télécam Films, a small Washington, D.C., production company that works with a number of international media outlets, including Al Jazeera English. "But once people actually see you, they see that you are American people or foreigners, because the Al Jazeera English office in Washington is staffed with a lot of Canadian people and American people. … It is frustrating because you are trying to do good work."
l l l
In 1996, Al Jazeera Arabic channel was founded by the emir of Qatar, Hamad bin Khalifa Al-Thani, who started it with $150 million in an effort to modernize the media in his tiny Middle Eastern nation. The BBC World Service's Arabic-language channel, BBC Arabic, had shuttered in '96 after just two years in operation, due to censorship and interference from the Saudi Arabian government, which sponsored the channel. Al-Thani's new station, dubbed Al Jazeera (which translates roughly to "the island"), hired many of the displaced BBC Arabic staffers and launched a 24-hour news broadcast that claimed to be the only politically independent television news network operating in the Middle East. Its programming reflected that notion – the network quickly made waves by airing outspoken and controversial views regarding many Middle Eastern governments.
As a result, the network's reporters have been detained and banned from reporting in various Middle Eastern states and nations, including Kuwait and Bahrain. According to the Center for Public Diplomacy, a research and training organization based at the University of Southern California, which is currently involved in a study of Al Jazeera English's influence on its viewers, the Al Jazeera network "was the first to actually represent news coverage of Arab and global politics that was relatively independent of the powerful elite interests."
Al Jazeera remained relatively unknown in the U.S. until 2001, when the network aired videotaped statements from Osama bin Laden and other al-Qaida operatives shortly after the Sept. 11 terrorist attacks. The Bush administration criticized Al Jazeera's coverage of bin Laden, accusing it of being sympathetic to terrorist interests and of airing inflammatory anti-American sentiments. Former Secretary of Defense Donald Rumsfeld publicly attacked the network for airing footage he described as "inaccurate" and "vicious" toward the U.S. and its decision to invade Iraq in 2003.
"Before the war in Iraq, Al Jazeera was viewed with some sympathy," says Will Stebbins, Washington, D.C., bureau chief for Al Jazeera English. "It was set up to democratize Middle Eastern media, and it provided the first democratic platform for discussion in the Middle East. … There was a sense from the U.S. State Department that this was a good thing. But when `the U.S.` started invading Afghanistan, that's when things changed dramatically."
Will Stebbins
Al Jazeera journalists covered the invasions of Afghanistan and Iraq with a critical eye, to the point that some media analysts (and certainly the U.S. government) said the coverage was unfair, biased and emotionally charged to stir resentment against the United States.
Al Jazeera's influence on international perceptions about the United States were enough of a concern that the Congressional Research Service prepared a briefing to Congress in July 2003, written by Middle Eastern policy analyst Jeremy Sharp. It assessed the Al Jazeera situation and presented several options analysts thought might help the U.S. compete with "Al Jazeera's ability to cover breaking news, to promote its slick, entertaining format and to project subtly its pan-Arab, pan-Islamist approach to covering the news." Those recommendations included tying U.S. foreign aid to "media reform," buying commercial airtime on Arab networks and creating a U.S.-funded Middle Eastern news network. (The congressional briefing indicates that Congress designated $30.5 million for the Middle East Television Network in April 2003. According to a quote in the report from Norman Pattiz, chairman of the Westwood One radio network, the U.S. needs to "be on TV so we can explain America and its policies, its people and its culture from our own lips rather than have it described by the indigenous media.")
Stebbins says the U.S. government embarked on a campaign to delegitimize Al Jazeera's journalism. "I think we still live with the legacy of that campaign," he says of the Al Jazeera English network. "They still successfully manage to associate us with radicalism."
But Al Jazeera isn't radical, he argues. Its motto, Stebbins says, is "the opinion and the other opinion," and it encourages charged and open debate. At times, that debate can become heated, especially when it comes to U.S. foreign policy. "An Al Jazeera colleague said to me, the difference is that the Western media covers the war from where the missiles were fired," Stebbins says, "`and` Al Jazeera covered it from where the missiles landed."
Although both networks share the same benefactor in the emir of Qatar, and although they are both based in Doha, Al Jazeera English maintains that it does not mimic its Arabic counterpart. Al Jazeera English, Stebbins says, operates with complete autonomy. It has its own board of directors (although Al-Thani chairs both). It also has its own code of ethics, journalistic mission and staff, its own broadcast bureaus and its own 24-hour news and programming schedule, none of which is shared with the Arabic channel.
Stebbins explains how the channel operates, covering the main news story of the day live from different bureaus as the day wears on (on the day of a recent visit to its Washington, D.C., offices, the channel is focusing on the hearings of Gen. David Petraeus before Congress on the state of the war in Iraq). Every five hours, the focus of the news shifts – from 11 p.m. to 4 a.m., for example, the news may be broadcast to the world from the D.C. bureau; then at 4 a.m., it switches to a feed from Kuala Lumpur. Five hours later, London picks up the broadcast; then Doha. That way, the top stories get covered from various perspectives. In between the live news broadcasts, current affairs programs, talk shows and sports programs produced by each of the bureaus are aired.
Al Jazeera English is staffed with veteran international journalists who have come from some of the most respected news organizations in the world; before it launched, the network went out of its way to recruit such heavy hitters as David Frost from the BBC, Nazanine Moshiri from ITV News and Dave Marash from ABC News. Before Stebbins worked for Al Jazeera English, he was the regional editor for Latin America at Associated Press Television News. He says what appealed to him and other journalists about working for the network was the idea of breaking away from the traditional template of news reporting.
"We are covering Latin America from within Latin America," Stebbins says. "We are covering the Middle East from within the Middle East. The model until now is that you had guys in trench coats all over the world; our man in Havana, our man in Kuala Lumpur."
Stebbins says a global launch of a news network so comprehensive is "unprecedented," and clearly he's proud to be part of the endeavor. But not even its ambitious goals and promises can get it airtime in the United States.
Stebbins says there are "negotiations" still in the works, and last September the network announced that it had a distribution specialist who's worked with Turner Broadcasting System, to help it make inroads in the United States. So far, though, in various reports on the matter, executives from Comcast, Time Warner, DirecTV and other carriers say there is no justification or demand for the product Al Jazeera English offers.
When Dave Marash took a job as a news anchor at Al Jazeera English in 2006, he had high hopes for what the network could accomplish. Marash, a veteran reporter best known for the 16 years he spent reporting for ABC's Nightline, says he faced a lot of criticism for his decision to take the job. But despite the chatter, he went to bat for Al Jazeera English publicly, becoming its best advocate in the United States.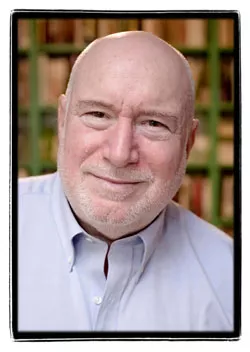 Dave Marash
The Washington Post called him "Al Jazeera's U.S. face," and it seemed that everyone who talks about the media, from NPR's David Folkenflik and CNN's Anderson Cooper to Cliff Kincaid of AIM, had something to say about Marash's new gig.
"Al Jazeera English's concept was to be different," Marash explains. Whereas most news networks report short, shallow stories that don't give much context, he says, Al Jazeera English promised to do in-depth reports that went further than sound bites. For example, Marash reported earlier this year a two-part story on African-American families moving to suburban communities in New Jersey; the story is 22 minutes long, delves into the history of the suburban community it explores and touches upon the complexities of how race affects real estate markets and the things that motivate Americans to move from cities to suburbs. It's the kind of mini-documentary you might occasionally run across on PBS but are unlikely to find on CNN or network TV.
Marash worked with Al Jazeera English until March, when his relationship with the network made headlines again. He announced that he had quit, citing bias in the network's reporting priorities and a failure to deliver on its promise to pursue in-depth reporting on issues important to Americans.
News reports on his departure seemed to hang on one term he used to describe what disturbed him about working for the network: "anti-American." The term has come up repeatedly in stories about his resignation, so he's careful to fully explain his sentiments when asked what he meant. "I regret using the word 'anti-American,'" he says of the interviews he did after his departure. "Because if you boil it down, it sounds like I am accusing them of having an anti-American agenda. But that couldn't be further from the truth."
In late 2007, Marash says, he was told he would be removed as an anchor and reassigned as a reporter. In Marash's view, a news anchor should be "a responsible editorial contributor" to the news broadcast, and he says his removal from the anchor desk reduced his editorial control over what was going out on the air. He says the move seemed to reflect a change in philosophy that made him uncomfortable. The British, he says, view the anchor merely as a reader of news copy, and he felt the British higher-ups working at the network's headquarters in Doha didn't hold the American approach to news in high regard.
(This Anglicized working style may be mitigated by last week's hiring of Tony Burman, formerly of the Canadian Broadcasting Corporation, as managing director of Al Jazeera English. Burman replaces Nigel Parsons, previously a BBC executive, who will now head the channel's business development division.)
Marash says that he also started to notice a mission creep in Al Jazeera English; most notably, he says, there was a "steady retreat to the conventional tempo" of TV news, resulting in shorter segments that lacked the depth originally promised by the network. Stereotypical coverage, particularly about American issues, was becoming the norm, he says, not so much because people at Al Jazeera English don't like Americans but because the people in the network's Doha headquarters (many of whom are British) have "a view of America that is really shallow and stereotyped."
Stebbins does not agree with those criticisms. He says the coverage coming out of Al Jazeera English is "credible and engaging" and the network still values in-depth reporting on undercovered stories. He says Marash was removed from the anchor position because while he "did a wonderful job at anchoring, it quickly became obvious that he was far better answering the questions than he was asking them." He says the network gave Marash a chance to have a sort of "super-reporter" position in which he could still do the kind of reporting he wanted to.
Stebbins says that there is a diverse range of nationalities working at Al Jazeera English, and that not everybody is expected to share similar opinions, including on how to best cover important stories. "We don't want unanimity of opinion," he says. "We want dialogue and we want people to have different opinions and to air different opinions."
Monitors show news feeds from all over the world
Asked to cite examples of stereotypical coverage, Marash names a two-part program called Poverty USA, in which British reporter John Cookson explores poor communities in the U.S., including a Native American reservation in South Dakota and a neighborhood that is, literally, on the other side of the tracks in Orangeburg, S.C. The series is introduced with the image of a tattered and torn American flag blowing in the wind and is littered with clichés about living in poverty: "This is the bottom of the barrel right here," a man laments in one episode, as a camera pans over a scene of a homeless encampment in downtown Baltimore. In another, Cookson cooks up a simple equation to account for the problems ailing the Pine Ridge Indian Reservation. "Poverty leads to alcohol abuse, which leads to other social problems like domestic violence," he reasons, failing to delve into the roots of the situation any further. Both episodes in the miniseries consist of strung-together interviews with individuals living in poverty, simple observations and statistics presented by Cookson, and a general sentiment that being poor in the richest nation in the world is bad.
Marash, who described the series in an interview with Columbia Journalism Review as "here a poor, there a poor, everywhere a poor poor," calls the series "God-awful," and says that it's a glaring example of the "absence of context, the absence of the impulse to report the reality, of settling for that easy cliché, that easy stereotype" that made it impossible for him to endorse the network any longer.
Despite Marash's public critique of Al Jazeera English, Stebbins has only good things to say about Marash. He says he admired Marash's work and was disappointed to hear Marash's thoughts on the network because "we thought we'd parted on amicable terms."
"The charge of anti-American … I certainly wouldn't agree with him," Stebbins says. "We are invested heavily in covering the U.S. elections. We're almost doing a civics lesson in explaining what a primary is, what a caucus is, because people all over the world don't know what a primary or caucus is. So I think anti-American is an unfair charge. Do we rigidly evaluate U.S. policy? Yes. We do. And we view that as part of our job.
"Frankly," he says, "we would just like people to see the channel. If you are looking for rabid radicalism and anti-American speech, you will be disappointed. We are a straight news channel, and a very good one."
Marash says he has "no regrets" about working for Al Jazeera English: "I was allowed to do work that I will tell you is absolutely consistent with the work I did for 16 years at Nightline or the 47 years I did broadcast news," he says. But at the end of the day, he says, he felt the network needed to "clean up your American act" and stop letting stereotypes rule its coverage of U.S. communities and issues.
"Look, everywhere you work, the boss puts things on TV that make you want to shoot him," Marash explains. "That's just part of television news. But because I had been urged to represent the channel and promote the channel, when certain things started to appear on the air, I felt like I had to step down."
A version of this story appeared originally in Baltimore's City Paper.
feedback@orlandoweekly.com