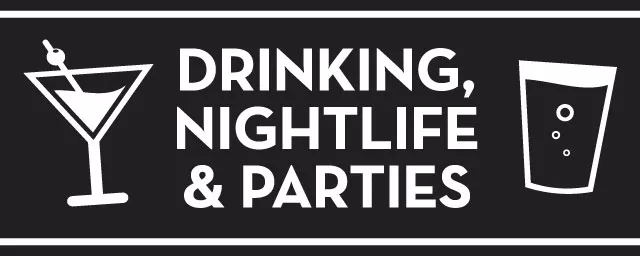 Bell's Tap Takeover Bell's Brewery beers on tap including Oberon, Two Hearted, Double Cream Stout, Best Brown and Expedition Stout. 8 p.m. Saturday; Odin's Den, 1335 Howell Branch Road, Winter Park; free; 407-644-3588; facebook.com/pages/odins-den.
Bloodhound Brew Grand Opening The pub and eatery hosts a party with free tequila shots, rum shots and draft beer and live music by Banda Bra and DJ X-Andy. 9 p.m.-2 a.m. Saturday; Bloodhound Brew, 5801 Conroy Road; free; 407-578-5711; bloodhoundbrew.com.
Day of the Dead Guy The bar offers $4 Rogue Dead Guy Ale pints and music by C-Lane & Beav. 7 p.m. Friday; World of Beer, 7800 Dr. Phillips Blvd.; free; 407-355-3315; drphillips.wobusa.com.
DJ Rascal Live set by the Miami-based progressive DJ. 9 p.m. Saturday; The Groove, CityWalk at Universal Orlando; $7; 407-363-8000; citywalk.com.
Electric House of Terror: The Day After with Felix Cartal, Beltek The club hosts the DJs for dance and electronic music. 10 p.m. Thursday; Roxy Nightclub, 740 Bennett Road; call for price; 407-898-4004; roxyorlando.com.
Femme Fatale with Steff Funkbaby, Jennifer Marley, Tracey DJ Scarlett Penland, Katie Correy DJ K8 All-female DJ lineup hosted by Marybeth. 9 p.m. Friday; High Society Hookah Lounge, 114 S. Semoran Blvd., Winter Park; $10 includes free beer; 407-679-8365.
Ocala Dance Festival 6 Preparty featuring Avlish, DJ Fusion, Infect, Manti, DJ Intellect, VeeDub The club hosts a lineup of house DJs and drink specials. 10 p.m. Saturday; Suite B, 50 E. Central Blvd.; free; 407-246-1750; suiteblounge.com.
Step Into the Black Orlando Weekly teams up with Captain Morgan Black for a FREE Halloween party, with music by Q-Burns Abstract Message; You just have to "like" us on Facebook and RSVP to the event page to get in. Costumes are optional but encouraged. We'll be posting photos of our favorites to our website and Facebook pages. 7-10 p.m. Wednesday; The Beacham, 46 N. Orange Ave.; free with invite; 407-377-0400; facebook.com/orlandoweekly.
Turnabout Trailer Trash Night The bar hosts a themed party with $1 jello shots and a Stonewall Starlettes show. 9 p.m. Saturday; Stonewall Bar Orlando, 741 W. Church St.; free; 407-373-0888; stonewallorlando.com.
Wine Down Wednesday All-you-can-drink specials and complimentary appetizers in this weekly gathering of young professionals. 5-8 p.m. Wednesday; Urban Flats, 55 W. Church St., Suite 128; $20; 321-332-6809; urbanflats.net.