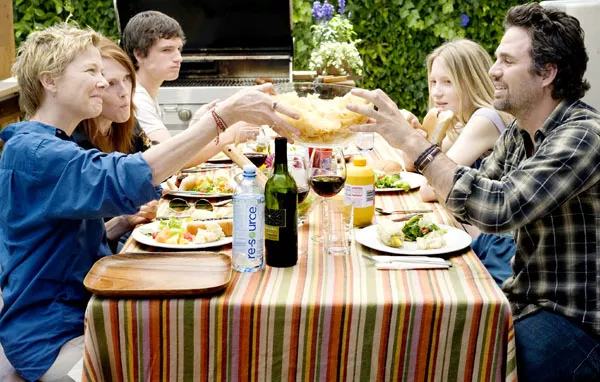 The Facts of Life: The Complete Fifth Season
By 1983, the Eastland girls had outgrown the ill-fitting sweaters and the
ponytailed situations intrinsic to their boarding school confinement; if they were boys, their voices would have changed (and, well, erections!), but here it's more of a hair-and-hips conundrum. The writers set out to convince audiences that butch Jo (Nancy McKeon), bitchy Blair (Lisa Whelchel), big Natalie (Mindy Cohn) and black Tootie (Kim Fields) could remain cohabiting BFFs beyond any reasonable explanation. Except one: A fed-up Mrs. Garret (Charlotte Rae) would cease to be Eastland's dietician and open her own food emporium, Edna's Edibles, while the four girls – two of whom were in college by this point – would move in upstairs to help! Perfect. More grown up takes on well-trodden themes (shoplifting, parental death, illiteracy and strippers) followed, as the show took its inevitable leap into the gay camp pantheon where it still lives and breathes today. In other words: essential. (available now).
Special Features: None
I Knew It Was You: Rediscovering John Cazale:
At about 40 minutes long, this loving documentary about the life of John Cazale, aka Fredo in the Godfather movies, I Knew It Was You ends as abruptly as Cazale's life did in 1978 when he died of cancer at 42 years old. Taking a simple concept – this guy made only five films and all were nominated for Best Picture – director Richard Shepard crams tons of eye-opening trivia (Cazale's great love was then-unknown Meryl Streep, whose devastation over his death still haunts Al Pacino to this day) and wisely enlists remembrances from today's Cazale-esque supporting actors (Steve Buscemi, Philip Seymour Hoffman and Sam Rockwell) to paint a full picture of a great forgotten actor. (available now)
Special Features: Audio commentary, extended interview, early John
Cazale short films
The Kids Are All Right
Slow and tender, fair and heartbreaking, Lisa Cholodenko's wonderful film about a lesbian couple whose closely manicured family life is torn apart by the introduction of their kids' biological father (Mark Ruffalo) is as real of a film as you're likely to see this year. Annette Bening plays the uptight partner and a grounded Julianne Moore plays the free spirit other mother to their two kids. When those kids seek out the sperm donor who helped make them, they're not prepared for the surprising ways he affects their lives. The daughter finds a kindred spirit, the son discovers the kind of man he doesn't want to be and Moore sees her kids in his eyes, which does a number on her sexual urges. That leaves Bening to clean up the mess and she does in an internalized performance that speaks volumes to the actress' emotional intelligence. (available Nov. 16)
Special Features: Audio commentary, featurettes