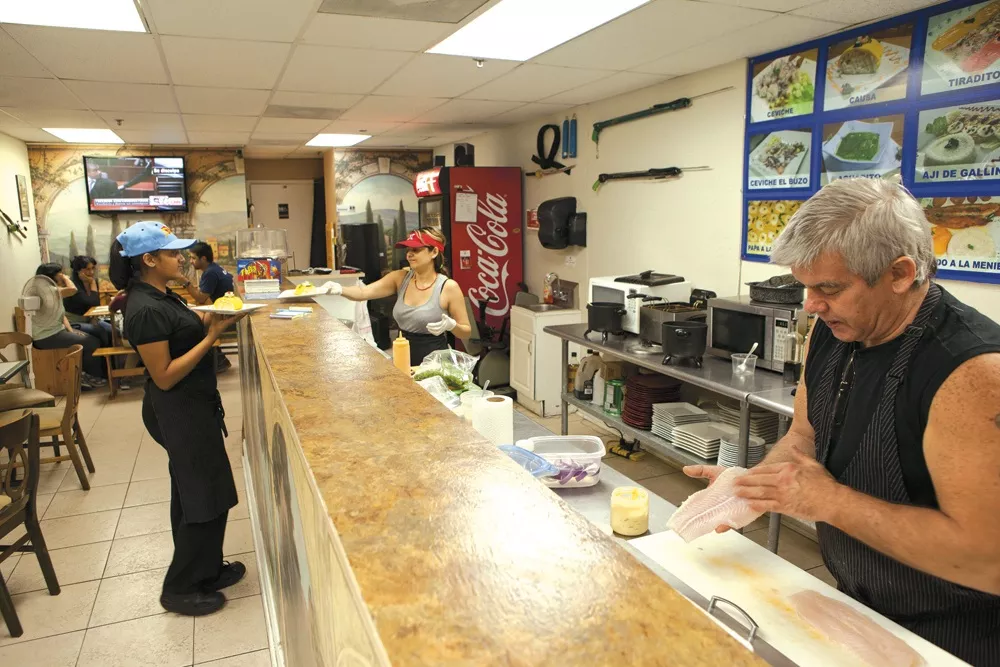 El Buzo Restaurant

1436 N. Semoran Blvd.
Casselberry
407-673-0237
peruvianrestaurantorlando.com
$
No one can accuse Bruno Ferreyra, chef-owner of El Buzo Restaurant in Casselberry, of being dull. Ferreyra made a living combing the depths of the Pacific Ocean spearing everything from flounder to reef sharks off the coast of Lima, Peru, and at one time, was even crowned South America's top deep-sea buzo (or "diver"). He's not shy about his love for the ocean – he handed me a photo book showcasing his triumphs of the deep, and the framed photographs adorning the humble eatery's walls attest to his mettle as a mariner. But after talking to Bruno, it became clear that it's the skies above that hold his attention.
Before I delve into that, a little history: In 1980, Bruno and a friend opened the original El Buzo, a popular cevicheria, in Lima. In 2003, he moved to Miami and opened a restaurant that cleaned him out; after that, he came to Orlando to give the restaurant business one last shot. And then came his close encounter of the first kind: He describes the mysterious luminescence he's seen on more than one occasion outside his little restaurant, a glittering orb he's convinced is extraterrestrial; then he speaks of a very close friend who, before being swooped up into a floating alien vessel, was unable to walk, but was cured of his disability after being spewed back out. Bruno wears the alien tattoo on his arm like a badge honoring this connection to the unknown.
Now, I'm not certain if Bruno's getting any otherworldly help in the kitchen, but everything we had the pleasure of sampling was pretty far out. I use the term "kitchen" loosely: There's no grill, oven, rotisserie or range hood here – just a microwave, a few electric saucepans and a small electric deep-fryer. Amazingly, he and his trusted sous-chef do all the prepping, chopping and cooking in this makeshift cocina, and the results are extraordinary. At this cevicheria, an order of choritos a la chalaca ($6.95) isn't just a steal, but an absolute must-try: The mussels on the half-shell were perfectly dressed with a tangy salsa jacked with aji limo peppers and topped with a kernel of corn.
Corn is a common ingredient in Peruvian cuisine (we were even served cancha, salted corn nuts, as a snack prior to ordering) – you'll find it in everything from soup to ceviche here, though as far as ceviche was concerned, we opted for the corn-free tiradito tricolor ($10.95), a plate of fresh grouper sashimi edged on both sides with colorful strips of yellow and orange sauces spiked with my beloved rocoto pepper. Seafood is undoubtedly the focus at El Buzo, but an uncommon dish like grilled beef heart ($6.95) offers a little tierra balance to the mostly mar menu. Bruno's above-grade lomo saltado ($10.95), the Chinese-inspired stir-fry of beef strips, tomatoes, onions, cilantro, aji limo and fresh-cut fries, does his country proud. Just be sure to ask for extra aji.
Unlike sweet tres leches ($3.75), I found the bavarois de guindones ($4.50) impossible to pronounce, but easier to swallow. The aerated cream dessert with dried plums had a texture that was, fittingly, ethereal. I'll end by saying this: There were no strange or inexplicable glows on our visit, but after sampling Bruno's stellar Peruvian fare, now I see the light.