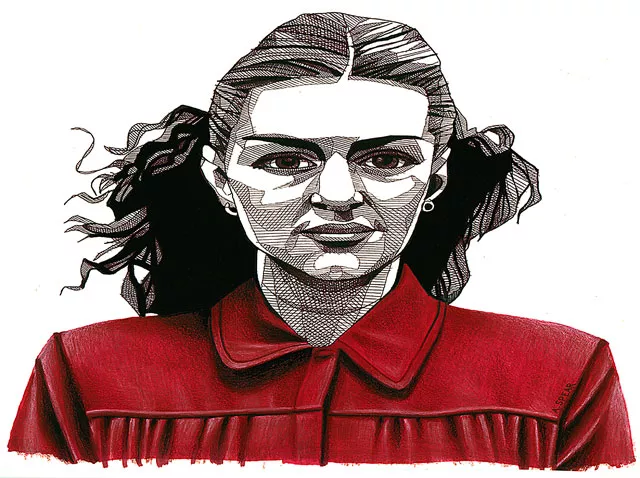 By their muses, you will know them: Alfred Stieglitz had Georgia O'Keeffe. Man Ray had, at various times, Lee Miller and Kiki de Montparnasse. Jacques Henri Lartigue had three wives (again, at various times) and the Romanian model Renée Perle. For Harry Callahan there was only his wife, Eleanor.
He immortalized her, and without her it's hard to imagine what his art could have been. Yes, there was his street photography, catching urban life in its hurly-burly velocity. There were pictures of weeds against snow like nature's calligraphy. He had his architectural studies and other modes.
But in the work of this master of light and shadow, the most frequent and only continuing and memorable presences are Eleanor and, to a lesser extent, their daughter, Barbara. Eleanor was the soul force in Harry's oeuvre, the wellspring of humanity in his abstracted world. Eleanor Knupp was born in Royal Oak, Mich., in 1916. At 17, she was a secretary at Chrysler, when she met 21-or-so-year-old Harry Callahan, a clerk with the company, on a not-quite-blind date arranged at her suggestion after a mutual acquaintance showed her a picture of him. The two seemed to "click," she said, and they were married three years later.
Harry's interest in photography was sparked during those years by a movie camera belonging to one of her relatives. He joined Chrysler's photo club and his relationship with photography deepened. A talk given by Ansel Adams in 1941 seemed to have made a particular impression on him. It made him an artist – or, at least, it made him see himself as one. The Callahans moved to New York and then Chicago, and by 1946, Harry had progressed enough to be invited to teach at the Institute of Design in Chicago, hired by founder László Moholy-Nagy. In 1961, he moved to the Rhode Island School of Design where he founded the photography department and he retired from teaching in 1977, by now his works lauded and highly valued. He died in 1999.
A 2007 show of 125 photos of Eleanor included pictures taken as late as 1983, but the Eleanor pictures on which the Callahans' fame rests were mostly shot from 1947 to about 1960. Eleanor looking serene, a head and a hair emerging from gray Lake Michigan, eyes closed, her hair swirling down into the water like one liquid meeting another. Eleanor in a plain dark coat, wind now playing with her hair against the background of a light-toned apartment building and its geometrically arrayed windows. Eleanor nude, for all we can see, arms framing her face, hiding her hair, staring into the camera as if it has a heart. Eleanor as a silhouette and Eleanor blasted by light. Eleanor in portrait and Eleanor at a distance. Eleanor superimposed on nature. Eleanor as nature.
These photographs weren't splashed across popular magazines in fashion spreads. These weren't pinup material; even aside from the intent, Eleanor was shapely but fleshy, an ample woman no modeling agency would have given a second look. But the pictures of her made their mark. The online slide show accompanying the New York Times obituary cited Eleanor as "one of the most recognizable models in the history of 20th-century photography."
In an interview, Eleanor once said, "I never initiated any of the poses myself. … Everything, photographically, was purely from Harry." And yet she could recite the detailed directions he gave: cross your legs, foot here, etc. That "everything … from Harry" still seems a little too self-effacing to stand scrutiny. Either the word "everything" or "photographically" is game to be contested.
The Los Angeles art dealer Stephen White, quoted in the Los Angeles Times obit, seems closer to a truth: "Eleanor went beyond being Harry's companion, wife and the mother of his child. She was an additional F-stop on his lens. Through her, he saw form and structure more clearly, both in nature and in the world. She was present in his photographs even when she wasn't in them. Eleanor was Harry Callahan's collaborator, for she rested inside his psyche."
Eleanor Callahan died on Feb. 28 at age 95 in Atlanta. One wonders how often she appears in the 100,000 negatives Harry left behind when he died in 1999.