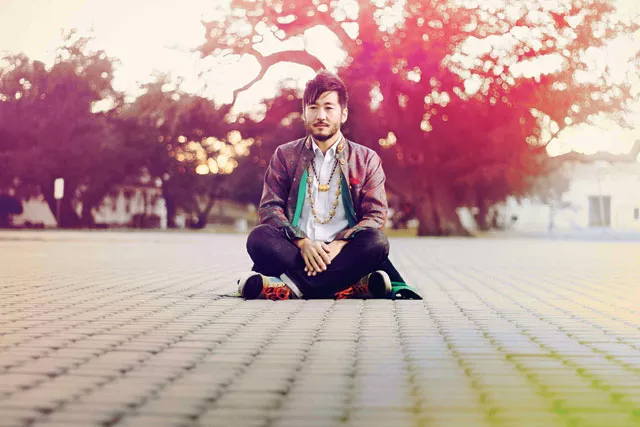 KISHI BASHI with Elizabeth and the Catapult
8 p.m. Monday, March 11 | The Social, 54 N. Orange Ave. | 407-246-1419 | thesocial.org | $10-$12
All the pieces have seemingly always been laid to set up Kaoru Ishibashi as a classical musician. The Seattle-born, Virginia-bred Ishibashi started playing violin at 6 years old. Classical music is and was a constant in his listening diet; in past interviews, he's been quicker to offer shout-outs to Ravel, Debussy, Mozart and Shostakovich than Nirvana, Jane's Addiction and Rage Against the Machine (all of whom figured into his music development, too).
"In high school, I did a lot of chamber music, playing in a string quartet," says Ishibashi, who also spent a decade playing jazz. "I really have a deep understanding of classical music. I studied contemporary classical music and composition in college."
The above allegiances noted, it's a bit of a surprise where he eventually landed. Nowadays, Ishibashi works as a professional musician – not playing classical as you'd expect, but rather, performing a splendorous and far-flung mutation of chamber-pop as the primary caretaker of Kishi Bashi. Ishibashi uses the project to engage in a strange kind of alchemy.
He arrived at Kishi Bashi's odd musical angle out of desire and necessity alike. As lead guitarist of the indie-rock-oriented Jupiter One, he felt restricted in his role. "If you have a drummer, obviously you don't need to beatbox," he says, "and I don't think my band really liked me playing violin that much either."
Ishibashi has also served as a touring musician backing fellow experimental pop craftspeople Of Montreal and Regina Spektor. When Spektor invited Ishibashi to open for her in Australia, the expense of carting a whole band over forced him to develop a solo set. The response he received from those performances was positive enough to propel the project forward. Kishi Bashi's bittersweet and sophisticated first record, 151a, dropped in April 2012.
His forte is violin, so during shows he plays and temporarily records key violin segments (with the aid of a loop station) to form the base of his composition. This crux is then augmented by his singing in both English and Japanese in a dainty falsetto (and other registers), beatboxing and playing a guitar (and synthesizers, if need be). In this interview, he briefly mentions that he's currently playing with two other musicians, but he's been fine functioning as a one-man band in the past.
As far as playing classical music goes, he shares no regrets about following the path he did.
"I figured out early on that an orchestral classical musician's life is not a very fulfilling lifestyle, in that it doesn't pay very well and a lot of them were kind of miserable because you're one of many players in an orchestra, and there's not that much popular recognition. It never really appealed to me," he says, noting that he grew up near the Virginia Symphony Orchestra. "If you're a violinist, all you're trying to do is trying to get to the top. It's a very egotistical instrument. Everybody's really trying to get better than the [next] person to rise to the top of the orchestra. If you're one violinist in a small group, you actually have more exposure and [play] a bigger part in the music than in an orchestra."