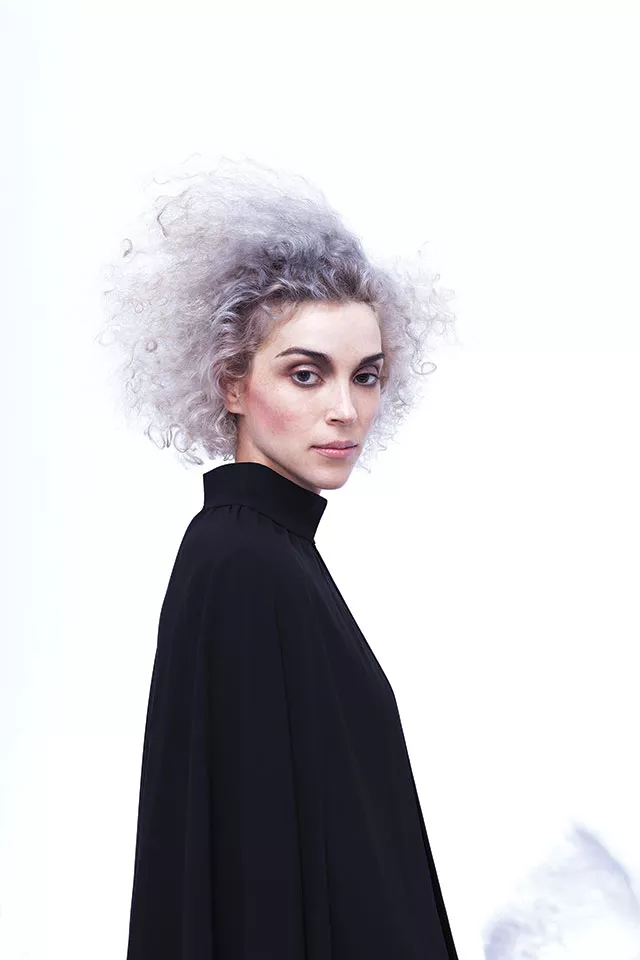 PHOTO CREDIT: RENATA RAKSHA
St. Vincent
Seasonally it may be time for harvesting apples, but this year's Orlando fall concert schedule was certainly cherry-picked from the best national tours. Pick your poison among dark offerings like Judas Priest, Melvins and Mastodon (at Kink Music Festival) or weigh options between candied critical darlings like St. Vincent, Flying Lotus and Angel Olsen. From juggalo invasions to Pulp Fiction Live, venues seem poised for intense transformations in October that go well beyond our city's typical Halloween costuming attempts. Plus, November delivers hip-hop icon Juicy J, who gives you only two options on his latest tour: Twerk or die. We choose life, crushing crisp leaves beneath our feet as we also rush to vital local shows, like Backbooth's 10-year anniversary weekend, featuring a resurgent Legendary JC's nine-piece lineup. As leaves and beats drop simultaneously, music fans are treated to chill-inducing concerts throughout the fall, so don't forget your coat in these cool times.
Oct. 7
St. Vincent
With fans like Steve Albini and David Byrne, St. Vincent stands valiantly as one of the most creative forces in popular music today, so it's fitting to see her perched upon a deserved throne on the cover of last year's critically acclaimed self-titled release. Her quirky, tuneful intricacies challenge expected melodies to bright effect, creating adventurous music that incites an undeniably danceable mutiny against the tedious hype of more formulaic pop stars.
6 p.m.; The Beacham, 46 N. Orange Ave.; $25-$40; 407-246-1419
Oct. 9
Flying Lotus, Thundercat
Turns out Flying Lotus' newest album title is pretty apt for how his Orlando fans must feel about his upcoming show – You're Dead only increases the critical acclaim that the avant-garde producer has received over the course of five studio albums. Expect him to pack out the massive club, because this is the first non-festival date on his tour, and the album drops just days before the show (Oct. 7).
9 p.m.; The Beacham, 46 N. Orange Ave.; $25-$30; 18 and up; 407-246-1419
Oct. 29
Judas Priest, Steel Panther
The bludgeoning discography of Judas Priest spans 40 years and comprises some of the most influential metal ever cut. While their brightest work may have been in that 1976-1984 sweet spot across crucial releases like Hell Bent for Leather and British Steel, Redeemer of Souls, their well-received 2014 release, continues their dutiful reign over the genre, exploring the classic metal themes they practically created and returning to '70s-rooted guitars on the album that has many critics crying redemption.
7:30 p.m.; Hard Rock Live, 6050 Universal Blvd.; $49.50-$124.50; 407-351-5483
Oct. 31
Pulp Fiction Live: The Entire Soundtrack
Quentin Tarantino's cult classic has been fodder for Halloween costumes since it was released 20 years ago, and now it's Mills Avenue's turn to play dress-up with Pulp Fiction. In addition to notable locals (Thee Wilt Chamberlain, the Plush Monsters) collaborating to perform the full soundtrack, neighboring bars Lil Indies and Uncle Lou's will be outfitted to re-create scenes from Jack Rabbit Slim's and Maynard's pawn shop (complete with the Gimp!), respectively.
Two shows: 8 p.m., 11 p.m.; Will's Pub, 1042 N. Mills Ave.; $10-$12; 18 and up
Nov. 4
Melvins
A force to be reckoned with in doom-grunge, Melvins rip unrelentingly whether they're pulsing through songs from knockout originals on earlier releases like Houdini or Stoner Witch or destroying Bowie and Queen on covers from 2013's Everybody Loves Sausage. The Melvins army charges into town just after blowing out Gainesville's the Fest 13, so for those who are making that trip, this local show will be the icing on a beasty beefcake of November shows.
8 p.m.; The Social, 54 N. Orange Ave.; $15-$17; 18 and up; 407-246-1419
Nov. 14
Juicy J Twerk or Die 2 Tour
Distinctive Three 6 Mafia producer and MC Juicy J invites Orlando to Stay Trippy, touring on newly dropped hip-hop thrillers from Pure THC: The Hustle Continues, like the Nicki Minaj-tinged single "Low." So bounce it to Firestone. If you wanna luxe it up, go VIP for the perk of twerking sooner with express entry, so you aren't tempted to Kool-Aid Man through the walls to get to the lip of the stage sooner and drink it all in.
6 p.m.; Firestone Live, 578 N. Orange Ave.; $30-$45; 407-872-0066
To search for more concerts and live music, visit our calendar.