Most fiction writers regard genocide as the ultimate taboo subject. They fear trivializing survivors' stories, they don't dare to inject humor and they forfeit young readership because kid-friendly plotlines could disrupt the requisite solemnity. Such restraint seems sage compared to the concentration-camp-as-comedy-club cinematic features that surfaced in the late 1990s. But George Saunders' daring satire The Brief and Frightening Reign of Phil turns a Holocaust-like scenario into an often witty, if ultimately unsettling, children's book.
Like Animal Farm, which used talking animals as a vehicle for scathing social commentary decades before idiot directors mined them for cheap laughs, Phil uses nonhuman characters. The citizens of decadent Outer Horner and oppressed Inner Horner are abstract-shaped androids; one consists of a belt buckle, a tuna can and a blue dot. When victims are "disassembled," the violence leaves an emotional impression, but the scenes lack the graphic gore to render the light-toned language incongruous.
The fantastical nature of Saunders' creatures doesn't dilute his depiction of dehumanization. Inner Horner is only large enough to accommodate one resident at a time, with the other six spilling into a Short-Term Residency Zone located in vast Outer Horner. Phil, on the strength of stentorian speeches, assumes Outer Horner's presidency and begins taxing the neighbors for the privilege of using the Short-Term Residency Zone. He characterizes them as "uncouth animals" and his advisors believe him, surrendering all sympathy as Phil orders them stripped and killed.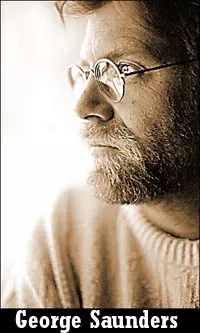 "With Inner Hornerites, there is no lady, there is no kid, there is only evil," Phil assures his dim-witted goons, who balk at slaughtering women and children.
Outer Horner's most amusing characters are the megaphone-brandishing members of the media, who evolve from spouting useless headlines ("Air continues to float around, being breathed by many") to touting their new leader with absurd enthusiasm ("President, doing big things, inspires much, in many") to exercising self-aggrandizing hindsight ("Why did nation ignore repeated warnings by Media?"). Saunders concocts a Team America-like number for Outer Horner's national song: "Large, Large, Large, Beloved Land (If Not the Best, Why So Very Dominant?)" and takes a shot at the USA Patriot Act with Phil's "Certificate of Total Approval." These humorous touches, and his detailed descriptions of his bizarre creations, ensure that despite its heavy messages, Phil never feels like a required-reading burden.
The Brief and Frightening Reign of Phil
By George Saunders
(Riverhead, 130 pages)