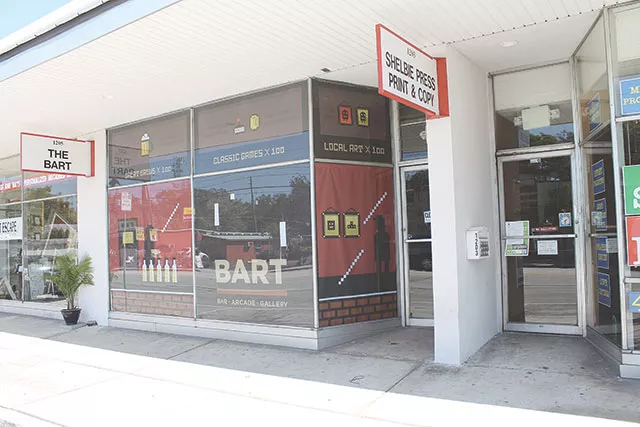 The lingering question for people who don't live and breathe Mills 50 remains: What exactly is Orlando Nights? The bar, previously famous for $1 martinis and the en-Speedo-ed men who served them, coyly suggests that you "make it your own," and Bao Le-Huu similarly implored musicians to do just that in his column last week (This Little Underground, March 13). To show how much we miss Bao this week, I'm adopting his advice with an added nod to everything that's already happening there due to a vibrant pop punk community always looking to fill an empty room. Check out Orlando Nights' Instagram (@orlando_nights1300) to begin piecing together the initial concept images, as I'm sure each upload will deliver a clearer picture that will in due time eradicate any identity confusion currently being discussed.
If Orlando Nights remains a question mark, the Space has to be considered a glorious mystery. I've only seen a couple of events crop up there – one a group art show including works by Grandma Party favorites Carly Jean Andrews, Christopher Garcia and Jennifer Medina, the other a celebration of womyn-hood that included a performance from lovely local cellist Erica Quitzow – but I'm excited for a future that includes other unique events occupying the Space. As for the venue name, I'm just guessing here, but it seems likely to me that folks defaulted to calling it thus in the way that someone who feeds a stray cat every day until finally adopting it continues to vaguely-yet-affectionately address it as "Kitty." Ex: Q: "Where's your show?"
A: "In the Space above Lil Anthony's!"
GUYS! The Brink Orlando was built from scratch just for us, just over a year ago, and we forgot to say Happy Birthday! We are the worst. Luckily, Swamburger has been celebrating with Brink every Thursday this month with the launch of a new weekly event series called Brink Thursdays. Each Thursday brings a different riff on hip-hop themes, with the fourth Thursday adhering to a "Get Money" mentality where four artists are chosen to perform and must conspire in advance to sell out the venue. It would sound something like American Idol meets The Apprentice, if that weren't such a tragically lame-sounding way to put it. Basically, these events are intended to show appreciation for hip-hop-loving crowds and endeavor to bolster our local hip-hop scene in admirable ways. Good looking out, Swam!
Good news for cool parents – Rock 'N' Roll Camp for Girls is back this summer, beginning June 17. There was a community outreach event a week or two ago at Bart that sought to raise awareness and benefit the camp by donating 10 percent of the sales that night to the kick-ass cause that acknowledges how much more fun it is to be a punk rock princess than the Disney variety. I really dug seeing Bart open its game-, art- and movie-loving heart to embrace this budding camp that's already so dear to the music community. For more information about the camp, check out their website, girlsrockorlando.wordpress.com.