Summer is road-trip season, and if you're looking for reasons to venture into the great Beyond Orlando, these restaurants are as good as any. High-tail it to NSB's coastline or DeLand's horse farms (yes, DeLand), or take Highway 50 far out (and then farther!) to where ZIP codes don't start with 328. At the end of the road, you'll find these stellar bites.
CLERMONT The Crooked Spoon Gastropub 200 Citrus Tower Blvd., Clermont, 34711 352-404-7808, thecrookedspn.com
Formerly a food truck famous for the "420 Burger" and helmed by the well-loved chef Steve Saelg, who passed away last year, devotees of that gut-buster now have to travel to the outer edges of Clermont to get one at this gastropub in the Citrus Tower's shadow. Sample innovative dishes like duck consommé ramen, coconut-crusted chicken over cardamom-spiced waffles with garam masala maple syrup, and probably the best homemade potato chips we've ever had. The customer service is as friendly and unctuous as the lobster grilled-cheese sandwich.
NEW SMYRNA BEACH Third Wave 204 Flagler Ave., New Smyrna Beach, 32169 386-402-7864, thirdwavensb.com
Flagler Avenue's offerings are growing by leaps and bounds, but this spot stands out. Though a hot pour-over might not sound like ideal après-beach fare, maybe a scoop of ice-cold gelato or a craft brew from the tap would do the trick? Stick around for dinner under the bistro lights on the patio and order kielbasa-spiced hanger steak with sweet mustard, fresh-crunchy kale salad or a charcuterie board to share. Maybe after dinner, with the drive home ahead of you, ordering that coffee will seem like the thing to do.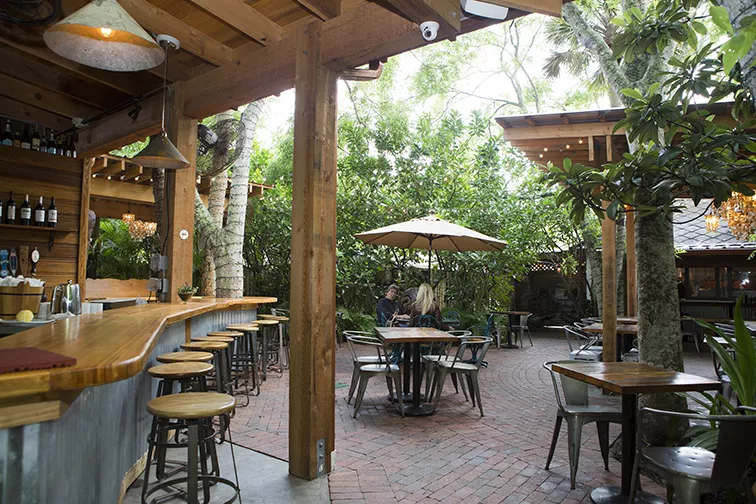 Photo by Aldrin Capulong
Third Wave, New Smyrna Beach (Photo by Aldrin Capulong)
WINTER GARDEN Chef's Table at the Edgewater 99 W. Plant St., Winter Garden, 34777; 407-230-4837, chefstableattheedgewater.com
The chef-owners of this hidden-away haunt, Kevin and Laurie Tarter, have done dining right. There's a feeling of exclusivity as you're escorted into a dining room separate from the more casual "tasting room" that adjoins. The reason to visit is the prix fixe menu that boasts both foie and filet, and don't skip the wine pairings. (You've driven all this way; might as well.) If you overindulge, hey, you're in a hotel – spend the night.
DELAND Cress Restaurant 103 W. Indiana Ave., DeLand, 32720 386-734-3740, cressrestaurant.com
Even if it weren't hailed as one of the country's best restaurants or if chef-owner Hari Pulapaka hadn't been nominated for a James Beard Award multiple times, Cress would still be worth visiting because, well, the food is just damned good. Current standouts on Cress' eclectic carte de menu include roasted butternut-and-cashew Wellington, grilled heritage pork chop with barbecued onions, and lemongrass-coconut Rendang curry, but selections change daily. If the smoked Florida fish tacos (one of our Best of Orlando winners in 2014) are on the menu, don't pass them up.