First Watch is a household name in the breakfast game. That's just a known-known. But what keeps them at the top of the food chain is their dedication to evolution, both on the menu and aesthetically. Seasonal menus are rolled out several times per year and the interiors are also getting a modern, personalized makeover. When we first heard this, we really didn't think there was anything wrong with the current look, which tends to be fresh and modern. But upon visiting the newly reno'd UCF location, we understand. Not only were there walls and light fixtures made of wood reclaimed from an old pier (which you might expect from a restaurant reno these days), but the wood slats were also tastefully adorned with a mural of the UCF Golden Knights logo. Each location is expected to get a similar treatment, keeping up with the aesthetic trends of the day, while also making your neighborhood First Watch YOUR neighborhood First Watch. Okay. We get it. Make-overs, approved.
But what we're really here to talk about, and what makes First Watch truly stand out among the crowd of breakfast joints (think anything with "house" in the name), is the food. Long known to offer healthier, fresher options, First Watch is constantly innovating and evolving when it comes to their menu. They stay on top of food trends and offer delicious dishes, using the latest hot ingredients such as kale, turmeric and chia seeds. Often these new entrees arrive on one of their seasonal menus—several are released throughout the year—and the recipes customers can't live without earn a permanent spot. We're personally happy about this process, as we can now enjoy our beloved Avocado Toast year-round. (It's also rumored that our newest seasonal fave, Chia-Seed Pudding, will be making a permanent comeback soon as well.)
Speaking of seasonal menus, Behold Spring was just released in the last couple of weeks and includes Turmeric Lemon Aid, a sparkling and ever-so-lightly sweetened mix of lemon, turmeric, and organic ginger. Anti-oxidant turmeric seems to be on everyone's minds right now, and as part of the ginger family it blends perfectly into this refreshing concoction. Alongside this seasonal refresher, you will also find Kale Tonic and Morning Meditation. Once again, First Watch makes use of turmeric in the Morning Meditation, which also incorporates oranges, lemons, organic ginger, agave nectar, and beets. You'd be hard-pressed to find a drink that encapsulates "a breath of fresh air" more than this one. But that's not to say the Kale Tonic doesn't hold its own in the refreshing category. With a foundation of kale, this juice combines Fuji apples with English cucumbers and a lemon, the most appropriate tonic garnish. If you need a break from the same old endless brunch cocktails or if you just prefer fresh over fermented, these crisp nectars will leave you anti-oxidated, feeling healthy and ready to take on whatever the rest of your day has to offer.
Now for the food on the new Behold Spring menu. Do yourself a favor and kick things off with the AB&J Waffle, a fluffy Belgian waffle topped with maple almond butter and all-natural strawberry preservatives. This hearty waffle dish also comes with fresh strawberries and crunchy house-made granola. The maple almond butter takes this traditional brunch dish down a path we didn't even know existed, and we certainly aren't complaining.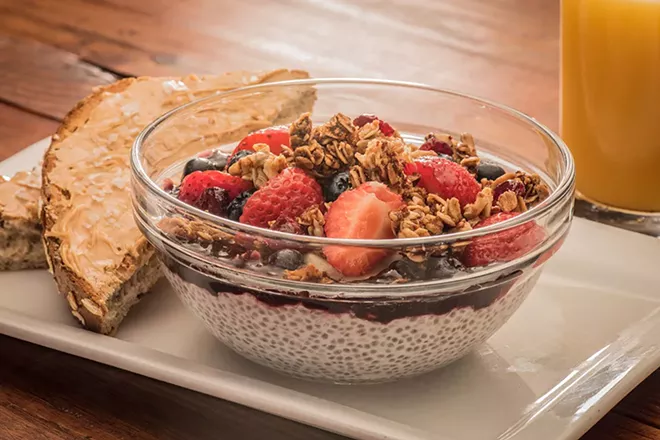 By now there should definitely be Millionaire's Bacon on your table. If there isn't—GET SOME. Four slices of signature hardwood-smoked bacon are simmered in brown sugar, black pepper, and cayenne, then drizzled in maple syrup. First off, it's BACON. The minute it hits your lips, you taste the sweet syrup, followed by the bacon, finishing with just the slightest hint of spice. Let's just say we wouldn't be surprised (or disappointed) if this one joined the permanent menu in the near future. But since you probably won't fill up on bacon, we suggest the Croque Madame. This mouthwatering combination of smoked ham, tomato, Gruyere cheese, and Dijonnaise on a grilled artisan brioche bun is a savory masterpiece, and a bit of a monster. The flavor keeps coming with a béchamel sauce, two cage-free, sunny-side-up eggs, and fresh herbs on top. It's a lot. But everything about the flavors totally works. We would highly recommend.
Rounding out this seasonal menu is a tried-and-true Southern brunch favorite, Shrimp and Grits. Rather than sticking in with the crowd on this traditional dish, First Watch prides themselves on personalizing every aspect of their Shrimp and Grits. First, they sautée their shrimp and andouille sausage in a Cajun Lowcountry reduction. Then they mix house-roasted tomatoes, onions, peppers, corn, and herbs into Bob's Red Mill Cheddar Parmesan cheese grits. When all's said and done, the Shrimp and Grits match up with an artisan ciabatta toast for what will be one of your most memorable brunch munching experiences. It's bold, rich, hearty, and could very well be served at an upscale eatery on the cobblestone streets of Charleston.
Unlike a lot of brunch spots, you can get in and out of First Watch in less than an hour and without putting your wallet to the test. It's almost crazy that First Watch is offering this level of freshness and innovation for just $5-$10 per entree. But it seems to be working for them. There seems to always be a line out the door on weekends, which can be avoided by downloading the No Wait app and checking in before you arrive.
When talking First Watch, you could definitely become tired of the words "fresh and healthy," but the reputation is well-deserved. The permanent menu actually starts with a section titled The Healthier Side with First Watch mainstays the Tri-Athlete and the Healthy Turkey, two omelets that come standard with egg whites. First Watch will also substitute egg whites on any of their other omelets at no additional charge. We threw them a curveball, bringing our celiac friend with dietary restrictions to brunch—surprisingly, this was no problem. They had several dishes that are naturally gluten-free, and happily made necessary adjustments where they could so that he could enjoy other items. Don't get us wrong. There are also rich, delicious and filling favorites like the Chickichanga breakfast burrito. So don't be afraid if you're among the health-food-adverse and just like to dig into deliciousness! First Watch maintains one of the most diverse and continuously evolving menus of any restaurant in its genre.
ADDRESS: Multiple Locations
WEBSITE: www.firstwatch.com
PARKING: Parking lot
RESERVATIONS: No
AVERAGE WAIT TIME: 15-30 minutes on weekends, much less if you use the No Wait app
ALCOHOL: First Watch is a great place to detox
SERVING TYPE: Menu
OUTDOOR SEATING: Some locations
CAFFEINE: Hot coffee/tea, iced coffee/tea, herbal teas
VEGETARIAN/VEGAN-FRIENDLY: Yes
NON-BREAKFAST ITEMS: Yes
DOG-FRIENDLY: If outdoor seating available