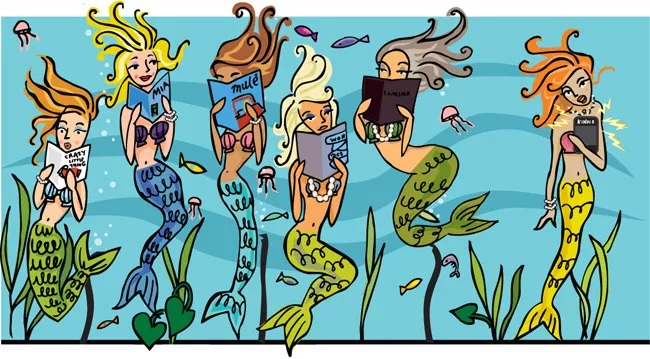 I Wore the Ocean in the Shape of a Girl
Kelle Groom Free Press/Simon & Schuster
238 pages
Reading this book can be a mind-altering experience, so strange and lyrical are the images and language; it's like dreaming while awake, or eavesdropping on someone else's dreams. Or like being high, which Kelle Groom was, a lot. This memoir chronicles her attempts to get clean and to come to terms with the double loss of her son: First she gave him away at birth to a family member, then he died of leukemia before she could get straight and get to know him. But I Wore the Ocean in the Shape of a Girl is utterly unlike any other memoir I've read, a meandering assortment of episodes from a life foggy with indirection, occasionally pierced with a metaphor as brilliant, painful and targeted as a laser. Groom was both an associate artist and, later, an employee of New Smyrna Beach's Atlantic Center for the Arts, a place she credits with transforming her life (readers may also recognize the bars and health-food stores, the AA meetings and rehabs, of downtown Orlando and Winter Park). Lovers of language will get pleasurably lost in this account of the mysterious and gradual coalescence of self-identity.
Crazy Little Thing: Why Love and Sex Drive
Us Mad Liz Langley Viva Editions/Cleis Press
256 pages
In this slim and snappy volume, sex blogger and former Orlando Weekly columnist Liz Langley examines the science of "how your hormones and neurotransmitters make you do really stupid things." A compendium of interviews with scientists, therapists, authors, filmmakers and criminals, all nicely linked with personal anecdotes from Langley, Crazy Little Thing manages to reassure even the most unlucky in love that A) you're not crazy – it's all brain chemistry, and B) there's someone out there way, way crazier than you could ever be. For instance, Burt Pugach and Linda Riss: They dated, she found out he was married, she got engaged to someone else, so he hired someone to throw lye in her face. She's blind and scarred and he did 14 years in prison, but now they're happily married! Langley's trademark bawdy humor is perfectly matched with the subject matter, and her deft turns of phrase – like when she describes a murderer-for-love as "tan and slender as a wooden flute" – make the science stuff almost poetic. The book makes a brave attempt to explain why "when we're handed love's lemons, some of us make lemonade … and some of us throw the lemons through the mirror and make boiled bunny soup."
Mule: A Novel of Moving Weight
Tony D'Souza Mariner/Houghton Mifflin Harcourt
304 pages
Mule, a novel about middle-class drug trafficking, would make a great movie. In fact, once the notion entered my head, it was hard to shake it – beautiful young people in desperate situations, the thrill of the open highway and of, literally, getting away with it – and taken solely on that basis, Mule's a great read. But, stripped of the druggy allure and moments of violence, it's essentially a meditation on the failure of the American dream. When it's this easy for James and Kate, a successful freelance journalist and his boutique-manager wife, to fall through the cracks, what's wrong with the system? At least that seems to be the question at the core of the novel; as a minor character (a "hood" from Orlando's Pine Hills neighborhood) puts it, "Shit's exactly the same as shit's always been. Y'all feeling it for a change is all." Author Tony D'Souza has said that he was motivated to write Mule by facing the exact same situation as his protagonist. As James makes the loop from Northern California to Austin to Tallahassee to Sarasota, over and over again, drenched in existential terror, he's eventually numbed, and that numbness infects the book's nihilistic dénouement. Despite the hollow ending, though, Mule is a thought-provoking examination of getting carried away.
Luminarium
Alex Shakar Soho Press
432 pages
Fred Brounian, the protagonist of Luminarium, is staring at transformation – a lot of it. His twin and business partner is in a coma; wiped out by his brother's medical bills, he's living with his parents; the tiny game studio the two of them founded has morphed into a military simulation software firm; and, taking advantage of the power vacuum left by the twins' dual absence, their younger brother plans to move the business from New York to Orlando. It's no wonder he's willing to participate in a shady neurological experiment – not only does he need the cash, he's sorely in need of the spiritual awakening the scientists claim to be able to replicate. Luminarium might be called a post-post-9/11 novel, in that it deals not with the immediate trauma of the event, but with the trauma resulting from the trauma – the ramifications of choices made in the aftermath. Shakar's evocation of the military-entertainment complex based in Orlando, of the megachurches and retention ponds of the relentlessly cheery Celebration, are spot-on, and the darkly comic scenes set in Kissimmee's theme-park purgatory are worth the price of admission. The novel is rich with magic, absurdity and epistemological inquiry, but also some really good Disney slams.
Mile Marker Zero: The Moveable Feast of Key West
William McKeen Crown Publishing Group
320 pages
Anyone hoping for a serious history of Key West will be disappointed by McKeen's book – this is a collection of drinking tales cloaked in the sheepskin of a well-researched work of nonfiction. A few Florida historians have pointed out mistakes and incorrect assumptions (such as the true origin of the nickname for Key West natives, "Conchs"), and sometimes the broad-strokes approach goes wide, as in McKeen's assertion that all of Key West's year-rounders are "millionaires or homeless." On the other hand, the book takes itself a bit too seriously to be purely a rollicking chronicle of the boozy benders of Ernest Hemingway, Tom McGuane and, yes, Jimmy Buffett. But these cavils miss the point of the book. Despite its not-quite-one-nor-t'other-ness, Mile Marker Zero is an enjoyable slice of Key lime pie, replete with tangy and salacious tales about some of the more serious artists of the '60s and '70s who made their way down to the southernmost point of the U.S. to "take part in the literary cock-measuring contest with Papa." Hemingway, McGuane, Hunter S. Thompson – all were significantly shaped by their time on Key West, and fans of their writing will enjoy this book.