Thanksgiving: It's the potluckiest time of the year. Whether you find yourself enjoying the idyllic extended-family dinner à la Norman Rockwell, or you gather with a group of friends (aka the family you choose), it's statistically more likely that you will be a guest than a host. In other words, you'll need to bring a dish. And as casual as it sounds, Thanksgiving potluck can be a minefield.
To demonstrate your appreciation of the host's hospitality, you have to bring something that required a little effort, but at the same time, you don't want to compete with the lineup they've already planned. (Four bowls of mashed potatoes on the table isn't going to make anyone happy.) It's no wonder some people wimp out with a relish tray, or boring dinner rolls.
But not you! You're creative, fearless, and well-intentioned. You are going to kick Thanksgiving's ass – in a very polite and well-behaved way. You're going to bring seasonal starters. See, now you're a hero, because the other guests have something to nibble on and your host has an extra 30 minutes in the kitchen before the grumbling stomachs drown out the small talk. All five of these pre-meal snacks travel well, double (or halve) fairly easily, and play well with turkey.
Sweet Potato Soup Shots
(adapted from Merrill Stubbs' and Amanda Hesser's Food52.com)
No marshmallows here: This is a savory take on the ubiquitous Thanksgiving vegetable. The amount of broth and water may seem like a lot, but if you're serving it as a shot, the soup needs to be thin to be drinkable. If Middle Eastern flavors aren't your favorite, substitute herbes de Provence for the za'atar and chopped niçoise olives for the feta.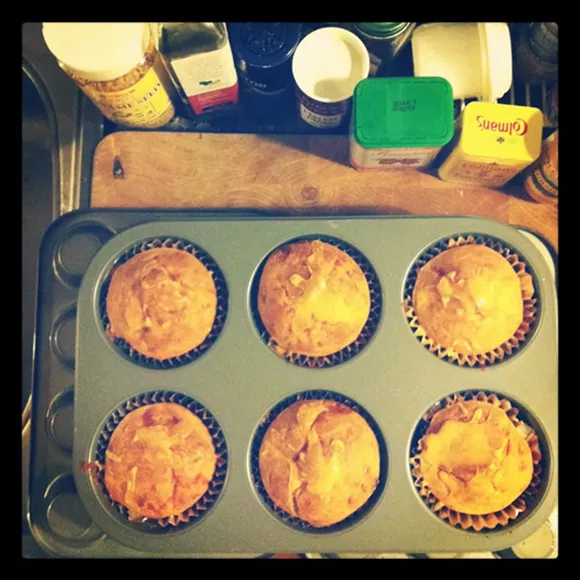 1/4 cup plus 2 tablespoons olive oil
2 tablespoons za'atar *
1 tablespoon butter
1 leek, white and light-green part only, rinsed thoroughly and chopped
1 large carrot, peeled and chopped
1 medium sweet onion, peeled and chopped
5 medium sweet potatoes, peeled and chopped into 1-inch cubes
2 cups chicken stock
6 cups water
1 bay leaf
1 tablespoon salt
1/4 cup feta cheese, crumbled
In a small pot, combine za'atar and 1/4 cup of olive oil. Cook over low-medium heat until warm, but don't burn the spices. Set aside for at least an hour to infuse.
In a large pot over medium-high heat, warm the butter and remaining olive oil. When the butter has melted into the oil, add the chopped leek, carrot and onion. Cook until softened and translucent, about five minutes. Add the sweet potato and saute for another minute. Add the stock and water, drop in the bay leaf, and bring to a boil, then lower heat and simmer for about 30 minutes.
Check to make sure the sweet potatoes are completely soft, then remove bay leaf and puree with an immersion blender. Add salt to taste (you may need more or less depending on your stock).
If you're taking to a party: Use a funnel to pour the soup into washed, individual 4-ounce Mason jars. Loosely screw on the lids (not all the way) and pack the jars back into the box. When you get to your destination, open the jars, sprinkle some feta crumbles over each jar, and drizzle with za'atar-infused oil.
* Za'atar is a blend of sumac, sesame seeds, thyme and salt; it's available at the Spice and Tea Exchange of Winter Park, or you can blend it yourself. If you can't find sumac, lemon zest is an acceptable substitute.
Welsh Rarebites
(adapted from Nigella Bites, by Nigella Lawson)
These sharp, smoky mini-muffins are great with dark beer (like Negro Modelo). Best eaten warm on the same day they're baked.
2 cups all-purpose flour
1 teaspoon baking powder
1/2 teaspoon baking soda
1 1/2 teaspoons salt
1 teaspoon Colman's mustard powder
1 teaspoon smoked paprika
pinch of turmeric
3/4 cup plus 2 tablespoons grated sharp cheddar
6 tablespoons vegetable oil
1/2 cup plus 2 tablespoons plain 2 percent milkfat Greek yogurt
1/2 cup whole milk
1 egg
2 tablespoons Worcestershire sauce
Preheat oven to 400 degrees. Grease two mini-muffin pans and set aside in a cool place (or line with paper cups and set aside).
Use a fork to mix the dry stuff (flour through turmeric) and 3/4 cup of the cheese in a large bowl. In a large measuring cup with pouring spout, beat together the wet stuff (oil through Worcestershire sauce), then pour in batches into the dry ingredients. Mix lightly with the fork. Some lumps are OK, but overmixing will give you tough muffins.
Pour batter into muffin tins and bake for 15 minutes, then take them out and sprinkle a little cheese on top each muffin. Put them back into the oven for another five minutes, test with a toothpick, then put the muffin tins on a rack to cool. Serve warm.
Spicy-Sweet Holiday Nuts
This is probably the easiest recipe of the bunch; a jar makes a good hostess gift. Feel free to tweak the spice blend to your taste.
5 tablespoons olive oil
1 teaspoon ground ginger
1 teaspoon curry
1/2 teaspoon cayenne
2 tablespoons light agave or honey
4 tablespoons sugar
1 1/2 cups whole walnuts
1 1/2 cups whole pecans
Fine-grain salt
Line a sheet pan with lightly oiled aluminum foil and set aside.
Heat olive oil over medium heat in a large nonstick pan. Add spices and stir. Then add sugar and agave or honey to the pan and combine with spice-oil mixture. Add the nuts and toss gently to coat, stirring occasionally for five minutes or until nuts are toasted.
Transfer the coated nuts to the foil-lined pan. Working quickly, use a fork or spoon to spread into a single layer, separate from each other. Sprinkle with the salt and let cool completely. Keeps up to a week in a tightly sealed container.
Cowgirl Caviar
Along the Gulf Coast, this down-home recipe is as old as dirt. There are enough Texas vs. Louisiana – or Tabasco vs. Crystal – permutations, though, that you shouldn't hesitate to put your own mark on it.
3 16-oz cans black-eyed peas, drained and well-rinsed (get all that canned-bean juice off!)
3 firm, ripe plum tomatoes, finely diced
1 green bell pepper, finely diced
5 radishes, finely diced
1 bunch scallions, thinly sliced (green and light-green parts)
3 serrano chiles, minced
1 bunch cilantro or parsley, minced
1 small jar chopped pimentos, with the juice
1 or 2 cups balsamic vinaigrette (I think it's better with 1)
3 cloves fresh garlic, pressed or minced
1 tablespoon dried oregano
1 tablespoon Cholula hot sauce
1 tablespoon Worcestershire sauce
1 teaspoon black pepper
Mix all the vegetables (beans through pimentos) together in a large bowl. Stir together the rest of the ingredients (vinaigrette through pepper), then dump it over the vegetables and toss it all to combine. Refrigerate for at least four hours, preferably overnight, in a sealed or covered container. The longer it sits, the better it gets. Traditionally served with Saltine crackers; Fritos Scoops also work well, or blue-corn chips if you're fancy.
Pear, Thyme and Goat Cheese Toasts
Cocktail pumpernickel, the diminutive version of the dense dark-brown bread, is usually found near the specialty cheese case at the supermarket; it's a friendly alternative to super-crisp crostini, which inevitably shatter mid-bite. If you're pressed for time, skip the cooked fruit and go fresh: Wash but don't peel the pears, slice thinly, toss with a little lemon juice and honey, and press onto the goat cheese mixture.
cocktail pumpernickel (two dozen slices)
1 tablespoon butter
2 peeled and diced Bosc pears
3 tablespoons golden raisins
4 teaspoons honey, divided
2 teaspoons sherry vinegar (or apple cider vinegar)
4 ounces soft goat cheese
2 tablespoons heavy cream
1 tablespoon walnut oil (or a neutral vegetable oil)
2 teaspoons minced thyme
pinch cracked black pepper
Put oven at lowest setting ("warm" or 200 degrees). Lay pumpernickel slices in a single layer on a sheet pan, then transfer to oven. You don't want the bread to toast, just warm up.
Place butter, pears, raisins and two teaspoons of honey into a small saucepan and cook over medium heat, stirring occasionally, for about five minutes. Add vinegar and continue to cook until pears soften and begin to fall apart, about five minutes more. Set the compote aside to cool.
In the meantime, combine goat cheese, cream, walnut oil, thyme, two teaspoons of honey and pepper in a small bowl and mash vigorously with a fork into a thick creamy paste. If the mixture seems dry or crumbly, add a teaspoon of cream.
On each slice of pumpernickel, place a smear of goat cheese mixture and top with a dollop of pear compote.