Page 2 of 5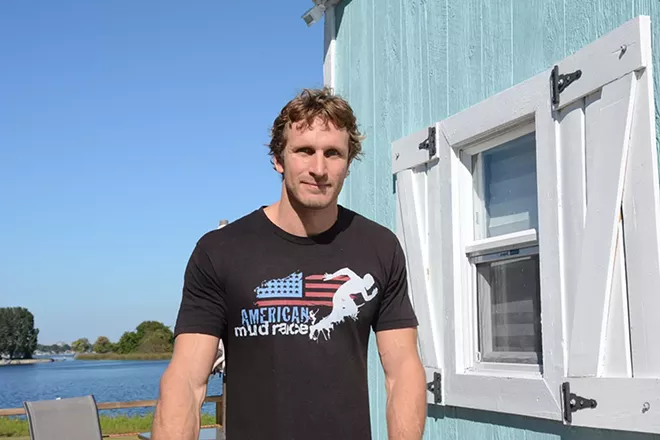 Photo by Richard Reep
Adam Money
Tiny homes represent an option for people who intentionally downsize and want to live more outside of their homes than within them. Conditioned to want more and more, many have succumbed to the American Dream spoon-fed to us by advertising agencies, but by redefining what is meant by "more," people like Adam Money and Cynthia Aimo are reserving less for big houses and more for their own bigger dreams of the future.
With the exploding popularity of books, websites and TV shows (Tiny House Big Living, Tiny Luxury, Tiny House Nation, Tiny House Hunters, Tiny House Builders, Tiny House Arrest, et. al.) dedicated to the trend, "What's a tiny house?" isn't a question heard very often these days. But for the record, practitioners generally define a tiny house as a livable structure (walls, roof, kitchen, bathroom) under 500 square feet, about the size of a two-car garage.
The concept of "living little" started to rise during the decluttering/minimalist craze of the '00s and gained traction when the recession hit, as a way to combat ridiculous mortgages, endless weekends spent on home repair and lawn-mowing, and the bitter reality that your house value can, despite all your work, drop like a rock when the big boys on Wall Street screw up.
The most common tiny dwelling is the kind on wheels. (Those living the life often refer to them as THOWs.) Tiny houses on wheels can go into RV parks (pending park-owner approval), and sometimes into backyards and other properties, if zoning laws let them – it's all about access to water, electricity and sewerage.
Eight feet wide by 13 feet high is about as big as you can build; the width and height are restricted by the trailer you build on, and the fact that they can't be moved on a public thoroughfare without a special permit if they're any taller or wider than that. But they can be as long as you care to tug around, from a 40-foot-long bus-sized model to a glorified walk-in closet on a flatbed. Literally a mobile home, a THOW offers, well, mobility: If you don't like your neighbors, you can always find new ones.
If you don't want your home to be on wheels, you can build a brick-and-mortar (or whatever material you choose) house on a permanent foundation. And that's when your local building code takes over. Stairs must be easy enough for everyone to climb, the structure must be hurricane-proof, and it can't suck electricity like a vampire. The freedom to be bigger and taller than their little wheeled cousins comes at a price: a host of municipal rules, from window sizes to ceiling height, that differ from state to state and even city to city.
Unlike THOWs, tiny houses on foundations do not face a maximum size limit; instead, they must meet minimum size limits. This was once protection from slumlords building inhumanely small dwellings, but it now serves as property value protectionism. (A street crammed with McMansions is still seen as a desirable and prosperous neighborhood.)