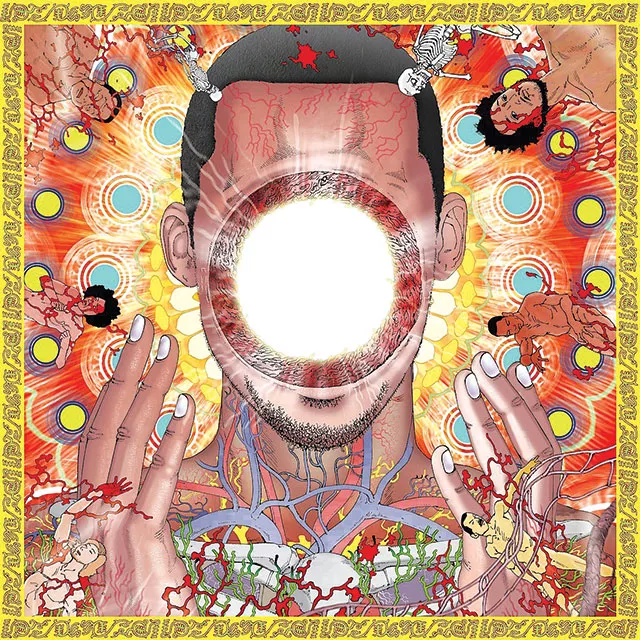 Flying Lotus
You're Dead!
Warp Records
★★★★★ (out of 5 stars)
With death as his muse, Flying Lotus comes alive in a near-perfect sonic vision of the eerie calm of (and chaotic transition into) the afterlife. On You're Dead!, Flying Lotus rejects morose expectations of his subject matter to create a creepy, chilling, but, most importantly, exciting idea over 19 tracks that incorporate psychedelic rock and jazz influences and mark the producer's first experience opening himself up to a more collaborative songwriting process. He credits Thundercat for that, and luckily, Thundercat joins him for more than just a track on the album – the excellent "Descent Into Madness," which Thundercat also wrote – as we'll find him on stage with Flying Lotus this week at the Beacham.
The album opens with a hum before blasting us through the frenetic instrumentation and rhythms of "Tesla," peppered with occasional dramatic horns. On instrumental tracks like "Cold Dead" and "Stirring," a beautiful, almost-isolated sax takes the lead over spacey atmospherics hushed below, meandering through the foreignness of the final finish line. Kendrick Lamar is the first major guest to appear a quarter of the way through the album on "Never Catch Me," where he analyzes his demise through rapid-fire rapping that leads the listener into the calm of the chorus, "Never ever catch me, no, no." It's immediately followed by another living legend on "Dead Man's Tetris," featuring Snoop Dogg with Flying Lotus as Captain Murphy. The ominous, memorable Tetris plunks punctuate a lulled rap that lists various reasons to "hold up, hold up," wrestling with death while cruel cackles call to mind taunting clowns at a spooky carnival funhouse. Then you're dropped into Snoop's sober verse, which paints a gripping picture of the family crying, but ultimately the cackling returns (and then again on "The Boys Who Died in Their Sleep") to deliver the line, "I'm glad you're dead."
There's a deceptively serene allure of the soulful "Coronus, the Terminator," which is reminiscent of eerie Little Richard gospel tracks like "Troubles of the World," though, vocally, much more mellow. "Siren Song" features Dirty Projectors collaborator Angel Deradoorian with lovely oh-ohs and ah-ahs that fall like fat teardrops. As the album seeks to wind down, Flying Lotus refuses, bringing back his Captain Murphy alter ego on "The Boys Who Died in Their Sleep" with layers of vocals at times whispering, other times trembling, chaotically bringing us into the question-flying landscape that Lotus imagines is the mind of the disembodied. As you might expect based on the song name, the album finally slows at "Obligatory Cadence," shimmers into "Your Potential//The Beyond," and ends at "The Protest" with an echoing vocal that fades out into an exhale.
You're Dead! rushes with mechanical chirping, alien sounds and radiant ideas that may not diminish your fear of death, but will certainly transform the paralyzing tremor to prepare yourself instead for a thrilling new adventure that will move you.

Flying Lotus performs with Thundercat 9 p.m. Thursday, Oct. 9, at the Beacham, $25-$30