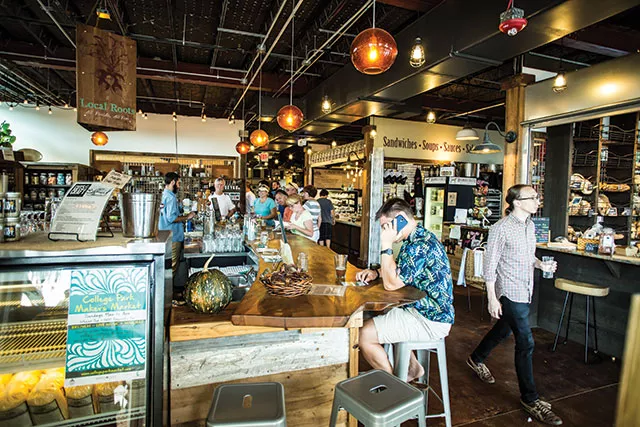 East End Market was immediately the place to be for foodies upon opening in 2013, and it's still gaining ground. This two-story monument to local and artisanal food is a self-evident boon to people already onboard with those movements, but for casual eaters (yes, they exist), the market's usefulness may need a little explanation. (I like to think of it as the cupboard and fridge to ransack for the best picnic ever.) Here's an annotated guide to the culinary vendors of the EEM.
Local Roots Farm Store
The first thing you see when you walk in the front door, Local Roots is the heart of the market. With a slinky wood bar hewn by local artist Maxwell Hartley, Local Roots Farm Store sells locally brewed/bottled beers and wines by the glass, locally farmed meat and produce, and even locally produced grooming and cleaning products.
Houndstooth Sauce Co.
It started as a sauce brand, but Houndstooth now provides tasty grilled sandwiches and soups to hungry EEM visitors.
Olde Hearth Bread Co. Orlando's original artisan bread baker has been in business since 1998, but being able to choose your own carb-venture in their very own space is oh so delicious.
Skyebird Juice Bar & Experimental Kitchen
Your one-stop shop for cold-pressed juices and raw foods to go.
La Femme du Fromage
Not local exactly, but definitely artisanally produced, the cheeses sold by Tonda Corrente Nazario hail from France, Spain, Italy and other countries where fromage is taken seriously … including the good old U.S. of A.
Fatto in Casa
Elisa Scarpa has expanded her catering company to include this tiny brick-and-mortar spot, where she serves ready-to-eat Italian specialties alongside killer desserts and dishes to reheat and serve at home.
La Bretxa
The best new source for Spanish specialty provisions (like preserved tuna or Marcona almonds), fresh or pre-marinated seafood, or just a quick fish taco, La Bretxa is another venture of Henry and Michele Salgado, who also own Txokos.
Txokos Basque Kitchen
Txokos serves an edgy, authentic Spanish menu.
Lineage Coffee Roasting
The folks behind the shiny white bar are very serious about every aspect of coffee, and after a sip or two, you'll see how that pays off in intense flavor and silky texture.
Whisk and Bowl
Upstairs from the market, find a trove of beautiful and thoughtfully sourced baking and cooking tools.
Bookmark It
Also upstairs, Orlando's newest independent book store stocks volumes on gardening, cooking, eating and the local food economy.
Cuisiniers Catering
Chef Jamie McFadden's well-established company is the in-house caterer here; if you rent EEM's rustic-chic Audubon Park Exchange event space for a party, Cuisiniers will do the food. W