The Sept. 15 game between the University of Central Florida Knights and the Texas Longhorns was supposed to be the match of a lifetime. Not only had the Knights recently leapt divisions – from the Mid-American Conference to Conference USA – they were also playing in their brand-new $55 million home: Bright House Stadium.
The school's growth – enrollment more than doubled between 1992 and 2007 – parallels the rise of the stadium itself: 2,452 tons of steel supporting 45,000 seats built in a quick 16-month period with no public funding. It seemed that everybody was excited on game day: Fans painted their faces, a 38-foot remote-control blimp hovered overhead and UCF even came close to a victory, although they ultimately lost to the Longhorns by a score of 35-32.
There was one minor glitch: the lack of water fountains. They had been eliminated from the plans as a cost-cutting measure. Eighteen people were treated for heat exhaustion in the course of the afternoon. UCF President John Hitt told reporters the next day he honestly didn't think water fountains would have solved the problem. There were 28,000 bottles of water on hand, at $3 per bottle – with 45,000 attendees, not even enough for one bottle per fan. Hitt said the shortage was a vendor issue that had nothing to do with the stadium. He also noted that the building conformed to building codes that did not require water fountains.
Nonetheless, Hitt promised that the fountains would be installed and they were, in time for the next home game.
Fountains, however, were only the last and most obvious way UCF disregarded its public. Though UCF has portrayed its new stadium as something that went up quickly and easily, as if it were destined to blossom on the northeast corner of the campus, the reality is that it has been a contentious issue for years. Stadium opponents say the building -– which has been nicknamed "the trampoline" since opening day due to its tendency to bounce and sway under the feet of thousands of fans – was force-fed to UCF's neighbors with little public input and no regard for the environment.
Build it now
In January 2005, UCF revealed plans to build a new football stadium. It wasn't a new idea. In fact, UCF's first president, Charles Millican, says that he rejected the plan in the late 1960s. "When the architects showed me the first master plan, they had a stadium designed on the northeast corner of the campus where they are building one now," Millican said in an interview with a local TV news station. He told them to take it off.
Strangely enough, the stadium was left out of UCF's 2005-2015 master plan – the mandatory outline of the school's growth that is rewritten every five years -– which had been the subject of public hearings in 2004. Regardless, on March 27, 2005, Easter Sunday, the school was clearing the trees on the site. By April 1, UCF had already applied for a permit from the St. John's River Water Management District for the stadium indicating that it would have no real impact on the surrounding environment.
The project had not even been approved officially by the UCF Board of Trustees when the school began soliciting bidders for future skyboxes. The stadium was going to happen. Hitt wanted it, and so did the students, says Dan Holsenbeck, UCF's vice president of university relations.
"We thought it was in the best interest of our alumni and student body. You know, that's pretty easy, to see John Hitt's vision of what an on-campus stadium would do for us; it's pretty evident if you've been to any one of these games. We really thought it would enhance our campus environment and enhance, certainly, the success of the football program. And if your football program is successful, then the spin-offs from that have a direct impact on your other sports."
It's exactly that hurry-up-and-build attitude that puts UCF at odds with some of its neighbors.
"Really, UCF epitomizes all that's wrong with growth and growth management within the state of Florida," says Sue Eberle, a former conservation co-chair of the Central Florida Sierra Club who has since relocated to North Carolina. "They've done everything with their money and power."
Eberle had experience with UCF and its board of trustees prior to the stadium even being built: She challenged the school's 2000 master plan, and came out of the experience convinced that the school had little regard for the environment or its neighbors. Then, as now, UCF was growing fast, and housing and parking were encroaching on wetlands, as was a proposed golf course.
In 2004, Eberle and the Sierra Club took their case to the Florida Department of Community Affairs, the state agency charged with planning and managing growth, before the stadium was even on the table. After reviewing the information, the agency issued non-binding recommendations that UCF permanently protect its arboretum lands, be more ecologically sensitive, and justify the golf course or drop it from the plan.
While attending the Jan. 23, 2003, UCF Board of Trustees meeting, Eberle submitted a stack of documents supporting the idea that UCF should control its growth. Included in the stack were a letter of support from Department of Community Affairs secretary Steven Seibert, letters from other concerned citizens, a letter from Mariane Catelianos of the Department of Environmental Protection, and a collection of photographs, including one of a gopher tortoise – a "species of special concern" in Florida -– in a burrow at the school's northwest quadrant, the area where the 2000 master plan proposed sorority and fraternity houses. When Eberle called back to check on her documents a couple of days later, she was told that they had all been lost.
"That's how this whole thing works," she says. "It's the worst thing you've ever seen, how people can come and absolutely destroy the process with no regard for anything."
What's more, she says, UCF has managed to get its disdain for public input codified into law. In 2005, the school got help from State Rep. Dean Cannon and State Sen. Lee Constantine in sponsoring legislation that shifts oversight of all Florida schools' growth plans from the State Board of Education to the Board of Governors. The bill also limited the number of issues that an individual could challenge within a master plan, and authorized the schools to act on their growth plans even during the process of a challenge. It passed and was made effective July 1, 2005.
According to UCF's Holsenbeck, it was just a move to simplify the process.
"I'm the one that went directly to both of them and everybody else in our delegation and said, 'Look, we'd like to ask you to consider making some changes in the campus master planning law,'" he says. "The reason was to clarify the public hearings and the process because it was so convoluted and confusing – and as I said before, non-ending – that it just created a totally unfair process for everybody that was involved."
The intention was never to limit public input, says Holsenbeck.
"No, I don't think it changed oversight or what you have to do substantively to get your master plan approved. It clarified that you have to do so many public hearings beforehand, that you have to have an informational hearing before the public hearing. It also made it very clear that you had a very certain time period in which you could appeal. And if you appealed, you could only appeal on an issue that you yourself had brought to the attention of one of the bodies earlier."
Eberle says House Bill 517 serves only to shut down criticism. Beyond that, it also serves as a punitive measure, she says, allowing universities to come after critics by making them pay legal fees.
She took her fight to Tallahassee in June 2005, where she spoke before a meeting of Gov. Jeb Bush's cabinet. Eberle wanted checks and balances, and suggested that the school was being allowed to move forward with construction and infrastructure without obtaining permits. Laura Klee, a former UCF employee from the construction department who was familiar with the master plan process, was also at the meeting. She stated that the stadium was incompatible with the surrounding community, and also noted that a stadium had been in discussion for more than 20 years, but had never made it into the master plan.
UCF had "bullied and run roughshod over the neighbors," she said.
Even Gov. Bush was suspicious of the stadium's absence from the master plan.
"If this stadium has been in planning for some time and underway for a while," he asked, "why wasn't it on the master plan?"
"The stadium was not seriously considered until after the adoption of the master plan, Governor," Hitt replied. "We had a good friend who came to us with the notion that we could build the stadium at an acceptable cost." (That friend was pharmaceutical salesman and Knights fan Jerry Roth, who had connections in the construction business that would get the stadium built less expensively.)
Hitt said the first discussion of a stadium was on Oct. 9, 2004, but at that time it would have cost $107 million for a 40,000-seat building. "It now develops that we can build a 45,000-seat stadium for $43 million," he said at the meeting with the governor. "It wasn't even before us as a viable plan until early December."
The final 2005-2015 master plan hearing with the UCF Board of Trustees was on Nov. 30, 2004, meaning it was all sealed up just before the stadium idea came to light.
Protected lands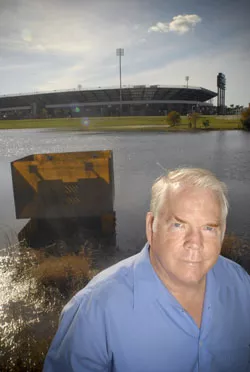 Retired U.S. Army officer Ronald Brooke could have bought a house anywhere, but he and his wife chose the UCF-adjacent University Estates due to its proximity to both the intellectual atmosphere implied by a university and the wooded natural area out their back window.
"When I found this house, I was told that this area heavily treed behind me, the first section belonged to University Estates, and the rest of it, about 600 feet deep, belonged to UCF, was conservation land and it could never be developed, it would never be developed, it was unauthorized to develop it," Brooke says. "I personally checked the master plan that UCF has and they – all the way through 2003 – had the area designated as conservation land. I thought that someplace in here I could believe somebody."
Brooke met Eberle at a print shop near UCF via a manager who noticed their mutual interests in the school's environmental policies, and became part of the fight. At the first Board of Trustees meeting he attended, he was taken aback by the brazenness of UCF's vice president of administration and finance, Bill Merck.
"At that meeting, Bill Merck was the spokesperson for UCF, and he's their mouth-man – he did a drawing over the map of UCF's land with the picture there, just like what I had seen with generals when we were looking at how to defend Europe, or conquer Europe if it was a war," he says. "They just said, 'We're going to develop this to where there's at least 48,000 students.' And I stood up and said, 'The area you just waved your arm on is conservation land. It's wetlands. It's protected lands.'"
Brooke says Merck pronounced himself an environmentalist at that meeting. But when it came to university policy, Brooke recalls Merck saying, he was more concerned with development.
Brooke says sandhill cranes and about 150 ducks used to winter in the wooded area behind his University Estates property. But the birds are gone now, because UCF's manipulation of the wetlands has left dry ground where there used to be a natural pool. (In order to build new student housing and develop the athletic cluster – including the stadium – the school had to dig a pond to manage stormwater flow, and in doing so they may have gone a few feet too deep and breached the surficial aquifer. That breach could cause surrounding water levels to be disrupted.)
"That pond, it has been verified and validated by UCF's own experts under oath at my hearing that the overflow is caused by base overflow from groundwater," he says. "Well, this is a neat way to say they're sucking the groundwater dry around the area."
An affidavit by hydroecologist Sydney Bacchus and a study by hydrogeologist Heather Vick – both requested and submitted by Eberle during her master plan challenge – suggest that any disruption in the flow of stormwater in the area could have hazardous environmental and water-quality effects by contaminating potable water supplies. Bacchus' study suggested that the digging that had already taken place should be reversed.
Water flow stability is key to the preservation of the area's distinct natural habitats, says Marjorie Holt of the Orange County Sierra Club.
"What we find and what scientists find are greater extremes," says Holt, who agrees that, based on the evidence of the pond's constant refilling, there has been a breach in the aquifer. "There are lows when it doesn't rain and then the highs when the drainage starts flowing. So you lose that stability that the streams once had."
Holt joined Eberle in her initial challenges to the 2000 master plan, and found the university – which used to be amenable to input from the Sierra Club – to be less than supportive.
"We're seen as nuisances," she says. "They were condescending, arrogant and behind our backs when these final orders were coming through. They tried to bully their way through the administration commission."
Holsenbeck says that's not the way things are.
"The truth of the matter is we had more public hearings, more opportunities, spent more hours listening – we probably set a record for that kind of activity within the state university system," he says. "Did we take all of their suggestions and incorporate them, or change our plan, or not build the stadium? No, we didn't. But we didn't just say, 'Hey, I'm not going to listen to you when you say anything.' That's ridiculous. We did listen. But just because you listen doesn't mean you have do what someone suggests that you do."
Brooke suspects UCF hasn't been honest about the stadium's finances either. An affidavit signed by Merck on Nov. 21, 2006, in response to a Hail Mary petition by Brooke to get construction stopped altogether, lumps the football stadium (at $63 million) in with $180 million of other development projects on the campus. The official cost of the stadium, according to UCF, is $55 million. About the stadium, Merck commented on the affidavit, "Stopping work on this project would be financially devastating and public relations damage immeasurable."
"To summarize," Merck commented in his response, "if Mr. Brooke's petition to halt all construction currently underway were granted, UCF will have approximately $328 million in outstanding bonds and other bank debt with the supporting revenue stream for servicing this debt cut off."
On Feb. 9, 2006, the auditor general of the state of Florida released an audit of UCF's 2004-2006 fiscal operations. Among the 14 findings listed was the fact that $22 million in student athletic fees collected between July 2003 and March 2005 were transferred to one of the school's direct-support organizations, the UCF Athletics Association, a violation of Florida statutes. Also noted in the report was the fact that the university neglected to include a competitive selection process in the initial hiring of contractors for the construction of the football stadium.
According to the audit, between January and March of 2005, the school had already contracted with two companies to build the stadium, although Florida statutes require a competitive process. The university responded by saying that the University of Central Florida Athletic Association, not the university itself, would own the stadium and therefore the same rules didn't apply. Soon after, UCF relented and accepted bids to build the stadium. On June 3, 2005, UCF alumnus Tom Murphy, of Wharton-Smith, was awarded the 16-month project. Wharton-Smith broke ground on the stadium in May 2006.
"If there was a suggestion in any of this financing that the financing was being done illegally or inappropriately or without any review by the appropriate agency – mostly being the Board of Governors – then we would have had to have corrected that immediately," says Holsenbeck.
UCF doesn't always get what it wants, Holsenbeck says, and the bullying image of the school and its administration is misguided.
"I was there for any and all of the meetings, and I would not characterize it that way at all," he says. "But I would also say that it is true that John Hitt's opinion is very well-respected by Jeb Bush, and Dean Cannon and Dan Webster and Buddy Dyer and Rich Crotty. And they've been hugely supportive of the institution. But they're not going to do anything that's immoral, illegal or improper, because that endangers their own reputation. And John Hitt, nor any of us who work with him, are going to knowingly do anything that fits into one of those categories either.
"So that's not a conspiracy; that's good public relations. That's good interpersonal, mutual trust. And that's what we aspire to do."
bmanes@orlandoweekly.com