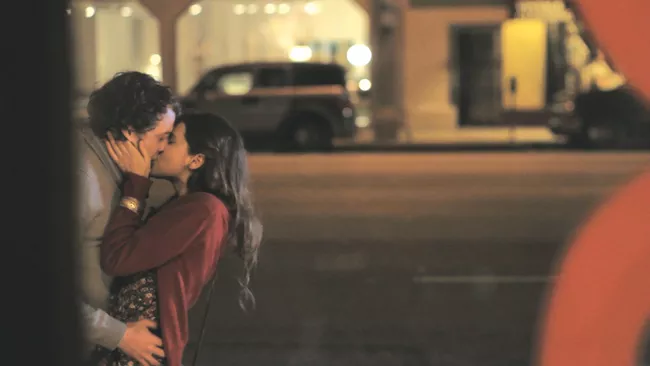 Like Crazy
2 Stars
(PG-13)
Long-distance relationships may be the toughest to maintain, even in the communication age. Goodbyes seem permanent; arguments take on the appearance of shadow boxing; you feel alone even when surrounded by others because they're not your other, and the times when nobody's around only permits you to ponder whether your loved one is in a similar state. Loneliness becomes a couple's only shared activity, and that doesn't breed contentedness.
On the bright side, those unlucky enough to have experienced that pain are free to mine the hell out of it, creatively. Like Crazy director Drake Doremus is one of those people – he's said in promotional interviews that it ended in divorce – so one might expect brutal, heartbreaking realism from the resulting film, an expectation compounded by Like Crazy's warm, sepia-toned aesthetic and emotional trailer that transposed its character's furtive glances and tremulous phone conversations over Ingrid Michaelson's crestfallen cover of "Can't Help Falling In Love." The stage couldn't be more set for a crowd-pleasing weeper. Unfortunately, Like Crazy does not live up to its campaign.
Anton Yelchin (Star Trek) and newcomer Felicity Jones play Jacob and Anna, two attractive college kids who meet cute during class and immediately fall head over heels in love. They relate to one another in intimate, clipped conversations that were mostly improvised by the actors, and Jacob, an American furniture-design major, builds Anna, a British journalism student, a wooden chair to prove his devotion.
Eventually, it's time for Anna to return home for the summer and renew her student visa, but she can't bear to leave Jacob, so she stays … for a couple of extra days before returning home. The pair bid a tearful adieu, I suppose, and wile away the months with their smartphones attached to their ears. (I use the word "suppose" because, in a move utterly out of step with the material, Doremus keeps the camera at a distance, employing time-lapse nonsense and shoegazing to convey their sadness. It's absurd.)
Finally, their reunion comes, but there's a snag: Anna's visa has been revoked thanks to those few extra days, and she's not allowed back in the country. Thus begins an interminable second act in which Jacob becomes a successful chair maker, Anna gets a promotion, they marry in the U.K. on the advice of her lawyer, and Jacob gets to know her parents. But the transatlantic separation pushes them into the arms of others. Jacob beds and dumps a coworker (a wasted Jennifer Lawrence) at will, nice guy that he is, and Anna catches the eye of a sexy neighbor. Yet Jacob and Anna seem compelled toward each other, and what could have been a sweet, short-lived affair drags them both down into the depths of mutual emotional abuse.
While the performances are fine, especially Jones', Doremus miscalculates where the viewers' interests lie. He speedily glosses over the many goodbyes and fights that would be central to any couple in their position in favor of scenes of torturous conversations about Paul Simon and wine. He seems to fear the places Blue Valentine went despite Like Crazy's pre-production similarities to that film (Yelchin and Jones practically lived together for a month so Doremus could capture honest moments.), which makes their connection feel too polite. No attention is called to the fact that they each treat their rebounds like space-fillers, or that their fire for each other would take a toll on their social circles.
These are the awful ties that bind long-distance-relationship sufferers and/or veterans; it's the horrible truth of the thing. Doremus and his film, despite a win at Sundance, are disappointingly incurious about those truths. That's the crazy part.