In what we hope will become an annual tradition, we'd like to introduce some of the people who improved our lives this year. Orlando is a continually self-renewing organism, its strong core constantly refreshed by new people, new ideas, new growth. In a reflection of this city's population, some of our honorees are multi-generation natives; many are fairly recent transplants. And they run the gamut from city employees to artists, college professors to activists. All are restless overachievers accomplishing extraordinary things and enriching the life of the city.
With recent headlines too often focusing on trouble and strife, these 14 inspiring people are here to show that good things can and do happen right here in our own backyard.
Michael Aiello
Entertainment designer
If you've ever gaped in awe at the magical live shows inside Diagon Alley, gone "awww" over E.T. flying across a curtain of water, or shrieked "aaah!" at a scareactor, you've got Michael Aiello to thank (or blame). Twenty years ago he was shouting at rubber sharks; today he's senior director of creative development at Universal Orlando and the mind behind Halloween Horror Nights, proving that passion and kindness can coexist and even thrive in the corporate theme-park universe.
Born and raised in Pine Hills and Apopka, Aiello says theme parks have been a part of his life from the very beginning. "Universal was important to my family because my grandfather was one of the inspectors for the Studios while it was in construction, so I was here before grand opening and walked down Hollywood Boulevard when it was a dirt path. I have an ingrained history here, even before being an employee." Likewise, his love of horror and haunted houses is generational; Aiello's father, a retired lieutenant with the Orlando Police Department, controlled security for Terror on Church Street, which "formed my love for the application of the haunted event."
Aiello got hired at Universal in 1996 at age 17 for a summer job as a Jaws skipper and loved it. Instead of completing a degree at Valencia, he auditioned for the now-closed Nickelodeon Studios. After playing everything from a Blues Brother to the Grinch, Aiello expanded into writing and directing, moving up even without that degree. "Universal's been my education," he says. "I've been here my entire professional life, always trying to try new things, [and] this company has allowed me to grow."
Aiello also grew up attending Halloween Horror Nights, and has been creatively involved with Universal's annual event since 2003, helping it expand from a local phenomenon to a global brand, and earning 9 consecutive Golden Ticket Awards. Masterminding HHN means bringing to life favorite fright films from his childhood like American Werewolf in London and The Exorcist. Beyond the boos, Aiello spearheaded the award-winning street shows inside the Wizarding World of Harry Potter.
"Being able to live in those worlds is amazing," he says. "We are fans of the things that we create. It's never just a job."
When able to escape Universal's borders, Aiello and his wife, Summer (a fellow Universal entertainer), love attending Orlando City Soccer games and taking their kids to arts events, especially Kids Fringe. "One thing I'm thankful for, my kids are growing up more within the culture of Orlando than I ever did," Aiello says. "I love the fact that I'm able to give them all the things that make Orlando Orlando."
Chris Castro
Sustainability Director, City of Orlando
Growing up on a palm tree farm in Miami, Chris Castro quickly developed an appreciation for the natural world. His passion for the environment followed him throughout every part of his life, from being a surfer chasing waves along the coast to a college student looking to make a difference. It even led him to co-found the international nonprofit IDEAS for Us, a United Nations-accredited organization that creates global environmental solutions and works to provide local action groups with guidance and mentorship.
Now, as the director of sustainability for the city of Orlando, Castro is helping to ensure that the City Beautiful stays that way. He works with Mayor Buddy Dyer to coordinate the city's climate and energy policies.
"I think that Orlando is primed to essentially be a hub for clean energy innovation," he says. "Orlando is unprecedented in its opportunity: It has all of the pieces of the puzzle."
In addition to his work in city government, he also co-founded the Florida Green Chamber of Commerce, the clean energy consulting firm Citizen Energy, and Fleet Farming, an urban farming program turning front lawns into crop-producing "farmlettes" across the city.
For Castro, whether it's getting down and dirty in potting soil or drafting new energy initiatives, work and play seem to go hand-in-hand. He works over 50 hours a week on his various environmental projects, but he says all the effort only drives his passion.
"I think it's important to find that alignment, that grit, and the combination of passion, patience and persistence," he says.
Orlando was the only place he could realize that passion. Here, he says, we can create a "smart city," a combination of sustainability and tech that will lead to a safer, more environmentally friendly community. To Castro, Orlando is a visionary city, a hub for art, food and culture that will pioneer a more efficient future for us all.
"We have the ability to make the world what we want, a better place and a more sustainable future," he says. "Not just here in Orlando, but around the world."
Julian Chambliss
Historian
Talking to Rollins College professor, History Department chair and coordinator of the African American Studies program Dr. Julian Chambliss can be a dizzying experience. And yet, Chambliss' eagerness to share and discuss ideas and information is indicative of his commitment to community engagement and resource-sharing. "A professor's job is to profess," he states simply.
Chambliss came to Rollins in 2003, with research interests in urban planning, popular culture and African-American history. While at Rollins, Chambliss has taught extensively on comic books as historical texts. That Chambliss can so effortlessly synthesize such far-flung areas of interdisciplinary study into a coherent and exciting body of research makes him somewhat superhuman himself.
All of these intellectual pursuits came into sharp visual focus with the opening of AfroFantastic: Black Imagination and Agency in the American Experience, an art exhibit curated by Chambliss that opened in January at the Cornell Fine Arts Museum. The stunning visual survey was an attempt by Chambliss to "explore the idea of the black imaginary as a space of counter-narrative and resistance. Because the imaginary cannot be policed, you cannot police the black imagination. ... When black people imagine the public sphere it's a political act."
Chambliss engages with the community at large outside the environs of Rollins as well. He takes a keen interest in local and regional history in his teachings and research, with a particular focus on Winter Park's Hannibal Square area and Eatonville. "I have this idea that there's a black social world in Central Florida that intersects with larger national questions around the evolution of urban environments, social and political development," he says. "I want to create throughlines for people to see this local context as part of a bigger picture."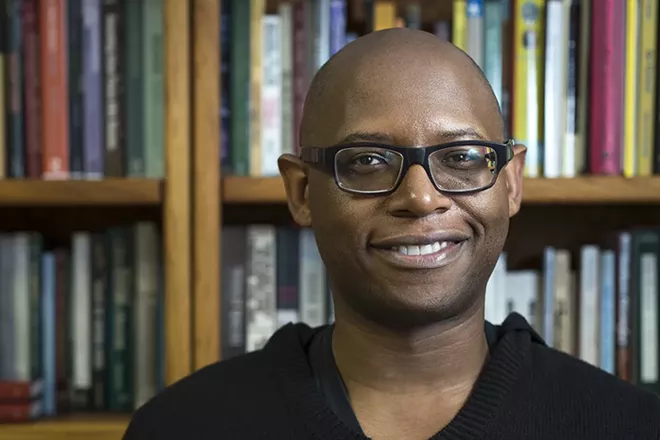 Chambliss credits Rollins as being key in the development of his research, citing the school's historical commitment to experimentation as the reason he was able to develop his comic-book curriculum. The community engagement work he does is particularly important to Chambliss. "For me as a historian, the goal is always to bring that theory-versus-practice dialogue into play. History has a place in a public debate."
When asked about what he has planned for the year post-AfroFantastic, he reels off an incredible list of multidisciplinary projects, from a talk on Luke Cage for the Orlando Public Library to the podcast "Every Tongue Got to Confess," from a book project titled Imagined Urban Landscapes to various digital recovery projects.
"I'm typically overcommitted," Chambliss deadpans. "Idle hands, devil's workshop."
Sarah Collins
Partner, Lure Design
People who do things are important to a community, but so are people who make things. The visual aspects of a community are as important to reinforcing its personality as the policies – they literally set the tone. Designer and screenprinter Sarah Collins has been in most Orlandoans' peripheral vision for 15 years now, whether they realize it or not.
In 2001, after graduating from school in Knoxville, she moved to Orlando on a whim. She was immediately drawn to Lure Design, the award-winning firm founded by Jeff Matz and Paul Mastriani, and in 2002, she landed a job there.
"When I started working at Lure, the first thing I started doing was making posters for [Jim] Faherty," Collins recalls. "We would make posters for shows at the Social – the Sapphire, it was then – and go down and sit at the shows and sell them. It was a part of Orlando I didn't know existed."
Until that point, she hadn't clicked with the city. "I hated it," she laughs. "Only one independent coffee place! It didn't make sense to me. But once I started going to shows and getting to know people ... I get mad at people now when they try to bash us. I'm like, you know, we're doing pretty well for ourselves." She sees beauty all over the city. "I love the Publix on Edgewater, the Orlando Public Library, the Kress and Rogers buildings. And signage including Lightstyles, LaBelle Furs, Wally's, Fairfield Chapel ... and Kraft Azalea Garden. And I just did a poster for Dickson Azalea Park."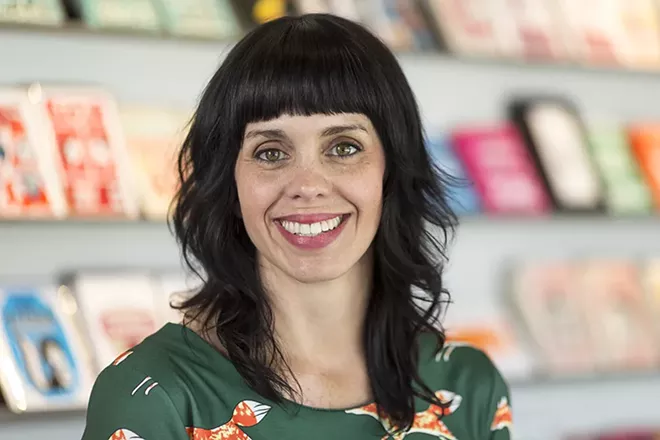 So falling in love with the music scene was just the first step in falling in love with the city; now she's inextricably intertwined. After 10 years with Lure, she became a partner, and along the way, her practice has diversified to include corporate and nonprofit clients: Collins has created work for Disney, the Fringe Festival, UCF, Enzian Theater and the Florida Film Festival, the YMCA, and several bars and restaurants. (Current biggie on the books: the rebranding of the Ravenous Pig and the launch of the Polite Pig, both from Orlando resto moguls James and Julie Petrakis.) Collins says, "Working on the Enzian Cult Classics posters is the most enjoyable to me – my favorites being Mallrats and The Life Aquatic, two films I heart." A high point this year was when her poster for Wilco was chosen as the cover of the new book about the band, Beyond the Fleeting Moment: Wilco.
That dichotomy between corporate design work and screenprinted passion projects is what makes the partners call Lure "Jekyll and Hyde" sometimes. But chances are if you've partaken in Orlando's cultural life, Lure has been there, making it look cool.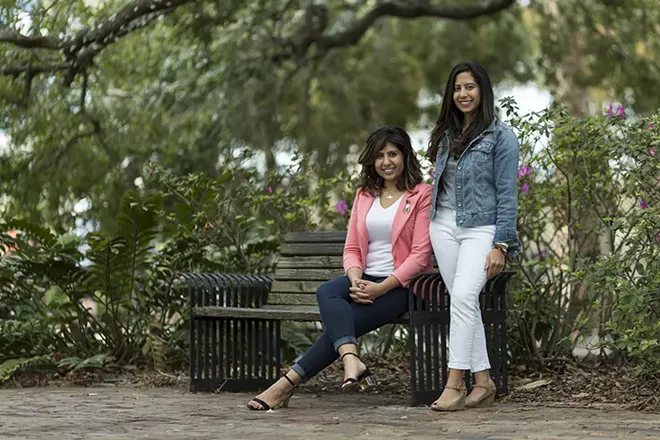 Anna Eskamani, Ida Eskamani
Organizers
One of the last lessons Anna and Ida Vishkaee Eskamani learned from their mother before they lost her to cancer as children was the power to turn grief into action. It's a skill the 26-year-old first-generation Iranian-American twins have used to confront challenges to reproductive rights, racial inequalities, discrimination and now, President Donald Trump. In less than one day last month, they helped organize a protest against Trump's executive order targeting refugees and immigrants from seven predominantly Muslim countries – a protest that mobilized almost 1,000 people at Orlando International Airport.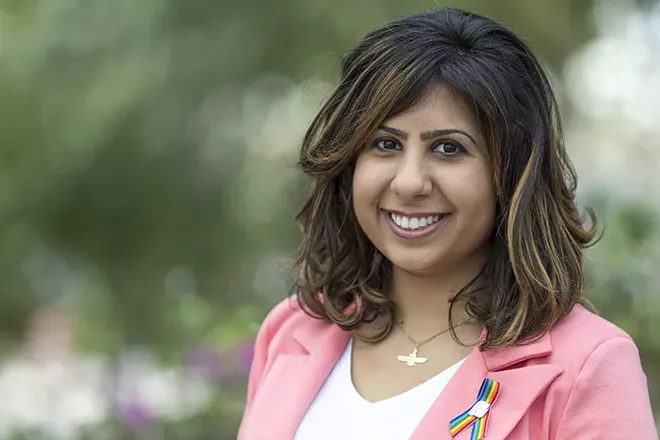 "When this executive order came out and Iran reciprocated by saying it would ban U.S. citizens, I felt unwanted. I felt defeated," Ida says. "But the rally was a moment of healing for me. I grieve through advocacy and action because when you have a mission, you can focus on serving this community and blocking everything out."
Born and raised in Orlando, Anna and Ida learned from their immigrant parents the value of not only hard work, but also political engagement. At 10 years old, they volunteered with the Al Gore campaign and started a career of organizing that continued while they earned their degrees at the University of Central Florida. Since then, the duo has been known as a progressive powerhouse. Anna teaches at UCF as well as working as senior director of public affairs and communications at Planned Parenthood of Southwest and Central Florida. Ida is a legislative aide in Tallahassee for state Rep. Carlos Guillermo Smith and previously worked for Equality Florida, where she started a GoFundMe for the Pulse victims' families and survivors that raised millions.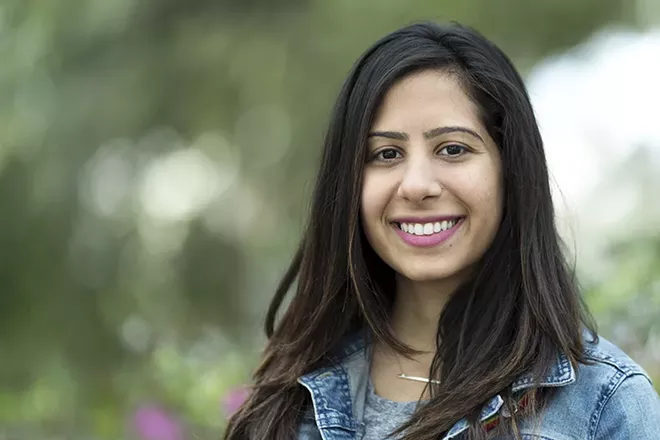 Both women say they recharge by talking to each other, going out into nature or listening to music, though Anna prefers the Beatles and Ida is more of a political punk-and-mosh pits type of girl. At the end of the day, Anna says a lot of their work is about honoring their mom and continuing her legacy.
"She was one of the most courageous, strongest and selfless people you will ever meet," she says. "Standing next to her during her battle with cancer taught us how to be resilient. ... Finding power in pain motivates us to work more and do more, because you know the only way to honor their lives is through action."
Beth Marshall
Producer
At first glance, you might not guess that Beth Marshall is among the most respected and influential members of Central Florida's performing arts scene, but don't let her bold tattoos and salty Southern twang – as seen in the films Sunlight Jr. and Cassadaga – fool you. Beneath Marshall's larger-than-life exterior beats the heart of a Local Hero (as certified by a 2007 Bank of America award) who has been one of Orlando's most effective arts advocates and a dedicated mentor to upcoming artists for over two decades.
Nearly 23 years ago, an impromptu audition during an Orlando vacation led Marshall to abandon plans to buy a home in Kansas City, and instead relocate to Central Florida. Her résumé as an actor, director and instructor reads like a roll call of fondly remembered former theaters, from the Civic ("it was our bread and butter up until the day it closed its doors"), Stage Left and Acting Studio Company to Impacte, Temenos and Theatre Downtown.
Marshall is best known for her former role as leader of the Orlando International Fringe Theatre Festival from 2003 to 2011, during the event's transition from downtown to Loch Haven Park and its subsequent explosive growth. "The Fringe is something I thought was so necessary for Orlando," says the woman who guided the organization from the brink of bankruptcy to being the longest-running such festival in America. "Fringe is the heart of the theatrical scene, the place where everyone comes together, and I don't think that's changing anytime soon. It put us on the map on a whole other level."
Since leaving the Fringe, her company Beth Marshall Presents has staged socially conscious dramas and original theatrical events (honoring Pulse Nightclub victims and Travyon Martin, among others), earning Marshall accolades from United Arts, the National New Play Network, National Women in Theater Conference, the Orlando Sentinel and Orlando Weekly.
"Never in a million years would I have ever thought that I'd be living in this city this long. I always think 'I'm going to move,' and yet still I'm here," Marshall admits. Her latest project, the comic musical 25th Annual Putnam County Spelling Bee, is an admitted departure. "With the state of the world right now, even I, who like deep dark drama and political art, am way OK with just having entertainment on stage. I'm enjoying the laughter."
Tommy Mot
Culture creator
Civics nerds were justifiably excited late last year when the Milk District – the commercial area clustered around the intersection of Bumby Avenue and Robinson Street – was made an official Main Street District by the city. This designation gives businesses in the area access to special funding, managed by a board and implemented by a full-time director. It's a goal that Spacebar owner Tommy "Mot" Barger has been working toward for several years.
Mot's ties to Orlando's cultural scene run deep. He first rose to prominence as a DJ in Orlando's heyday as a dance music capital, back in the early 1990s, and found success running Covert Skate Shop (now Spacebar) in the nascent Milk District. After Mot and other local business owners teamed up to brand the area, the Milk District gradually became known in local and national press as one of the hidden gems of Orlando.
Now, though, the Milk District is anything but hidden. On any given night, one can find slam poets, comedians, DJs, bands, artists, food trucks and more crowding the core strip on Robinson Street. And a lot of that success ties back in to Mot and Spacebar. When Covert's business took a hit due to the 2008 recession, Mot says, "I was left with a couple bucks in my pocket, got a beer and wine license, said, 'Here's a space for anyone to do something in. Whatever. Come to me.' And we have beer and wine, but it's not really a bar."
That attitude of viewing Spacebar as more of an event space than a regular bar still holds sway with Mot, and the variety of events – art shows, Bring Your Own Vinyl nights, parking-lot dance parties, punk shows, pop-up shops – shows that. During the day, Mot runs a T-shirt brand, Please Evolve, out of the same space. But he's the first to attribute the bar's current success to others. "I'm super, super grateful and thankful for having a great staff of people. I want to be the best boss I can be to them, because without them I wouldn't be able to do what I do with the T-shirts."
Mot sees a lot of similarities between the scene that's sprung up around the Milk District and the '90s scene that revolved around downtown, and being able to foster new ideas is a source of pride for him. "That's one of the things I love about having this space: young people coming in and doing cool shit. I love it. I had that energy. I was that dude for so long in this town. No money. Vision. Do it. Bam."
René Nguyen
Bartender
As any epicurean boozehound will tell you, craft cocktails have taken off in a big way, elevating drinking scenes not just in Orlando, but across the country. The focus on creative combinations of small-batch spirits, unique liqueurs and picture-perfect presentation has found plenty of devotees in Orlando, already known as something of a foodie city. One of the people most responsible for elevating our drinking – and, let's face it, our bar tabs – is René Nguyen, the general manager and lead bartender at Hanson's Shoe Repair and Herman's Loan Office. But oddly enough, Nguyen never had aspirations to be a bartender until a few years ago.
After graduating from University of Central Florida in 2006 with a business marketing degree, Nguyen found himself working a 9-to-5 office job in corporate sales. The paycheck was large enough to afford Nguyen plenty of travel opportunities, which he took advantage of by visiting friends in New York, San Francisco and Chicago. It was in Chicago that Nguyen was first bit by the cocktail bug.
"All throughout college I just kind of drank Jack and Cokes or cheap beer and whatnot, and then kind of transitioned into craft beer," he says. But in Chicago, Nguyen found himself at the pioneering Wicker Park cocktail bar Violet Hour. "I didn't know you could have a drinking experience like that," Nguyen says. "Everything about it stuck with me, from the ambience, the mood lighting, the modern decor of the venue itself and the presentation technique of the bartender himself. But yeah, I had my first craft cocktail there: a Sazerac. I thought it was going to kill me because I had never had anything that spirit-forward and strong before."
Nguyen's trips away caused him to develop an expensive habit: home bartending. Nguyen says he would stock up on rare provisions, then have cocktail nights out of his house, introducing his friends to the classic drinks he found in vintage recipe books. Eventually, that turned into the occasional pop-up or bartending gig at friends' weddings. But when he heard about a new speakeasy opening downtown, Hanson's Shoe Repair, his first visit turned into something of an audition.
"It was still very much in soft opening," Nguyen says. "I don't think they had planned on opening it [that night], but when they got some reservations, they decided to open it last second. But they didn't have a bartender. They had parted ways with their one bartender hire, clearly the night before." After trying to make do with a replacement, the original owners of Hanson's caught wind of Nguyen's reputation as an enthusiast and asked him if he wanted to help them out behind the bar.
Fast-forward a few years later, and Nguyen is fully involved in Orlando's craft cocktail scene. Together with his partners in the V Group, Nguyen manages both Hanson's Shoe Repair and Herman's Loan Office, designing cocktails and menus for both locations, educating the palates of novice drinkers, and always ready to jump behind the stick.
LaFontaine Oliver
President and general manager, 90.7 WMFE
What's the difference between a radio station that meets your basic news needs and stays in its lane, and a station that reflects your life?
In the case of 90.7 WMFE, it's a leader like LaFontaine Oliver.
Oliver came to WMFE in 2013, finding a station "with good bones," as he puts it. Under previous leadership, the station had gone from classical with short news breaks to 24-hour talk. But it was still sitting in that tidy, if generic, National Public Radio niche. As one of his first tasks in Orlando, Oliver "surveyed the landscape," soliciting feedback from the board, from the station staff and from the community at large.
"A lot of what I was hearing was, 'Of course we love NPR,' but folks wanted to see more of Orlando and Central Florida reflected in what we were doing," he says. "Really successful stations are able to marry national content with equally compelling local content." So Oliver almost doubled the news staff. WMFE's newsroom has since expanded "Intersection," their twice-weekly local news program; added a Friday arts roundup, community commentaries, longer pieces and series; and assigned reporters to regularly delve into topics including health, space and other beats rather than just hitting the headlines with "spot news."
Oliver also worked to increase the station's visibility, participating in and hosting more local events and pressing the flesh with listeners – and non-listeners.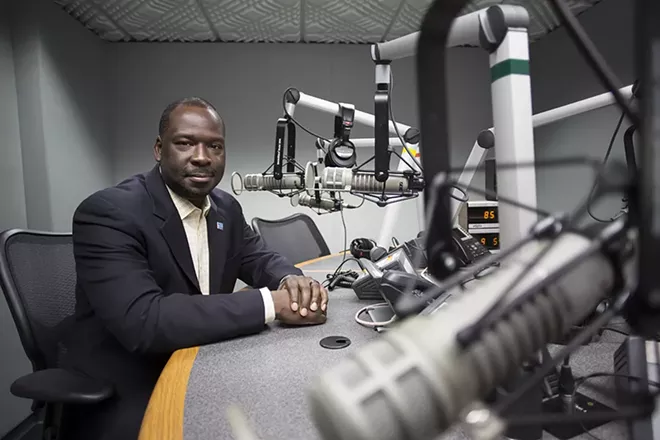 "Being out there opens you up; sometimes the conversations aren't comfortable," Oliver admits. "We have to have the confidence to listen to feedback that's not always comfortable and take it to heart."
"I'm very particular about saying 'community engagement' and not 'community outreach,'" he continues. "Outreach is when you're looking to change someone else, whereas engagement is when you yourself are changed. We were looking for the type of community interaction that changed who we were as an organization."
Oliver's background in commercial and satellite radio may also have increased his flexibility. "In commercial radio, the [financial] competition that forces you to be creative. And satellite radio rewrote the playbook" of consumer expectations, he says, which may be why, as well as beefing up the newsroom, he's focused on digital: launching a mobile app, redesigning the website, making the web player more robust, adding podcasts.
"We had to get out of the mindset that listeners will be there when we broadcast, and make content available on their time. [It's] all important to an organization like 90.7, which has to be thinking about some of the seismic changes that are coming." Seismic changes like a possible existential threat – it's been reported that the Trump administration plans to privatize the Corporation for Public Broadcasting. Oliver says that only about 7 percent of WMFE's budget depends on CPB funds, and says, "We've been here before. There's strong support for public broadcasting on both sides of the aisle," he says. "No matter what, we will find a way."
Wanda Raimundi-Ortiz
Artist
You might know Wanda Raimundi-Ortiz from her inclusion in the prestigious Florida Prize exhibition at Orlando Museum of Art. In portrait and video she appeared, face painted white, wearing a crown and brandishing a sword as "GuerrilleReina," part of her Reinas/Queens performance series based on physical manifestations of personal anxieties. Or you might have seen her on YouTube as Chuleta Yoprimero, a no-shit-taking, doobie-wearing Nuyorican calling out art-world nonsense and teaching people how to bling out their coquito bottles for the holidays. Either way, Raimundi-Ortiz's work holds a space uniquely her own.
Throughout her life, Raimundi-Ortiz's focus has been on using her art to tell the stories of people whose narratives are often blurred out, like her own feelings of "ni de aquí, ni de allá" and otherness, or stories from her Puerto Rican parents, who migrated to New York with limited academic education and worked hard to provide for seven children.
"Without access to having their stories written, my parents were going to be forgotten," she says. "They were going to live their lives and then die and be part of a faceless trajectory." Telling those stories has included a performance series called El Camino where Raimundi-Ortiz, dressed in typical white Puerto Rican bomba dress, tries to find a quebrada or ravine in the city in which to wash clothes by hand, and Wepa Woman, a series of comic-book style murals and paintings featuring a superhero tasked with Nuyorican cultural preservation.
Raimundi-Ortiz moved to Orlando almost seven years ago for a job as an assistant professor at the University of Central Florida's School of Visual Art and Design UCF and hasn't missed the alternate-side parking since. In June she contributed a drawing ("Otra Vez/Not Again") and essay for art magazine Hyperallergic about the Pulse shooting's "eerie similarity" to what she'd experienced during 9/11 in New York City. "Like a nasty blow, you're left stunned, then dull and throbbing," she wrote. "The outpouring of love in Orlando has been beautiful to witness, but I am still numb."
She says the next installment of her Reinas series, in March, embodies a mother meditating on the loss of her child, which stems from her anxieties raising her brown son in a world where people of color still die from police brutality.
"Parenting is already stressful enough," she says. "Your skin being a dangerous place to live in is an extra element that your counterparts don't have to think about."
Raimundi-Ortiz says going forward, she wants to bridge the gap between the academic art world and local Latino artists.
"I've made enough noise and have enough clout inside the machine to speak to the people in here about the folks on the outside and wedge the door wider," she says. "The onus is on the next generation to ask themselves, 'You can draw? OK, now what?' and walk through."
Emily Rankin
Owner, Local Roots
Emily Rankin's serene exterior belies a steely will. It's a will that's transmuted her beliefs into tangible realities, in the process changing the life of a neighborhood and the plates of a region.
After growing up in Audubon Park (she's a third-generation resident), Rankin, an urban planning student, went to work in Portland, Oregon. "I was really inspired by what was going on there, that they were thriving around a more sustainable lifestyle," Rankin says, recalling the local-first ethos espoused in that city. It was while she was in Nicaragua that she experienced an evolution in her mindset. "I saw how a lot people were trying to change places that they weren't from. They didn't really understand them, and they were trying to make them what they wanted them to be. And I really felt if I was going to do community development, I needed to go back to my home."
So she returned. Rankin founded the Audubon Park Garden District and the Audubon Park Community Market, Orlando's first all-local farmers market, in 2008. In the same year, she founded Orlando's first buy local initiative, Ourlando.
"You plant the seeds, and they inspire and encourage people to plant their own seeds," she says, naming Stardust Video & Coffee the welcoming space she needed to create her market, which incubated countless small businesses, which inspired John Rife to create the East End Market, out of which grew the Fleet Farming projects, and so it goes.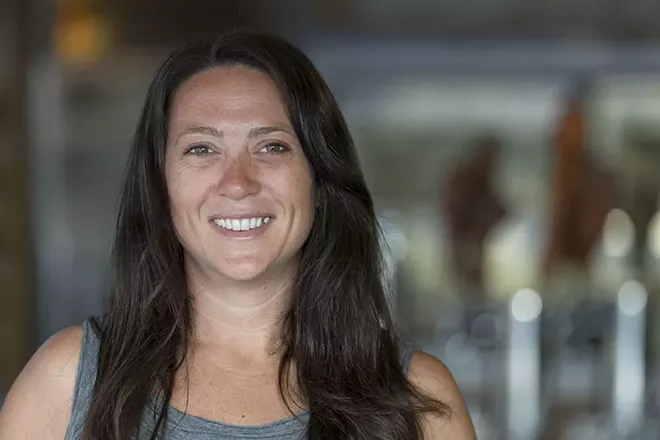 Her next project was Local Roots, an ambitious plan to buy the best food products Florida has to offer and distribute them to local restaurants. Rankin sells locally grown vegetables, locally made products, and locally raised and wild-caught meats. Over the years, Local Roots went from an indispensable resource to a mark of pride on savvy chefs' menus.
The Local Roots farm store at East End Market has just been rebranded Florida & Co., and will begin serving "98 percent local" meals soon. "I think sometimes people look in the fridge and are stumped. If we can get them tasting it and experiencing how delicious this food is, they'll be more likely to use it at home." Her deep love of Florida is evident in her palpable enthusiasm for mangoes, avocados, shrimp, kumquats, even millet – what she calls the "real Florida."
Also coming soon is the launch of the Florida & Co. website, which will host a webstore where anyone in the state can order Floridian products to be delivered via UPS. There'll also be a host of educational resources and videos – cooking classes, recipes, gardening tips.
"I'm a bridge-builder. I'm all about making that connection. I don't think we're going to get all the way to this idealistic place overnight. I know that more than anyone, because I've seen us baby-step our way over 15 years."
Eugene Snowden
Musician
The musical residency is a storied tradition in popular music, dating back to the Beatles at the Cavern Club or Thelonius Monk at the Village Vanguard – a performer using the concert stage as a proving ground. Orlando residents are lucky enough to have a seasoned performer brave enough to revive that tradition, just for the sheer joy of performing.
On any given Wednesday night, at Lil Indies on Mills, longtime local soul institution and Legendary JCs frontman Eugene Snowden presents his Ten Pints of Truth residency. Snowden, interested in honing his solo chops and wanting to pay homage to the honky-tonks and chitlin circuit that he was historically indebted to, reached out to Will Walker for a stage. Walker readily offered up Indies. And so it is that Snowden holds court, with a rotating cast of collaborators, reveling in the boozy intimacy and rebel vibes.
"The size of the room is perfect," Snowden says. "Rock & roll, soul, all of it started in small joints, not huge halls. And they've got high-level cocktails. With high-test booze, you know things are gonna go right!"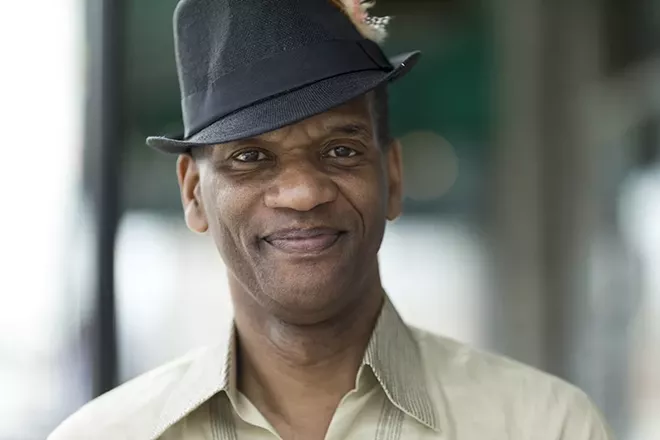 For someone who seems such a permanent part of the local musical landscape, it's interesting to learn that it was just a chance event that brought him south from NYC in 1993: "It was the week before Thanksgiving. It was 59 degrees. I came down, got a hotel room, and I went swimming! And you know what? I moved the next week!" Within a year, Snowden – an experienced drummer – was playing in various outfits, not least of which was the beloved mid-'90s Afrobeat combo Umoja. Then he met up with the musicians who would become his most well-known outfit, the Legendary JCs. Fronting the group, a lethal soul ensemble, Snowden became a natural, confident and wild frontman. As the JCs put the brakes on their live work, Snowden went full-bore with his solo work.
Snowden is effusive in his praise of the Orlando music scene for giving him the freedom to follow his restless muse and become the performer he is today.
"Orlando is a place where you can take chances and an audience will actually come out to see you take those chances," he says point-blank. "I've done five different groups, five different styles of music – I could only have done that here."
Brandon Wolf
Pulse survivor, gun reform activist
The gravity of everything that happened after June 12 didn't hit Brandon Wolf until he was about to go on stage in front of thousands of people at the 2016 Democratic National Convention.
A month earlier, he had been partying with his two best friends, Christopher "Drew" Leinonen and Leinonen's boyfriend, Juan Guerrero, at the gay nightclub Pulse. Leinonen said, "I love you," and told Wolf to always remind others how much he loved them. Then suddenly, Leinonen was gone, along with Guerrero and 47 others who died in the mass shooting during those early morning hours. One moment Wolf, 28, was running, then he was going to funerals, then he was being held by President Barack Obama, who told him it would get better.
Wolf could have hidden inside his home, as many did after the massacre. But instead, he walked onto the DNC stage with Leinonen's mother, Christine, and held her hand as she told people how gun violence had taken away her only son.
"It changed my life forever," he says. "I remember as she was speaking about how it took five minutes to hear a bell toll 49 times, she started to come down. And I looked in to the front row, and I saw this guy, who had rainbow everything on, was sobbing uncontrollably and gave her a standing ovation from start to finish. A few of those moments helped me realize we had to do something. That's what we were here for."
He's channeled that passion into the Dru Project, an organization created in memory of Leinonen that builds gay-straight alliances in schools, and becoming one of the most powerful voices in the fight against gun violence. In a couple of weeks, he'll be spending more time in front of Florida lawmakers in Tallahassee as he works to combat the many proposed expansions of gun carry in public places.
"We want the message coming out of Orlando to be one of love and unity," Wolf says. "After Pulse, a lot of people have the same fire burning as I do because they saw what failure to act can do in our community. It's time to stand up and use your voices."