Page 9 of 13
LaFontaine Oliver
President and general manager, 90.7 WMFE
What's the difference between a radio station that meets your basic news needs and stays in its lane, and a station that reflects your life?
In the case of 90.7 WMFE, it's a leader like LaFontaine Oliver.
Oliver came to WMFE in 2013, finding a station "with good bones," as he puts it. Under previous leadership, the station had gone from classical with short news breaks to 24-hour talk. But it was still sitting in that tidy, if generic, National Public Radio niche. As one of his first tasks in Orlando, Oliver "surveyed the landscape," soliciting feedback from the board, from the station staff and from the community at large.
"A lot of what I was hearing was, 'Of course we love NPR,' but folks wanted to see more of Orlando and Central Florida reflected in what we were doing," he says. "Really successful stations are able to marry national content with equally compelling local content." So Oliver almost doubled the news staff. WMFE's newsroom has since expanded "Intersection," their twice-weekly local news program; added a Friday arts roundup, community commentaries, longer pieces and series; and assigned reporters to regularly delve into topics including health, space and other beats rather than just hitting the headlines with "spot news."
Oliver also worked to increase the station's visibility, participating in and hosting more local events and pressing the flesh with listeners – and non-listeners.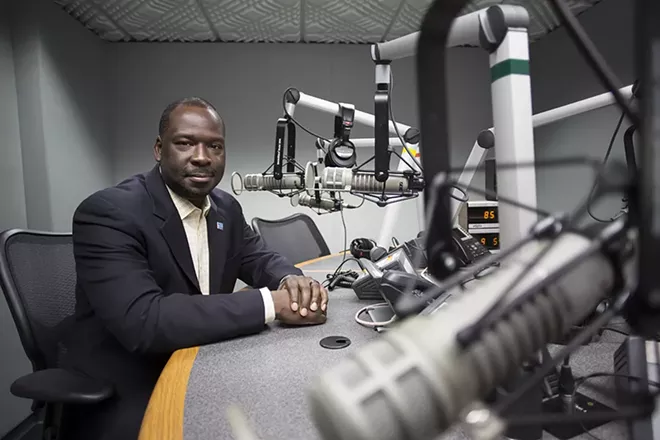 "Being out there opens you up; sometimes the conversations aren't comfortable," Oliver admits. "We have to have the confidence to listen to feedback that's not always comfortable and take it to heart."
"I'm very particular about saying 'community engagement' and not 'community outreach,'" he continues. "Outreach is when you're looking to change someone else, whereas engagement is when you yourself are changed. We were looking for the type of community interaction that changed who we were as an organization."
Oliver's background in commercial and satellite radio may also have increased his flexibility. "In commercial radio, the [financial] competition that forces you to be creative. And satellite radio rewrote the playbook" of consumer expectations, he says, which may be why, as well as beefing up the newsroom, he's focused on digital: launching a mobile app, redesigning the website, making the web player more robust, adding podcasts.
"We had to get out of the mindset that listeners will be there when we broadcast, and make content available on their time. [It's] all important to an organization like 90.7, which has to be thinking about some of the seismic changes that are coming." Seismic changes like a possible existential threat – it's been reported that the Trump administration plans to privatize the Corporation for Public Broadcasting. Oliver says that only about 7 percent of WMFE's budget depends on CPB funds, and says, "We've been here before. There's strong support for public broadcasting on both sides of the aisle," he says. "No matter what, we will find a way."