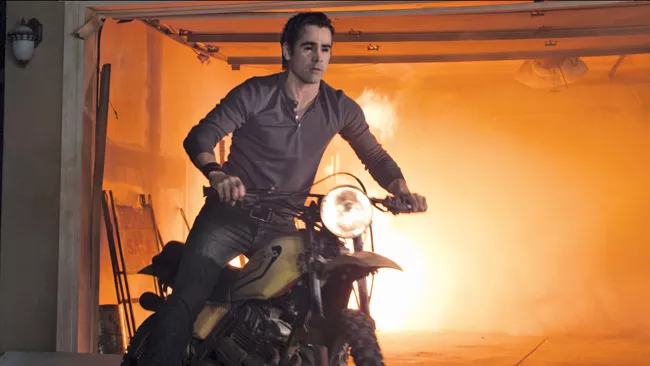 The only things not running rampant in Fright Night, a retread of the 1985 horror-comedy staple, is a sense of mystery and suspense. Instead, screenwriter Marti Noxon streamlines more than simply regurgitates the original while keeping its playful sense of humor intact. The violence and effects are over-the-top and the situations are fantastical, but the characters accept their circumstances far too easily, only briefly showing wide-eyed wonder at the bedlam unfolding around them.
The breakneck pace doesn't help their skepticism either, as Ed (Christopher Mintz-Plasse) kicks off the plot with a revelation better suited for the second act: He's somehow connected the growing number of Las Vegas-area kidnappings to neighborhood night-shift worker Jerry (Colin Farrell). Charley (Anton Yelchin), however, dismisses his estranged childhood friend's logic-free vampire theory. But after Ed goes missing, and Charley stumbles upon incriminating evidence, he goes on the offensive.
Yelchin pulls off his character's resolve and subsequent investigation-cum-showdown, but it's an easy attitude to come by considering his mother (Toni Collette) and girlfriend (Imogen Poots) are onboard almost immediately, thanks to a close brush with death that literally lights a fire under their asses. It's refreshing, though, that they never question Charley's sanity, a typically requisite scene in a film like this.
His missteps battling the superhuman vamp are of the high-stakes variety, but the resulting fallout doesn't seem to cause any permanent setbacks. They do, however, lead him to Peter Vincent (David Tennant), a Criss Angel-like magician whose act, helpfully enough, revolves around his scholarly knowledge of vampire folklore and paraphernalia. Tennant gives a fun turn as the self-appointed expert, playing it like Russell Brand doing Jack Sparrow with a layer of Roddy McDowell's bumbling timidity under his alcohol-inspired swagger. Although they're not onscreen together much, Tennant holds his own against the scenery-chewing Farrell as the cocky Nosferatu.
Javier Aguirresarobe's 3-D-minded cinematography adds some additional (and welcome) silliness to the proceedings, helping strike a better-than-expected balance between depth and hokey gimmicks. (The movie looks particularly great during its ash-heavy sequences.) The more absurd moments, which shove all manner of weapons and exploding body parts into the lens, inspire Friday The 13th Part 3 and Final Destination-like giggly thrills, making the snark and telling glances more uproarious than they deserve to be.
Director Craig Gillespie's slick retelling, thankfully, doesn't try to heavily lampoon the current state of the subgenre. While Fright Night, like its post-conversion 3-D job, is unnecessary and not something anybody asked for, that doesn't make it any less of an amusing diversion. It still works as an allegory for entering manhood, and it's smart enough to avoid mimicking '80s charm in a film filled with modern conventions.