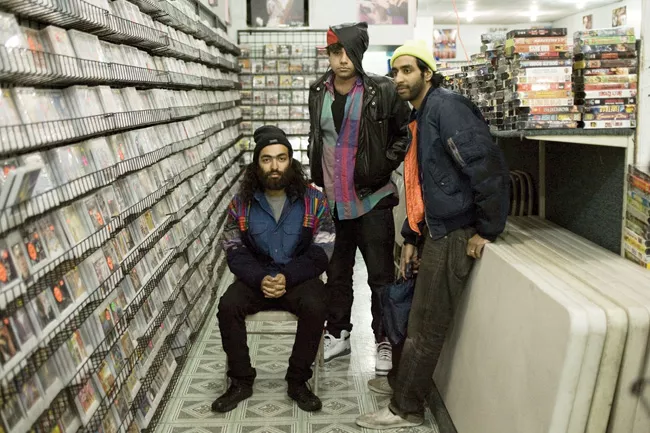 Das Racist
with Danny Brown, Despot
7 p.m. Friday, Oct. 7
Firestone Live
407-872-0066
firestonelive.net
$15.50-$20
Das Racist occupies two realms at once. On the Internet, the hip-hop trio is forever loitering outside of a fictional fast-food mashup nestled somewhere along the raggedy expanse of Jamaica Avenue in Queens, NYC. Heems, Kool A.D. and Dap have 2008's "Combination Pizza Hut and Taco Bell" to thank for being rooted to this cyber spot. That song, which does little more than repeat the title as a mantra, became a viral phenomenon; it was interpreted as either an astute satire on corporate culture or a fine piece of rapped musical idiocy – hip-hop as comedy vehicle.
Today, however, Das Racist inhabits its other place in the tangible world. Ahead of the release of Relax, the group's first proper studio album after last year's Shut Up, Dude and Sit Down, Man mixtapes, they're doing what any other rap act that exists below the major-label level does: cramming in days of press and preparing to hit the road for a mammoth 30-plus-date tour. With Das Racist, the process is more often than not blurred. So the location for today is a Queens-area pizza parlor. Dap insists the group doesn't particularly like pizza, paired with fast food of Mexican descent or not.
The hypeman to Heems' and Kool A.D.'s main lyricist roles, Dap says Das Racist has spent the morning in Singas Famous Pizza, a mini-franchise of Indian-owned pizza joints that are prolific in Queens. "The pizza is meant to be great," Dap says, "but, you know, I don't like cheese. It's too oily." His words could be taken straight from a Das Racist song. "It can taste good, but you know you're not gonna be great later."
Dap's culinary commentary is representative of Das Racist's presentation to the world in capsule form: Offer up something smart and then distance yourself from the reaction, but also sort of play into it. Leave them guessing, or at least writing about it. According to Dap, possibly extending the riddle, the biggest misconception about the group is "the parody or satire thing" – the idea that every Das Racist lyric or song has to be a jokey-yet-subversive take on some social or political situation in the world. This, he says, comes from "the white dude rock critic's idea of what we should be doing and the music we should be making and the way our image is supposed to look."
Fair enough. Das Racist fits the template for the kind of hip-hop group that, traditionally, his clichéd rock crit gravitates toward: nonthreatening (De La Soul were hippies!) with a social conscience (Arrested Development had a song about a homeless man!) and lyrics that hint at a studious background (MC Paul Barman wrote rhymes as palindromes!). "Combination Pizza Hut and Taco Bell," despite its childish refrain, hit the trifecta.
But Das Racist also plays into the game. When Kool A.D. is asked, via email, to name a fantasy list of other artists Das Racist would like to collaborate with, he sends back an 81-artist strong response. It includes: Phil Spector, Phil Collins, Hurricane Irene, Barack (and, later, Michelle) Obama and Devo.
Kool A.D.'s list is also studded with telling rap nerditry: Sha-Leik, the young and largely unknown producer who, for a while, helped soundtrack Charles Hamilton's music (before the rapper went off the rails and ended up in a mental institution); Tragedy Khadafi, the original self-tagged "intelligent hoodlum" whose best work stemmed from hip-hop's golden early-'90s era; "Jay Electronica clapping his hands" and, heading up the entire list, Havoc, the Mobb Deep producer-rapper who makes startlingly stark and regressive hip-hop. Anyone enthusiastic about working with Mobb Deep in 2011 is assuredly a ground level hip-hop soldier.
Kool A.D.'s roll call proves that, at heart, Das Racist are rap fanatics who just so happen to be humorous guys. It's a different slant from trying to make comedy rap – just like how, before them, De La Soul made "Take It Off," a song mocking hip-hop fashion fads, and spent early interviews talking about plans to open a nighttime golf course. Das Racist's fantasy outpost just happens to involve shitty food.
Kool A.D. doesn't believe that his group or "any other musical group are worth talking about for more than 10 seconds." So who's the joke on, anyway, and who's in on it?