As much as we wanted to check out Tavistock Restaurant Collection's newest concept – Canvas Restaurant & Market – the drive to Lake Nona was a consideration. Having never been to Laureate Park, we made the mistake of going toll-free on our first jaunt and it took us darn near close to an hour to get there. Thanks to a GPS consult suggesting the 408 and the 417, our subsequent trip from College Park was cut to 35 minutes. Time is a precious commodity, and it would be a particularly expensive resource to waste on a drive to a restaurant that offers nothing more than mediocre slop. But Canvas is not that restaurant.
In fact, it might be the only place in town where one can relish a gratifying, and picturesque, lakeside meal prepared by a skilled chef (Bryan Thoman), then purchase pewter stemware and a $2,400 chandelier from the market-slash-gift shop on your way out. The hangar-like architectural abomination in which it's housed only adds to the restaurant's inimitability, and while the interior is a variation on the now-tired "modern rustic" aesthetic, the prodigious sikke-like lighting fixtures look as though they've been snatched from the heads of giant whirling dervishes.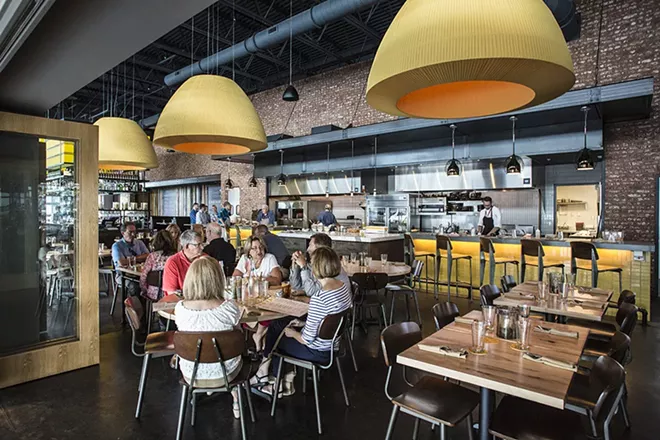 But the views through those floor-to-ceiling windows are unbeatable. A glance outside during dinner revealed an ever-so-brief still life of a jumbo jet, a sunset and an alligator captured within the window's frame. It made an already visually appealing starter of peppered and minted burrata with caramelized peaches and cherries ($12) all the more so. If it weren't for the food – apple-bourbon braised short ribs ($14), the seeming love child of Rich and Succulent, or oak-charred octopus curled atop a stinging sweet chili-mango glaze ($14) – the view might have stolen the spotlight. Shrimp salad ($18) wasn't much to look at, but we appreciated the Floribbean artistry in its preparation: plump and perfectly grilled shrimp, mango cubes, avocado wedges, goat cheese chunks and pumpkin seeds served with a pumpkin seed-lime vinaigrette I'd like to get the recipe for.
Subsequent courses also impressed: an extraordinarily moist burger ($14) fashioned from short rib and brisket sided with some of the best fries I've had in a long time; and a sublime wood-oven-roasted branzino ($25) stuffed with limes, lemons and herbs and served whole. "You know it comes with, like, the head and eyeballs and bones and everything," was our server's concerned admonition, but we understood it to be so from the words "WHOLE FISH" printed on the menu. That said, a snappy green papaya salad had to be brushed off the fish before fully enjoying it, but enjoy it I did, right down to picking my teeth with a fishbone (gross, I know).
When desserts ($7), hardly cursory brushstrokes from the Canvas pastry squad, arrived after a lengthy wait, they, too, garnered more superlatives from the table – Key lime pie crowned with toasted meringue was "the best"; spiced chocolate cream plated with a trio of double-chocolate chip cookies was "my favorite"; and pineapple upside-down cake was, also, "the best." An above-average selection of wines, many offered in 6- and 9-ounce pours, warrants careful perusal, including Tavistock's Reserve Collection, which includes a lovely 2014 Santa Rita Hills pinot noir that seemed to pair well with everything.
So good on you, Tavistock, and good on you too, Lake Nona! I'd say your restaurant is worth the drive, but that would sound too cliché, so I'll say this: Canvas Restaurant & Market, you paint a very pretty picture.