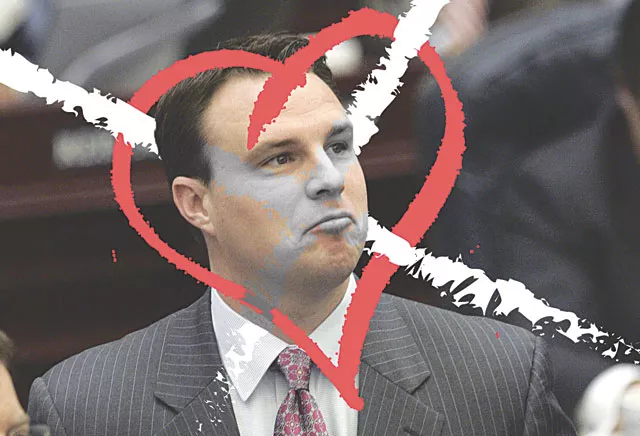 $136 BILLION
CURRENT VALUE OF FLORIDA RETIREMENT SYSTEM'S CURRENT PENSION PLAN COVERING 145,000 FLORIDA PUBLIC EMPLOYEES
$2.7 MILLION
SECOND-YEAR COST OF IMPLEMENTATION OF 401(K) DEFINED-BENEFIT PLAN PROPOSED BY HOUSE SPEAKER WILL WEATHERFORD
$9.8 BILLION
PROJECTED SAVINGS BY FISCAL YEAR 2042-2043 ACCORDING TO WEATHERFORD'S OFFICE, NOT ACCOUNTING FOR VARIABLE MARKET FORCES
"Shifting to a defined contribution plan produces lower retirement savings for workers like firefighters, police officers and teachers. They don't look at the costs of Medicaid or food stamps. So it's another incomplete. This raises more questions than it does answers." – Alan Stonecipher, director of the Florida Retirement Coalition Sources: Miami Herald, The Florida Current
When he first appeared in our virtual legislative yearbook, Florida House Speaker Will Weatherford, R-Wesley Chapel, came off as a 33-year-old hunk of bipartisan, "D"-charming hotness. He, along with grumpy old Senate President Don Gaetz, R-Niceville, were all about hopping over party lines and shutting down the ethics roller coaster of Tallahassee, and Weatherford was totally the jock who would beat up a corporate bully and then make out with a guy after just one can of Miller Lite and a whiskey shot. Dreamboat, ahoy.
But in the span of just one week – last week, specifically – something happened to our (relative) hero that made us cross him out of our yearbook with a big red marker and cry clumpy mascara tears. No, it wasn't date rape, but it was a sort of hypocritical two-handed grope at general decency that threatened both his integrity and the state's most needy. And, basically, we're never talking to him again.
Since November, Weatherford's been waving around his ugly stick at Florida's defined-contribution pension plan, saying that the sky was going to fall upon the $136 billion program soon because people are living longer and, you know, fuck people. But then in February, after soliciting an actuarial firm to back up his case, Weatherford appeared to be eating crow over the matter because the numbers didn't support his story. He demanded a recount, and on March 1, that's exactly what he got. His league of officers began poring over the 136-page study and by March 6 had cherry-picked just the right indicators to go public with a perfect-case scenario: We're going to save $9.8 billion by 2042!
However, according to the Miami Herald, not everyone is convinced that the hypothetical scenario presented is based in reality. For one, those current employees who will be left in the old pension program will likely see a decrease in their benefits due to the program no longer being funded, which could have a budgetary domino effect. Also, as we all learned in 2008, 401(k) funds can crash on the turn of a dime, and if there ends up being no money left for retirees, the resulting costs could kick Medicaid and Medicare costs up for obvious reasons. Weatherford's plan assumes the best in the worst of times.
Which leads us to our other Weatherford gripe. The speaker, who is no stranger to really bad times (his brother died as an infant from brain cancer in 1995), joined his House brethren on March 4 in opposing Medicaid expansion, despite Gov. Rick Scott's flip-flop on the matter the week before. The problem with that, it turns out, is Weatherford's family – specifically his father – admitted that a Medicaid program had helped the Weatherfords out to the tune of $100,000 during the medical crisis. So, out of one side of his mouth, Weatherford was declaring the need for a "safety net" as session began, as long as it wasn't Medicaid expansion, while out of the other, he was backpedaling and denying until he was finally called on it.
"It is not surprising that recollections would be cloudy surrounding a time of great sorrow and difficulty," he said, according to the Tampa Bay Times. "Now that the safety net that benefited my family has been clearly identified, I trust that the debate can return to the important question of Medicaid expansion and its impact on the economic and personal freedom of America." Yeah, because what was good for me is not good for you. We're through, Weatherford.