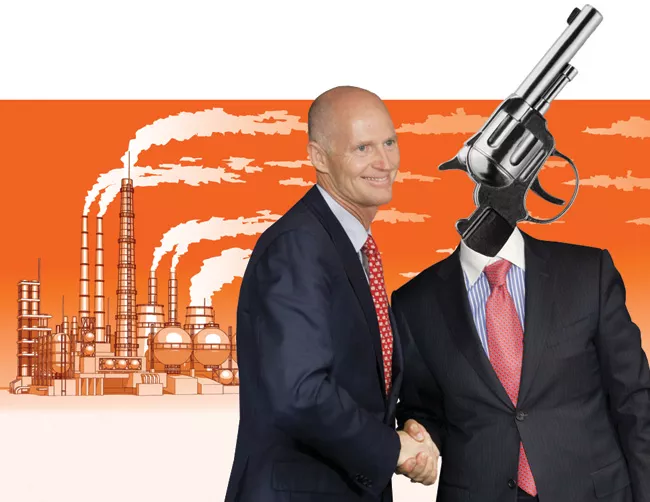 Strap on your holsters and grease up your shotguns, Bessie, because the Old West is coming on down to the (relatively) new east! On Dec. 1, everyone's favorite 10 gallons of redneckery, Gov. Rick Scott, moseyed his way into Osceola County for a down home announcement with explosive repercussions. Seems that Scott was able to broker a deal with none other than the 175-year-old violence machine known as Colt (like the .45-caliber revolver, not the beer … oh, wait), which will soon be expanding its operations to include a regional headquarters and a manufacturing plant in the state that most resembles a gun. Pow! Pow!
"As a supporter of new job creation and the Second Amendment, this announcement sends the clear message that Florida is both open for business and a defender of our rightto bear arms," Scott fired off in a press release while presumably chewing on a piece of hay.
Damn straight! The news comes on the spurred heels of three ridiculous new gun laws enacted just this year: one that protects gun owners who accidentally reveal their firearms; one that renders local governments impotent in imposing their own gun restrictions; and one that prevents doctors from quizzing their patients on whether they have guns with which to kill themselves.Florida is gun country!
Beyond the leathery National Rifle Association stench of righteousness, Colt's move to Florida packs a more concerning heat. The state will subsidize the move with your tax dollars to the whistled-Dixie tuneof $1.6 million, with $250,000 of that coming from the governor's super-secret slush fund known as the Quick Action Closing Fund. The upshot of that, allegedly, is that the move will bring 63 jobs with average salaries of $45,000 a year. (Also, a possible gun museum tourist attraction? Yikes.) The reality, however, is that none of that will likely be regulated, even though the governor promises that should the gun-toting Colt company not come through, "then we'll get the money back," according to the Associated Press. Us and what army?
Anyway, we were surprised to see that Democrat State Rep. Darren Soto of Orlando (and parts of Osceola County) was cheering on the sidelines at the deal; Soto spent part of the same day at a legislative delegation meeting at the University of Central Florida calling for more regulation of economic development monies. He even juxtaposed the two events in a Facebook post without a trace of irony! But Soto isn't some lily-livered liberal, see. He's been endorsed by the NRA and has accordingly walked in controversial lockstep with the Second Amendment brigade on such issues as being allowed to bring your guns to work with you and show them off at your leisure, chambers of commerce and National Retail Federation concerns be damned.
"My general politics on the Second Amendment is that it's there. It's in the Constitution, and I swore that I'd uphold it," he says, adding, "I've never fired a gun in my life. I'm not a particular fan of guns."
But Soto swears that he is a fan of accountability, allowing that he has mixed feelings about the Quick Action Closing Fund component of the Colt deal. On the one hand, he thinks that businesses should be required to show receipts or proof of job creation before they're rewarded with big money. On the other hand, Colt has already been handed this money in advance, so there isn't really another hand. It's already been blown off.
"The bottom line is Osceola County has lost a lot of construction jobs," he says. "These folks need help with jobs and with not wasting money."
Let them eat guns!
Oooh, speaking of rootin' tootin'Rick Scott, guess who got his ass handed to him on the occasion of his 59th birthday last week: He did! Not only did our trusty local Pink Slip Rick consortium set up a website for people to send hateful birthday messagesto the governor (pinksliprick.com/birthday), but a former – and way better – Florida governor, Bob Graham, showed up to the pile-on party to call foul on Scott's totally transparent attempts to position himself publicly as a champion of environmental concerns. He is going to save the Everglades by decreasing regulation and politicizing the state's water management districts. Trust him.
Or, rather, don't. According to Tampa's Creative Loafing, Graham held a press conference on Nov. 30 in Tallahassee at which he chided Scott and the Republican legislature, saying they "reversed 40 years of Florida's progress in water and land conservation."
A few days earlier, Graham got even more specific in an op-ed published on Nov. 27 in the Miami Herald in which he pulled out this gem: "Ten years ago there was an initiative by an affiliate of the disgraced Enron Corporation to abandon Florida's tradition of recognizing water as a crucial public resource to be managed for all the people of Florida and instead treat it as a commodity owned by private interests. The then leaders of the state were wise and rejected this swindle; however, it is now resurfacing."
In other words, in our efforts to privatize our ecosystem, we're turning the Everglades into Enron. Get your sawgrass here!
Forget what they tell you on"Growing Bolder" – getting old is hell, and it's getting more hellish all the time for those spending their twilight years in Florida. At least for those who spend their final days confined to a nursing home or assisted-living facility. During the past year, the Miami Herald has doggedly investigated abuses in assisted-living facilities in Florida, and it discovered the stuff nightmares are made of: egregious conditions, neglect, grisly but preventable deaths from starvation, infected wounds … even an alligator attack.
On Nov. 8, a task force appointed by Gov. Rick Scott – he who has been working his hardest to deregulate anything in his path, if it might mean the creation of a handful of part-time, low-wage jobs to pad his "let's get to work" record – met in Miami and suggested that it might be time to rein in the worst offenders in the long-term care industry. The task force agreed to, among other things, recommend to the state legislature that nursing homes and other long-term care facilities found to be abusing residents be slapped with the harshest penalties (such as preventing that facility from taking on new residents for a certain period of time) and that any facility found retaliating against residents for complaining about conditions be punished.
Among the – in Happytown's opinion, very valid – suggestions that were presented but ultimately squashed by the task force (which is loaded down with representatives from the industry it was appointed to examine, BTW): that "granny cams" be placed in resident rooms so family members can monitor the care being given to loved ones, more inspections from the state Agency for Health Care Administration, a recommendation that the state's Long-Term Care Ombudsman Program (see "Neutering the watchdogs," Nov. 10), which is supposed to be an independent advocate for residents of long-term care facilities, be given independence from the state Department of Elder Affairs. In February the state Department of Elder Affairs abruptly requested the resignation of then Long-Term Care Ombudsman Brian Lee, because he did too good of a job and pissed off industry administrators; the federal Administration on Aging investigated the situation and found that the state was guilty of meddling in the ombudsman office's affairs, making its work less effective; it recommended that the program be operated independently to guard against further political interference. At the meeting, current Long-Term Care Ombudsman Jim Crochet, appointed to replace Lee, actually argued against doing so. State Sen. Eleanor Sobel, D-Hollywood, introduced a bill on Nov. 21 that would get the ombudsman program from under the state's thumb and put it under the auspices of an independent nonprofit organization.
Fast forward to this week, and the Orlando Business Journal is reporting that the assisted-living facility industry is crying foul at the "regulatory hammer" that may fall when the legislature reconvenes in January. Among the doomsday prophecies from the industry, should egregious violations in assisted-living facilities be punished too harshly and the ombudsman program be given too much freedom to help the elderly and the infirm: the industry might "collapse," hundreds of poorly operated facilities could close down and the state would have some "real problems" – including the loss of jobs and income. In other words, Florida, you have to make a choice: Save the jobs or save the elderly. Which is it gonna be? Because, if you listen to what the industry is saying, you can't have both.