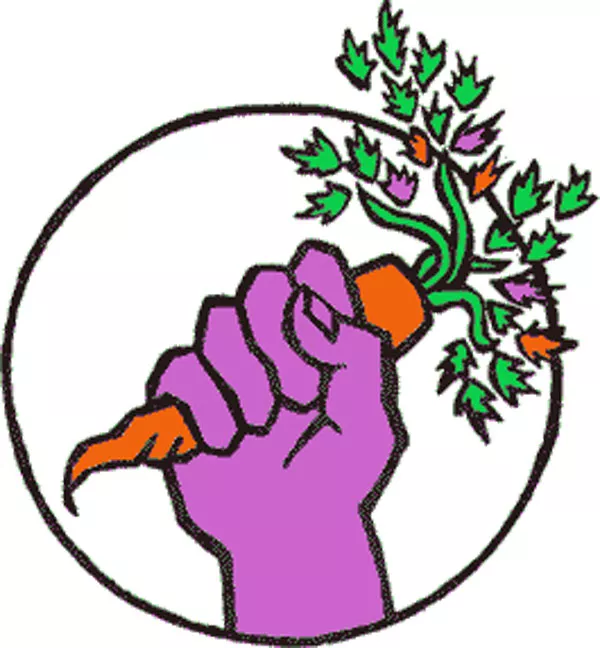 Yawn! We've become accustomed to the slow-news-day shuffle here at Happytown™ HQ - our frayed, droopy drawers hanging as we shamble past the political rumors, occasionally glancing at this "spiteful bitch" or that "world-class city" piling up in our inboxes or on our Facebook feeds - but it's a rare Friday indeed when we happen upon something as pointed and planted as the connect-the-dots reasoning behind the June 3 Sunshine State News puff piece that declared, in headline form, that the "Democratic Party Door Opens for Charlie Crist." Zoinks!
Our internal dialogue went something like this: "Impossible! No, wait, hilarious! Hmm, maybe a little sad?" Then, naturally, we attempted to come up with whatever metaphoric justification we could for said sad switcheroo. Could it be some Disney-fied Imagineering that could turn frogs into princes? Or could it be that Orlando is half Superman phone booth and half bathhouse changing room? (Remember those "Charlie is gay" rumors? Yeah, us neither.) This is, after all, the place where magic happens - bad magic.
"Florida Democrats need new blood," the article declared. "Charlie Crist is ready with a transfusion."
Now, don't get us wrong. We were well aware of the potential for a scandal meme when Charlie climbed aboard Democratic fundraising attorney John "For the People" Morgan's ambulance-chasing ship back in January, and even a little more suspicious when Crist's mug started showing up on our morning news, offering us assistance with our fender benders. Even if the two have been longtime friends, and Morgan doesn't discriminate when it comes to his drinking buddies (hello, hot Republican drunk uncle Lee Constantine!), it did smell a bit like a setup for something, but it also could have just been the scent of post-political desperation. We weren't sure enough to really care.
But the Sunshine State News cares, and thinly disguised its Chamber of Commerce-fed glee with professional commentary from "veteran political operative" and shady Republican reptile Roger Stone. But why now? Maybe because Gov. Rick Scott boasts the lowest approval rating in the country and the Republicans wanted to pull Crist back out of the "I'm independent now!" turncoat woods for a little go-round with an easy political piñata? Regardless, the liberals we reached out to didn't find the transparent maneuvering too appealing.
"We are not a subsidiary of Morgan and Morgan," says Doug Head, former Orange County Democratic Executive Committee chair. But it's funny, right? "Funny like a toothache." He isn't laughing.
State Rep. Scott Randolph, D-Orlando, wasn't terribly surprised by either the message or its mode of delivery (the Sunshine State News is hardly "news"), even allowing that there are some "strong rumors" that Morgan may be prepping Crist for another go at the governorship in 2014. However, Randolph says, this particular stunt is little more than a Republican attempt to "take attention off of Rick Scott's horrendous poll numbers" and "remind Democrats that we really don't have anyone who can beat Rick Scott." Ha.
Even if the unthinkable second coming were to happen, Crist wouldn't stand a chance.
"There's no way that Charlie Crist would clear out a primary," Randolph says, reminding us that party-switchers don't often appeal to bases. "Hell, if Charlie Crist were our candidate, I'd run against him in a primary."
Please?
As Bloggytown readers already know, the City of Orlando's public feeding ordinance, kept in cryogenic stasis for more than two years while federal courts evaluated its constitutionality, has officially thawed out. Three prominent members of the group Food Not Bombs were arrested on June 1 at Lake Eola Park for "knowingly sponsor[ing] or conduct[ing] the distribution or service of food at a Large Group Feeding … without obtaining a Large Group Feeding Permit."
The arrests occurred late into a routine sharing of dinner with the homeless, something Food Not Bombs has participated in at Lake Eola since 2005. The politically charged group, which considers food a fundamental human right, refuses to apply for a feeding permit as a matter of principle. Among those arrested was one of the founders of the worldwide Food Not Bombs movement, Keith McHenry, visiting from New Mexico ostensibly to provide some political support to what has become the nation's most high-profile conflict over feeding the homeless in public parks.
McHenry chose to stay behind bars after his arrest, but his two cohorts, Ben Markeson, 49, and Jessica Cross, 24, were bailed out of the Orange County Jail in the wee hours of the morning. Later that day, they chose that setting for a press conference in which Markeson fell into his usual (though sensible) rant against the city: "We're out there, week after week … trying to meet an unmet community need, and yet we have a local government trying to criminalize poverty and trying to stop people from helping people who need help."
Both Markeson and Cross allege that they were targeted by police, saying that there were seven other activists present who were not arrested, although those activists were doing the lion's share of the soup ladling. "I'm led to believe the police have been watching us," Cross said. "They just kind of wanted to get their hands on the members that they see most frequently."
Police spokeswoman Sgt. Barbara Jones asserted in an email to Happytown that police saw "no other violations," and regarding surveillance, that she could "only advise that we have supporting evidence to provide the city prosecutor with a strong case for violation."
As this issue went to press, Happytown learned that four more Food Not Bombs members were arrested at a June 6 breakfast feeding at Lake Eola Park.
Interestingly, when Food Not Bombs first intentionally defied the ordinance on May 18, the city essentially forced a permit upon the group. The same thing happened the following Monday, and at the two feedings after that, the city did nothing. Cross guesses the city finally acted on June 1 because no members of the media were present, as they had been the four feedings prior. See how important we are?
Now that soccer mom/politician hybrid Teresa Jacobs has been at the helm of Orange County for six months, there's plenty of good news to be told - at least according to Teresa Jacobs.The mayor held a "State of the County" address on June 3, much in the vein of the county's "State of the Schools" address we reported on three weeks ago, as it claimed the same ballroom of the Doubletree hotel with the same political players in attendance and the same sympathy laughs for G-rated jokes.
Through thick plumes of sappiness and self-congratulation, one could still discern a few items of note: tourism is allegedly booming again, with Central Florida bringing in more visitors last year - more than 50 million - than any other region in the country, ever. In the first five months of this year, she added, tourist development tax collections are up 16 percent. "Thank you Mickey, Shamu and, of course, our newest kid on the block, Harry Potter," Jacobs said, to at least one groan in the audience.
Predictably, Jacobs praised firefighters, county police, correctional officers and practically every human being in Orange County, which was all met with applause. But when Jacobs gave props to her Republican cohortsin Tallahassee - namely House Speaker Dean Cannon and Senate Majority Leader Andy Gardiner - the crowd was silent and fidgety, and Jacobs stuttered for the first time in reading her 11-page address.
After the speech, reporters clustered around Jacobs to ask about the newly brokered DPAC deal ("I think [Dyer's] got a very strong management team on board," she fudged), foreclosures ("I think we're reaching the bottom," she guessed) and the viability of SunRail ("I don't waste my time on dead projects," she assured), until finally Happytown threw an environmental Hail Mary and asked what she would do about an impending shortage of drinking water in the Floridan aquifer. "Some of the things we're looking at is where we build plants to make more use out of surface water without affecting the environment," the mayor said, and we instantly regretted not asking her about the county's spiffy new "emergency" iPhone app before slow-news-day shuffling off into the weekend. Yawn.