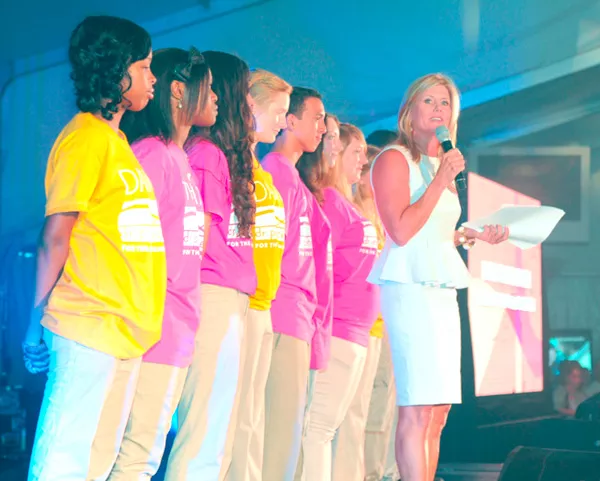 Happy days are here again!Casting off all of those frayed designer frocks from last season (and the civic shambles that they implied), the Botox-brow brigade, known collectively as the Concentric Circles of DPAC Optimism, convened June 23 for a wagging finger ragtime dance in honor of Orlando's latest and most confounding erection. Well, not so much for the erection itself as for the giant air-conditioned condom/tent strung up to mark its intended 2014 opening. We won't go too heavily into the details here – it was an event, it happened – mostly because we've already lost three of our fingers rattling off our distaste at the very notion of the Dr. Phillips Center for the Performing Arts and its great misnomer problem (see "Groundbreak day," June 23). Also, it gave us a wicked case of "Who'd-I-fuck?" hangover regret. But, like most gluttons and addicts, we decided to go ahead and throw ourselves into the proverbial fire and suffer until we felt something – anything – on that fateful Thursday evening. We were looking for trouble.
At first, it didn't look good. The fact that you couldn't even hear the string quartet provided by the Orlando Philharmonic over the gabbing guffaws of the growing crowd almost sent us running right back out of the entry point (which was lined, for no reason, by small children in DPAC T-shirts). Then there was the issue of there being no alcohol provided for the general public portion of the festivities (that came later at the VIP after party). Worse, there were ever-so-tiny hamburger sliders on even tinier swords with even tinier pickles attached. We ate one. It was frozen.
Instead of just leaving like any sane persona non grata might, we made a (semi)conscious decision to ride this one out. Why? Because our extremely persuasive lady- friend Shelby, a gorgeous realtor and DPAC supporter, sucked us in, that's why. And seeing as our hair and nametag would not support any kind of undercover investigative operation, we decided to just overtly rain on the booster parade, like we always do. "I'm so happy this is all happening," at least three people whispered in tongues. That's just what they said in Jonestown, right?
It didn't take long for things to take a whimsical turn. Some zoot-suit riot in a fedora approached Shelby and demanded 
an audience with DPAC Queen Kathy Ramsberger; he wanted to donate $10-$20 million, he said ambitiously, and this was not a "business card situation." Uh-oh.
"Will you help me find Kathy?" Shelby blinked her eyes exactly three times.
"We hardly think that we're the person that Kathy probably wants to see right now," we said, pretending to be a "we." And then the night turned into a movie.
Ramsberger was fetched to immediately dismiss the false donor while we were somehow shoved into the dwindling midsection of Mayor Buddy Dyer. (Apparently, says Shelby, the entire city staff is on some weird diet right now! Gossip!).
"Remember that building I told you about a few years ago?" the mayor smirked as we tried to cram a sworded mini-burger in his face hole. "You know, that performing arts center you said would never be built?"
"Oh, yeah," we demurred. "Congratulations on your new tent!"
The mayor was then rushed onto the stage, leaving us standing there, alone and sorta sober, with Kathy Ramsberger. Even our pariah hat and martyr shoes couldn't save us from the awkwardness that was about to unfold, not that we wanted them to.
"I probably shouldn't say this," she said (and probably shouldn't have). "But even though my kids and I all want to punch you in the face …"
O. M. G.
"… your reporting on DPAC has been the best reporting in town. You obviously know what you're talking about; I wish the other outlets were as thorough."
Acknowledging that this is just the cutting-room floor fodder from the first draft of the One Minute Manager – if you can't ruin them, pretend to love them – we smiled, shook her hand and scuttered off for some booze and line dancing that we'd rather not talk about ever again.
Wait, what just happened? Oh, yeah: 
performance art. We are the performing arts center. Happy now?
If there's one thing we respect aboutGovernor Rick Scott, it's that he professes his evil openly, proudly and in settings consistent with his ideology. Take his visit to Orlando on June 23, which was located 
in a chilly, cavernous ballroom in the northeast corner of the airport's Hyatt Regency hotel (the wing with a stunning view of the concrete). There, the governor emerged from behind a black curtain to address a 4-by-7 block of geriatric constituents. The edges of the room were lined with a small army of whispering suits and a few reporters who had been selected for the invitation-only event. (We rode into the room on the back of a miscommunication between Scott's Tallahassee office and his regional office.) The governor was to officially sign Senate Bill 1128, which, among other things, limits the power of local governments to divert surplus pension funds for non-pension expenses. Scott was also to sign the infamous SB2100 for a second time, kindly 
reminding teachers and other public employees that yes, their paychecks would be 3 percent smaller next year so that their pensions could remain the same size. (Days earlier, the Florida Education Association teacher union filed a lawsuit in Leon County Circuit Court to overturn the law.)
Among the introductory speakers was vice president of pro-business lobby Associated Industries of Florida, José Gonzalez, whose beard evidently posed a challenge to Scott's sensibilities: "He's going to shave next time,"Scott quipped. "Well, you know what I say: happy wife, happy life," Gonzalez answered, to which our governor agreed, and everybody in the room looked either at the ceiling or the floor. Meanwhile, in the conference room next door, one could faintly hear the New School Investors Academy employing the band Queen as a motivational supplement to their "6 Quick Cash Strategies To Buying Real Estate With No Money, No Credit, No Experience Needed!" seminar.
Back to business: Scott gave his obligatory gubernatorial optimism by citing the state's falling unemployment percentage and said his legislation would "modernize" Florida's retirement systemby bringing it in line with a leaner, more efficient private-sector model. "I'm here in Orlando to sign legislation that protects three things: Florida's government retirees, their pensions and Florida taxpayers," Scott said. (In other news, someone in Berkshire reported thumping sounds emanating from George Orwell's grave.)
After the conference, the press was given exactly three minutes to speak with Scott, and WFTV Channel 9's Darlene Jones was brave enough to challenge the governor on "balancing the state budget on [teachers'] backs." We muscled in a question about whether the recent resignations of his Chief of Staff Mike Prendergast and Chief Adviser Mary Anne Carter had anything to do with his sagging poll numbers, but Scott would only restate the obvious, that is, that Prendergast has an interest in veterans' issues and Carter "worked on my campaign." He then darted behind the black curtain from whence he emerged as questions about SunRail bounced off his shoulder and into the evil ether. Who needs answers when there are so many questions?