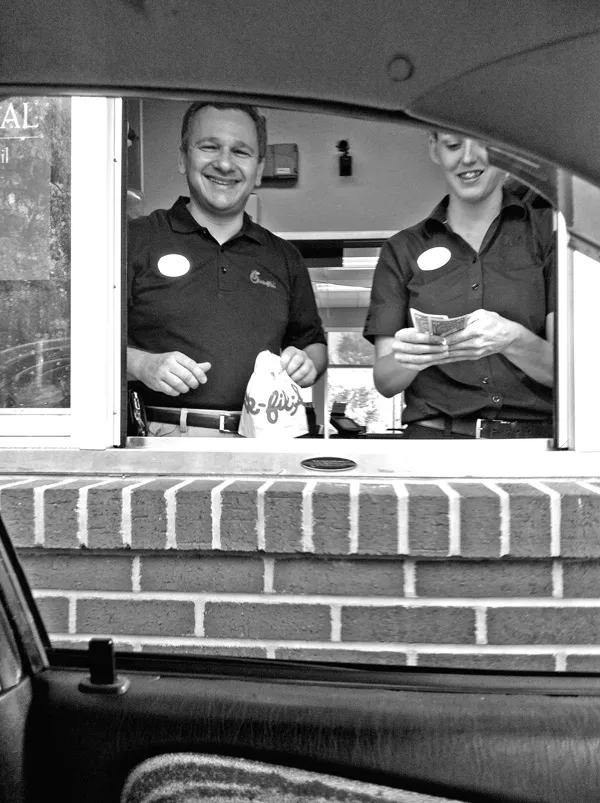 Good gracious, we were beside ourselves with hot-breathed redistricting anticipation when the clashing titans of political ambiguity rolled their Lexuses and legislative aides into the Bob Carr Performing Arts Centre on July 27! Actually, we were beside two old ladies who seemed more interested in talking about their cataract surgeries; you have to choose between nearsightedness and farsightedness, they whispered while unwrapping hard candy. It would prove to be a prescient exchange, considering the combined myopia of the 30 or so bigwigs lining the stage pretending to listen to public concerns. Cataracts are just like voting!
But as homeboy state Rep. Steve Precourt, R-Orlando, called the meeting to end all meetings (or, one of 26 scheduled) to order – flanked by state Sen. Don Gaetz, R-Destin, and dashing state Rep. Will Weatherford, R-Wesley Chapel – it was immediately apparent that there wouldn't be much to see, after all. Also clear was that this notion of involving the public in the early stages of drawing new districts for the state House, the state Senate and two new Florida seats for the U.S. House of Representatives, without any maps to refer to, was less an act of transparency than it was idiotically transparent.
"It's not as simple as sitting down with markers and maps," Gaetz said, before he started talking about the district-building software and called himself "techno-stupid." Genius.
By now you can already imagine what happened next: African-Americans called for a special minority district to be drawn, Hispanics did the same, the League of Women Voters (which was represented by a lot of concerned ladies) took their tea-time gloves off to nail legislators for permitting this traveling circus of nothing, and a load of activists called into question the ongoing state-funded lawsuit against Fair Districts Now's Amendment 6.
For most of it, we just sat there and squinted with the bluehairs wondering what all of this was really for (answer: kabuki), but there were a few speakers who tickled our fancy. Notably, there was former Orange County Democratic Executive Committee leader Doug Head and his use of playful Cracker-speak to describe the Rorschach-test district shapes that have resulted from decades of gainful Republican gerrymandering: "bunny rabbit," "dead dog," "toilet" and "crab," tellingly. Also, Organize Now activist Timothy Murray pulled off a bit of rousing crowd participation when he made people actually stand up. The rest was like watching a drunk family argue about a point they lost three courses ago – where were we, incest or abortion?
Chubby state Rep. Chris Dorworth, R-Lake Mary, would later make headlines for playing with the Facebook app on his iPad (he totally accepted our friend request during the meeting, for the record; also, he plays ping-pong), while the rest of the group on the dais did their Sunday best not to give the appearance of sleepy political hubris. Except one. State Rep. Scott Randolph, D-Orlando, took to the public records request machine the following day to petition for the amount of the Legislature's $30 million in reserves that has already been spent fighting voters who overwhelmingly supported Amendments 5 and 6. Hero!
Outside, we bumped into former Orange County Commissioner (and sometimes Baby Jane-alike) Linda Stewart, who said that she would be running for something somewhere as soon as anybody could say where or what that would be.
"This is a farce," she squawked. Yes, yes it was.
If, on the morning of July 28,you were obliging your fried Jesus-chicken fetish at the Chick-fil-A on South Orange Avenue, you may have noticed this flimsy sign stuck in the sod near the trash bin behind the restaurant: "Celebrity Drive-Thru." You ordered your chicken biscuit, pulled to the window and encountered a paunchy, middle-aged man wearing a black polo shirt and sporting a squinty grin. Yay?
That man was city commissioner and mayoral hopeful Phil Diamond, working a grueling 8-10 a.m. shift in full fast-food regalia!Diamond aptly measured his performance based on how many times he screwed up. "I only dropped one thing – it was a little sample of oatmeal that somebody wanted," Diamond said. "Other than that, it went very smoothly."
Ten percent of the money collected through Chick-fil-A's drive-through window during those two hours went to Diamond's charity of choice, the Delaney Park Little League. Diamond is a bona fide baseball aficionado, having visited 20 of Major League Baseball's 30 ballparks nationwide.
Which reminds us: On July 20, Orange County Mayor Teresa Jacobs killed plans to build a $47 million, 5,000-seat baseball stadium near the Orange County Convention Center, asserting that "such a competitive advantage over the I-Drive corridor's existing businesses does not comport with my sense of fair play." Don't cry, baseball fans – the team that would have played there is only a Class A subsidiary of the New York Yankees, currently based in Tampa. In the minor league baseball hierarchy, Class A teams are three rungs below the major leagues, so at the rate that deep-pocketed baseball jock (and former Congressional candidate) Armando Gutierrez Jr. would have brought major league baseball to Orlando through his Bases Loaded venture, we would have our first professional team in 2026 – that is, after building three more stadiums. Don't give up yet, Armando! We know a powerful guy named Buddy Dyer that isn't such a tightwad, likes sports and absolutely looooooves construction.
Still hungry? The battle between Orlando Food Not Bombs and the city, once a frequent theme of the pages of both Orlando Weekly and the Orlando Sentinel, has settled into a mellow stalemate. The group, having nearly run out of volunteers willing to get arrested for sharing food with the homeless at Lake Eola Park, decided in early July to take Mayor Buddy Dyer up on his offer to hold its food sharings in front of City Hall. The group regards the setup as temporary, given that the City Hall courtyard does not feature bathrooms or running water. But for now, the battlefield is quiet – a good thing for weary reporters hoping to move on to fresher subjects.
Yet there's at least one media outlet that seems unable to tear itself from the fiasco, reality be damned. On July 28, WFTV Channel 9 reported that "in the last month … there have been at least 10 break-ins in the Thornton Park neighborhood." That may indeed be true, but what caught our eye was that a full 22 days after the last food sharing at Lake Eola Park, the report was also built on this shaky bridge: "Residents said they believe the homeless meals at Lake Eola are to blame."
Really? "Nervous" resident Maureen Cavanaugh Berry reported witnessing a break-in on July 26, but the Channel 9 story conveniently omitted that she didn't believe that the homeless or the food sharings were to blame. "I know that Channel 9 wanted to slant its story to make it sound like it's a homeless problem," Berry told Happytown™. "[But] what I saw was a much more sophisticated level of theft. There was a car that came with him. When I think of homeless people, they're pushing carts."
The other person quoted in the story, real-estate agent Pat Skiffington, found a squatter inside one of his properties early last month. He blames the food sharings – "[The homeless are] still congregating at Lake Eola, whether they're feeding there or not," he says – but also reports that the homeless only started appearing "en masse" and making trouble in Thornton Park around September of last year. Why so late, if the Orlando Food Not Bombs had been feeding the homeless downtown since 2006? Skiffington didn't have an answer, but we have a suggestion: Florida's employment rate was 11.7 percent that month – the highest since 1975. It was also the first month in which banks foreclosed on more than 100,000 properties nationwide. If we're going to make sweeping theories dealing with cause and effect, let's at least try to make some sense. Nah, let's just start a class war instead.