Protests in Orlando typically come in two forms: Sign-waving at Bumby and Colonial or candle-lighting at Lake Eola. Which is terrific, really. The world needs reminding that George W. Bush is a total jerkwad every now and again. We're all for that, but these things tend to get monotonous. We want excitement – something that's going to make our jaws drop.
So thank you, Joseph DuRocher. Proving that the pen is mightier than the sword, the local law professor and former public defender recently penned one of the best screeds we've ever read on Bush's ineptitude. And to empha-size the point, DuRocher sent the prez his military medals. He wrote:
"You have dishonored our service and the Constitution and principles of our oath. My dad was buried with full military honors so I cannot act for him. But for myself, I return enclosed the symbols of my years of service: the shoulder boards of my rank and my Naval Aviator's wings."
In the letter, DuRocher informs Bush what prompted him to write: a pre-emptive strike against a country that posed no threat to us; detainees disappearing into holes like Gitmo and Abu Ghraib; government-sanctioned torture.
"My vote has become meaningless because I live in a safe district drawn by your political party. My congressman is unresponsive to my concerns because his time is filled with lobbyists' largess. … Even speaking openly is to risk being labeled un-American, pro-terrorist or anti-troops. …
"Nevertheless, to remain silent is to let you think I approve or support your actions. I do not. So, I am saddened to give up my wings and bars. They were hard won and my parents and wife were as proud as I was when I earned them over 40 years ago. But I hate the torture and death you have caused more than I value their symbolism. Giving them up makes me cry for my beloved country."
Couldn't have said it better ourselves. Read the whole thing at this website: www.pierretristam.com.
Somebody needs to say it, and it might as well be us. Anyone claiming that racism was the driving force behind Orlando commissioner Ernest Page's Feb. 28 arrest (for bribery and exerting improper influence relating to his nonprofit housing corporation) should be forever banished from the realm of the credible and relegated to the spectrum of ill-informed, bomb-throwing rabble-rousers.
That means you, Florida Civil Rights Association. Last week, the group announced it was launching an investigation into the charges pressed against Page by Orange-Osceola state attorney Lawson Lamar. "The decision to prosecute cannot be based on race," group president J. Willie David III said in a statement. Here's a reality check: This case had zilch to do with race, and everything to do with the fact that Page left Lamar no friggin' choice but to prosecute him.
Page isn't in trouble because The Man is screwing him; he's in trouble because he screwed up. Page left voice mails and e-mails telling a potential business partner that unless he cut Page's nonprofit in on a deal, Page would kill it. If that's not abuse of office, we don't know what is. Keep in mind this is Page's second run-in with the law while in office. The first came in the 1980s, when he bought stolen merchandise in a police sting and did a stint in state prison.
In grade school, there was a name for this kind of knee-jerk race baiting: crying wolf.
File this one under "craven opportunism." Last week, Happytown™ got an e-mail from Orlando attorney Sandra Carbone. While it's not uncommon to see lawyers hawking venality, her sales pitch made even our jaded skin crawl.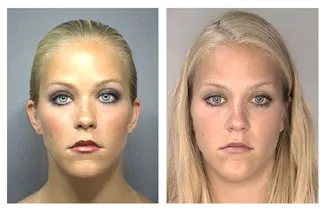 Carbone represents a wedding photographer who in July 2003 shot an utterly unremarkable Florida wedding. But when the bride, a 23-year-old,
smoking-hot Tampa teacher
, got busted shagging a 14-year-old student and it became national news, then those leftover photos were worth something. The asking price?
$1,500 a pop
, said Carbone. It pays to be a packrat – just not with customers like us.
In June 2004, cops arrested Debra Lafave after they learned of her rather adventurous affair with a student, heretofore a virgin. Not only did they do the nasty in her classroom, according to police records, but also in her Isuzu SUV while the boy's cousin drove them around.
For the wedding photographer, Brian Adams, that publicity equaled opportunity. And time is of the essence. Lafave – perhaps the state's only registered sex offender with a fan website – has worked out a plea deal with prosecutors for three years of house arrest and seven years probation. But because the couple played hide-the-salami in two counties, that meant two judges had to agree. One didn't.
Prosecutors asked the judge to reconsider, and a ruling should come any day now. If he refuses, Lafave goes to trial next month. Either way, she'll be old news quick, so the proverbial iron is hot. Carbone says they're talking to Inside Edition and CNN. She was even gracious enough to preview 10 of the images for us, under the assumption that we had the budget for that sort of thing, which we don't. Most are mundane, though the one with Lafave smiling and holding up a pair of white mesh panties earned a place on our wall. (Her mug shot ain't bad either.)
One question lingers, however: Where were all the hot, horny teachers when we were in school?
This week's report by Jeffrey C. Billman and James Carlson.
happytown@orlandoweekly.com